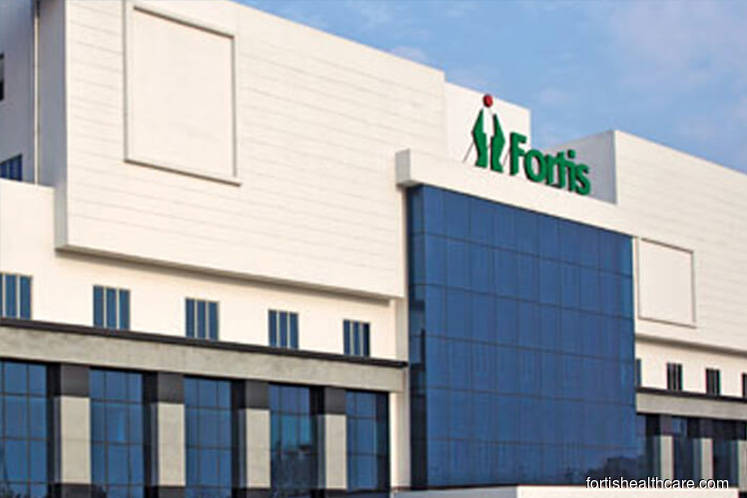 KUALA LUMPUR (Aug 14): Shareholders of India's Fortis Healthcare Ltd, have thrown their support behind the takeover of the healthcare group by Malaysia's IHH Healthcare Bhd, with some 99.7% voting in favour of the deal.
At Fortis' extraordinary general meeting (EGM) today, shareholders approved the infusion of 4,000 crore rupees (RM2.35 billion) from IHH in exchange for a 31.1% stake in the company, according to a statement from the Indian healthcare provider, which operates India's second largest hospital chain.
"With this shareholders' approval of [the] preferential allotment of shares [to IHH], the transaction is now awaiting other regulatory approvals. We believe a partnership with IHH will further strengthen Fortis' operational platform and open new opportunities thereby placing the company in a far stronger and more resilient position," said Fortis chairman Ravi Rajagopal in the statement.
Bhavdeep Singh, chief executive officer of Fortis said that the proceeds of the takeover will allow the group to normalise its working capital and strengthen the overall balance sheet.
"We have charted a strategic growth plan for company, which will accelerate the current traction that we are witnessing in our business," Rajagopal said.
Interestingly, the "overwhelming" support for the deal comes days after Japanese drugmaker Daiichi Sankyo Co appealed to block the EGM amid its legal battle against Fortis founders and former promoters Malvinder Singh and his brother Shivinder Singh. Daiichi had sought to block Fortis' share subscription agreement with IHH until it is paid a 3,500 crore rupees arbitration award from an earlier case against the Singh brothers.
The brothers, who quit Fortis' board in February, had been accused of withholding critical information related to their sale of a 34.82% stake in Ranbaxy Laboratories Ltd to Daiichi.
However, the court had allowed the EGM to proceed while it froze the bank accounts of the Singh brothers and instructed them not to sell any assets without the court's approval.
IHH previously announced it would acquire Fortis through a preferential allotment at 170 rupees per share. Under the terms of the deal, following its 4,000 crore rupees investment, IHH will then make an open offer to buy up to 26% of the shares held by existing shareholders, which could raise its stake to as much as 57% in Fortis, depending on how many shareholders participate in the open offer.
Shares in IHH closed down 4 sen or 0.73% at a three-year low of RM5.41 today, leaving the group with a market capitalisation of RM43.79 billion.