This article first appeared in The Edge Financial Daily, on April 17, 2018.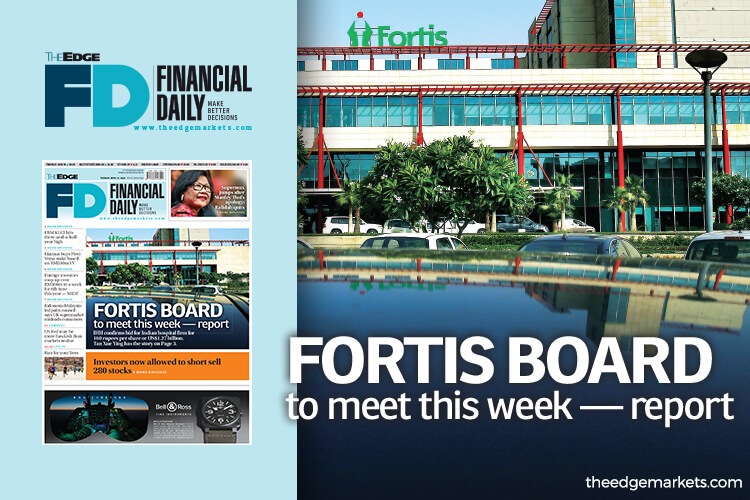 KUALA LUMPUR: India's troubled Fortis Healthcare Ltd board of directors is expected to meet this week to look at all eligible options after the company received three bids from interested parties to buy its hospital business, according to a Reuters report.
This statement gives hope to IHH Healthcare Bhd that its non-binding takeover bid for Fortis could be considered afterall.
Earlier yesterday, IHH said it was informed by Fortis' board of the latter's inability to engage with IHH as Fortis had entered into binding agreements with Manipal Health Enterprises Pte Ltd, Manipal Global Health Services and TPG Asia.
Apart from Manipal, the second joint binding offer was from Hero Enterprise Investment Office and the Burman Family Office, which had expressed interest in Fortis.
In a filing with Bursa Malaysia yesterday, IHH — which is 40.61% owned by sovereign wealth fund Khazanah Nasional Bhd — confirmed that it last Wednesday issued a strictly non-binding letter to the board of Fortis expressing IHH's interest to participate in Fortis and its affiliates.
In the letter signed by managing director and chief executive officer Dr Tan See Leng, IHH stated that it believes a price of up to 160 rupees (RM9.50) per Fortis share to be appropriate, subject to completion of a limited due diligence. This values Fortis' hospital chain at about 82.99 billion rupees (US$1.27 billion or RM4.93 billion) — higher than the 155 rupees per share or US$1.2 billion valuation offer reportedly made by Indian rival Manipal Health Enterprises.
Fortis shares closed down 3.3 rupees or 2.17% at 148.75 rupees per share yesterday, bringing it a market capitalisation of 77.64 billion rupees.
On the other hand, Tan also hinted at the possibility of IHH making a revised counter-offer if the other suitors were to revise their bids.
"Notwithstanding anything in this letter, given the ever-changing competitive dynamics, IHH reserves the right to pursue all necessary steps to ensure that the shareholders of Fortis are provided with the opportunity to realise the value inherent in our proposal, including the right to revise the indicative offer price in any manner IHH deems fit," he said.
As part of its proposal, Tan stated that IHH will also work with the board and management of Fortis to identify optimal financing solutions to enable the company to "fulfil its commitments during this challenging phase and stay afloat".
"In response to the letter, the board of Fortis has indicated its inability to engage with IHH ... at this juncture, IHH has not entered into any discussions, negotiations or transactions," IHH told Bursa yesterday.
"IHH will make appropriate announcement(s) to Bursa in a timely manner should there be any further development on this matter," it added.
In the meantime, shareholders of IHH have been advised to exercise caution and seek appropriate independent advice when dealing in its shares. Shares of IHH closed two sen or 0.33% lower at RM6.10 yesterday, bringing it a market value of RM50.26 billion.
News of IHH's proposed US$1.27 billion bid for Fortis first broke last Wednesday when Bloomberg reported that IHH had sent a letter to the board of Fortis, saying it may be willing to pay as much as 160 Indian rupees per share to acquire control of the Indian company.
It was reported that if the board of Fortis were to reject the offer, IHH will consider taking its offer directly to the Indian company's shareholders.
The offer came about nine months after IHH walked away from bilateral talks with Malvinder and Shivinder Singh, who were in control of Fortis at the time.
Recall that both Malvinder and Shivinder resigned from the board of Fortis on Feb 8 this year after being accused of funnelling US$78 million out from the group. This was after a high court order for the brothers to pay up to US$550 million to Daiichi Sankyo for allegedly luring the Japanese drug maker into a deal by withholding information. Their resignations were accepted by Fortis' board on Feb 13.
Meanwhile, the offer price by IHH values Fortis at about 18 times its earnings in the last 12 months. Fortis turned in net losses of about 236.1 million rupees and 191 million rupees for the September and December quarters respectively.
Fortis was also recently said to have stretched its liquidity position, leading to a delay in servicing of a loan. Indian rating agency ICRA had then downgraded the long-term rating of Fortis from "BBB" to "C", reflecting a very high risk of default.
This time, however, IHH has justified that it believes in the potential of the Indian healthcare story, and is positive that its partnership with Fortis could deliver maximum value to its shareholders.