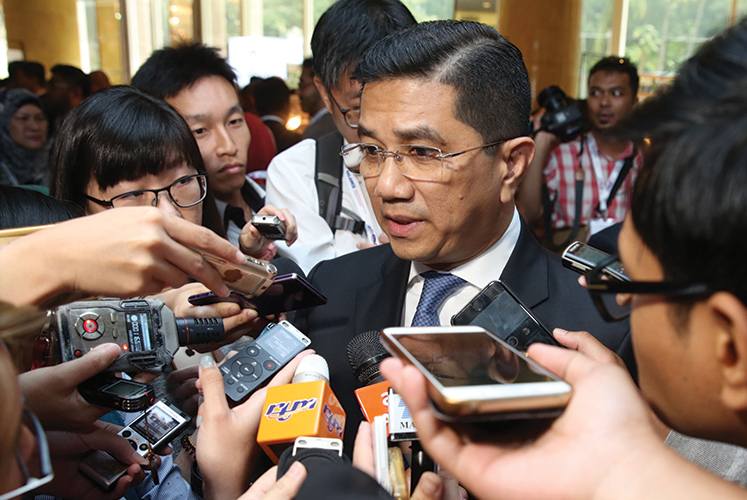 SEMENYIH (Feb 14): The seven former UMNO MPs who were accepted by Parti Pribumi Bersatu Malaysia (PPBM) on Tuesday, will play a prominent role in pulling in grassroots support for Pakatan Harapan (PH), especially in rural areas, PKR deputy president Datuk Seri Mohamed Azmin Ali said.
He said the matter had been explained at length by Prime Minister Tun Dr Mahathir Mohamad, who is also PH chairman, and it was well received.
Azmin said the seven individuals would persuade UMNO's grassroots members to support Dr Mahathir's leadership and help the Government restore the country back to its glory days.
"I think I can accept the justification (for the crossovers) and we have to move forward. This is a plus factor for us because they will go down and meet UMNO members to clarify the need to leave UMNO, which is a corrupted party," he told reporters after the ceremony to introduce the PH candidate for the Semenyih State constituency by-election here today.
On Tuesday, seven former UMNO MPs, namely Datuk Seri Hamzah Zainudin (Larut), Datuk Rosol Wahid (Hulu Terengganu), Datuk Dr Abdul Latiff Ahmad (Mersing), Datuk Shabudin Yahaya (Tasik Gelugor), Datuk Mohamad Fasiah Mohd Fakeh (Sabak Bernam) Datuk Seri Ikmal Hisham Abdul Aziz (Tanah Merah) and Datuk Mas Ermieyati Samsudin (Masjid Tanah) received their Bersatu membership cards from Dr Mahathir.
Meanwhile, Bersatu deputy president Datuk Seri Mukhriz Mahathir said the addition of the ex-UMNO MPs to Bersatu should be seen as a strengthening factor for PH.
"Generally, all parties already knew that this may happen, if any MPs come out of one party and become Independents, there is a possibility for this (crossovers) to happen...this is not surprising," he said when met by reporters after an event in Alor Setar, Kedah, today.