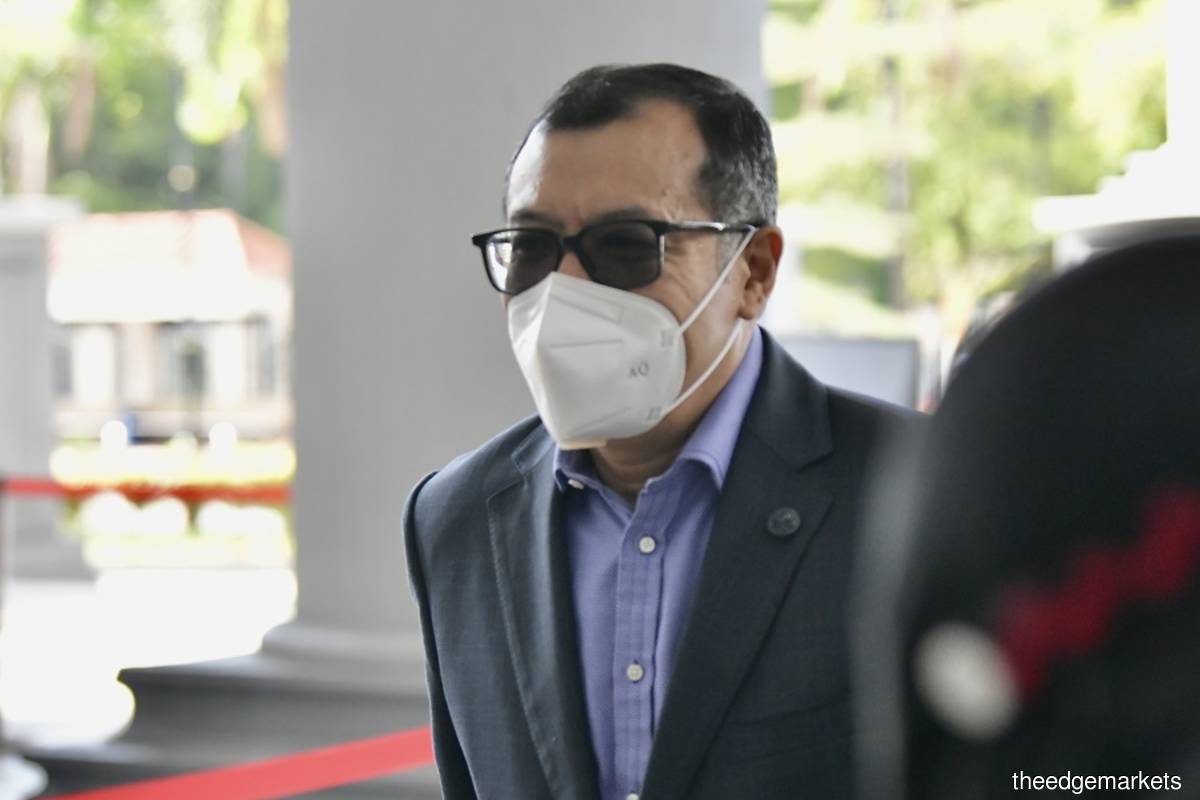 KUALA LUMPUR (May 17): Former 1Malaysia Development Bhd (1MDB) chief financial officer (CFO) Azmi Tahir told the High Court that former prime minister Datuk Seri Najib Razak had neither reprimanded nor called him to enquire about the misappropriation of monies at the state-owned strategic investment company even after the controversy had erupted in the media.
Azmi, who was testifying as the 12th prosecution witness in the graft trial of Najib involving over US$2 billion of funds allegedly misappropriated from 1MDB, said under re-examination by lead prosecutor Datuk Seri Gopal Sri Ram that Najib had never reprimanded him and in fact had renewed his contract.
Sri Ram: It was put to you (by the defence) that you had never gone to raise your concerns to Najib. It was put to you that you could have done it several times. Throughout [your] time [in] 1MDB, when you did what you did and were accused of what you were doing, did Najib reprimand you?
Azmi: No, never, in fact my contract was renewed.
Sri Ram then asked him whether Najib had ever called him to verify the goings-on at 1MDB.
Sri Ram: Could Najib have called you up about [the] irregularities?
Azmi: He could have, but I don't recall that he called when issues surrounding 1MDB had come out in the public and the media at that time. I don't recall [him] calling us up to ask.
Sri Ram: Did he call you?
Azmi: No.
Sri Ram: But if he wanted to he could have. Would you have gone to see him?
Azmi: If he called, I don't see how I could refuse.
Sri Ram then walked Azmi through transactions he had highlighted in his opening statement, the flow of funds that went into Najib's account.
Among others, Sri Ram highlighted the third phase of his opening statement where 1MDB Global Investments Ltd remitted US$2.721 billion to BSI Bank in Lugano.
From the BSI account, Devonshire Funds Ltd received US$646,464,649 in five tranches over two days, namely on March 20 and 21, 2013.
On the second day, Devonshire transferred US$430 million to Granton Property Holding Ltd, a company controlled by Eric Tan, Jho Low's associate.
Also on March 21, 2013, Devonshire transferred a sum of US$210 million to Tanore Finance Corporation.
Between March 31 and April 10, 2013, Tanore transferred US$681 million into Najib's personal AmBank account.
Sri Ram: You were shown money trails from the second, third and fourth phases. Were you aware Najib was siphoning money from 1MDB?
Azmi: No, I was not aware.
Sri Ram: This is in respect to the third charge, were you aware he (Najib) was siphoning money from 1MDB?
Azmi: No, I was not aware.
Sri Ram: Did he disclose that he had received this money?
Azmi: No.
Sri Ram had also asked him about fugitive financier Low Taek Jho or Jho Low. He asked Azmi why he believed Jho Low and had taken instructions from him.
Azmi replied that he believed instructions coming from Jho Low were directly from Najib.
Sri Ram: Did Najib reprimand you for doing what Jho Low asked you to do?
Azmi: No. Never.
Azmi previously said on the witness stand: "… there are things I believe came from Jho Low who I believe was representing Datuk Seri Najib."
Sri Ram also asked him if he had obtained any money at all from the fraudulent 1MDB transactions which ended up in Najib's accounts, or if he personally obtained any money at all from any of the monies referred to under cross-examination.
Azmi: Definitely not.
Sri Ram: Not even one sen?
Azmi: No.
As the defence had previously alleged that Azmi had conspired with Jho Low and others in management to siphon money from 1MDB, Sri Ram asked: "[Did you get] financial benefits from Jho Low?"
Azmi: Definitely not.
Sri Ram: Do you know what arrangements the accused (Najib) had with Jho Low for the use of 1MDB funds?
Azmi: No, I don't.
Justice Datuk Collin Lawrence Sequerah is presiding over the trial in which Najib is charged with four counts of abuse of power and enriching himself with RM2.3 billion of 1MDB funds, and 21 counts of money laundering of the same amount.
Najib faces up to 20 years in jail if convicted.
Azmi will return to the witness stand on Wednesday as Najib's legal team will ask him to testify on other issues surrounding 1MDB.
The Edge is covering the trial live here.
Users of The Edge Markets app may tap here to access the live report.
Read also:
Bakke, Shafee get into heated argument over PAC report on 1MDB