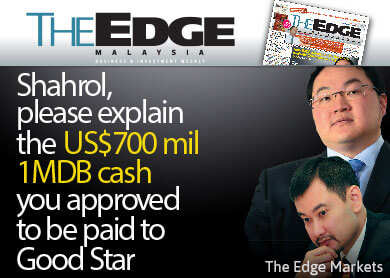 KUALA LUMPUR (Mar 7): 1Malaysia Development Bhd's (1MDB) former CEO Datuk Shahrol Halmi may  have to face impropriety allegations involving the government's 100%-owned entity's multi-billion ringgit joint venture (JV) with PetroSaudi International.
The Edge Malaysia business and investment weekly (Edge Weekly) reported in its latest March 9-15 issue that Shahrol might not have adequate knowledge of the deal when he approved 1MDB's US$1 billion (RM3.48 billion at the then exchange rate) investment for a 40% stake in JV firm 1MDB PetroSaudi Ltd in September 2009.
"Datuk Shahrol Halmi was the CEO of 1Malaysia Development Bhd (1MDB) from March 23, 2009, and was the principal person running the company until he stepped down in March 2013. He is currently with the Prime Minister's Department and remains on the 1MDB board.
"It was during his time as CEO that 1MDB entered into a number of investments and transactions that are now the subject of accusations of impropriety. The Edge believes that Shahrol should be accorded the right to address some of these issues and allegations in the light of the evidence presented by Sarawak Report and also emails and documents sighted by The Edge, which we believe to be genuine," Edge Weekly wrote.
According to Edge Weekly, Shahrol had on September 28, 2009 executed the JV agreement (JVA) on behalf of 1MDB. 1MDB was given two of the five board seats in 1MDB PetroSaudi with no management representation.
Edge Weekly reported that prior to the JVA signing, PetroSaudi had on September 21, 2009 informed Shahrol that PetroSaudi was not ready to specify the assets, which would be placed under the JV firm.
That has prompted Edge Weekly to ask Shahrol."Were you not interested in what 1MDB was investing in? And didn't it alarm you that seven days before the targeted signing date ofSept 28, your partner could not provide you with information on the assets 1MDB would be investing in?"
"Item 5 of the JVA on Page 7 says 1MDB shall engage independent valuation experts to value the assets of PetroSaudi to be injected into the JV. This report must be completed by Sept 30, 2009. 1MDB can terminate the JVA in the event the valuation is low. Did 1MDB appoint an independent valuer?," Edge Weekly wrote.
For a better understanding on 1MDB under Sharol's stewardship, which involved goverment finances and taxpayers money, kindly pick up and read the latest issue of the Edge Weekly.