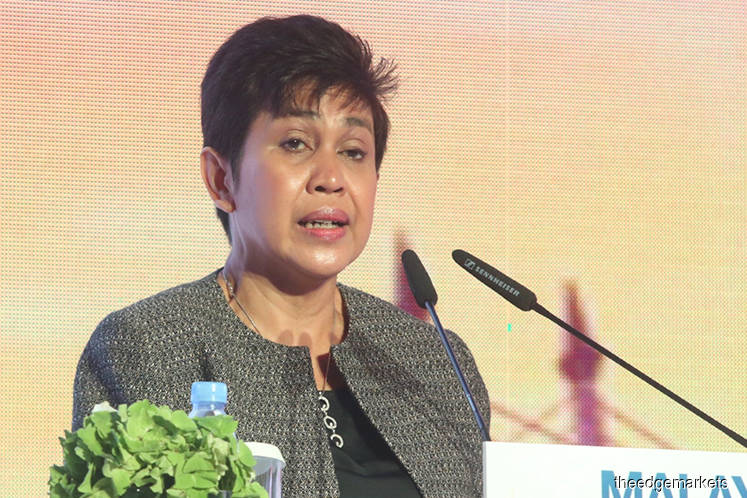 KUALA LUMPUR (June 19): Bank Negara Malaysia isn't budging from a trading ban of offshore ringgit derivatives, according to Governor Nor Shamsiah Mohd Yunus.
The ban on offshore non-deliverable forwards will remain in place as the contracts could disrupt domestic markets, and be an added source of vulnerability for Malaysia's open economy, Shamsiah said.
"What we want are orderly market conditions," the 55-year old central bank chief said in her first interview with the international media since taking office last July. "So what we did was try to minimize the contagion effects from the opaque NDF market. That is done by developing the onshore market so that investors have the avenue to hedge their risks onshore instead of relying on the NDF market."
Bank Negara is holding its ground in the face of criticism from some global funds, and FTSE Russell's warning in April that it may drop Malaysia from its bond index due to concerns about market accessibility. Should that happen, there may be outflows of almost $8 billion from the ringgit debt market, according to an estimate from Morgan Stanley based on IMF data.
"We are continuing our discussions with FTSE Russell," Shamsiah said. "We have been having dialogues with the index providers to understand the needs of the investors and how best to meet the needs."
The central bank has unveiled a slew of measures to let investors do more domestic hedging to address concerns about the restriction on offshore currency trading. Still, fears of outflows and U.S.-China trade tensions have sapped demand for ringgit bonds, with foreign holdings falling to the lowest since 2011 last month.
The governor also said the ringgit's recent performance was in line with regional peers, and that Malaysia isn't "an outlier." The currency has weakened more than 2% in the past three months against the dollar, lagging the Thai baht and the Philippine peso but outperforming South Korea's won and the Chinese yuan.
When asked if a currency peg, which was in place from 1998 to 2005, would be relevant now, she said that "having a flexible exchange rate is a source of strength for the economy because it does allow it to become a shock absorber."