This article first appeared in The Edge Financial Daily, on August 28, 2018.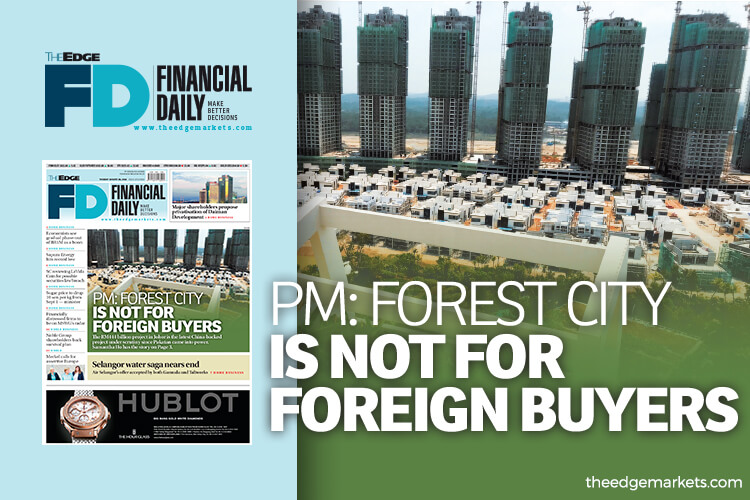 KUALA LUMPUR: The US$100 billion (RM444 billion) Forest City development in Johor is not for foreign buyers, according to Prime Minister Tun Dr Mahathir Mohamad.
"One thing is certain, the city that is going to be built cannot be sold to foreigners," he said in response to a question about the government's position on the project at a press conference here yesterday.
"We are not going to give visas for people to come and live here.
"Our objection is because it was built for foreigners, not built for Malaysians. Most Malaysians are unable to buy those flats," Mahathir added, without elaborating further.
It is not clear at press time whether the ban will be retrospective as the project has been targeting foreign buyers. According to a Reuters report, Chinese buyers make up about two-thirds of the Forest City apartments sold thus far, with 20% from Malaysia and the rest from 22 other countries, including Indonesia, Vietnam and South Korea.
The property and lifestyle development is being conducted by Country Garden Pacific View Sdn Bhd, a joint venture (JV) between Hong Kong-based Country Garden Group and Esplanade Danga 88 Sdn Bhd, an associate company of state-owned Kumpulan Prasarana Rakyat Johor. Country Garden holds a 60% stake in the JV while Esplanade Danga 88 controls a minority 40%.
The 14 sq km development rests on four artificial islands near Singapore's Tuas Checkpoint, and has a gross development value of RM444 billion. It includes a luxury hotel, an American international school that will be opening soon and a golf course that is expected to be completed later this year.
According to Country Garden, the comments made by the PM yesterday do not correspond with the content of an Aug 16 meeting between him and Country Garden Holdings founder and chairman Yeung Kwok Keung or Yang Guoqiang.
"During the meeting, Tun Mahathir reiterated that he welcomes foreign investments which could create employment opportunities, promote technology transfer and innovations that could benefit Malaysia's economic growth and job creation," the group said in a statement yesterday.
According to a sales representative from Country Gardens Malaysia, the group's launched properties, which number over 10,000 units, are fully sold.
Prices of studio units of its condominiums range above RM500,000, while landed properties cost north of RM2 million. Some properties are priced at more than RM6 million, the representative told The Edge Financial Daily over the phone.
It was also learnt that the keys to four blocks of condominiums have already been handed to their owners, with over 10 more towers currently under construction. They are expected to be completed within the next two years, said the representative.
Country Gardens also has other projects in Malaysia including Country Garden Diamond City in Semenyih, Selangor; Country Garden Central Park in Tampoi and Country Garden Danga Bay, both in Johor Baru.
China-related projects have come under heavy scrutiny ever since the Pakatan Harapan administration came to power under Dr Mahathir. He has since called for the suspension of several large infrastructure developments, such as the RM60-over billion East Coast Rail Link project, the multi-product pipeline in Melaka and natural gas pipeline project in Sabah.
This followed his discussions with Chinese state officials during an official visit to China last week.
Country Garden is a Foshan, Guangdong-based property development company, majority-owned by Guoqiang's daughter Huiyan.
It is listed in Hong Kong and as at yesterday had a market capitalisation of HK$263.3 billion.