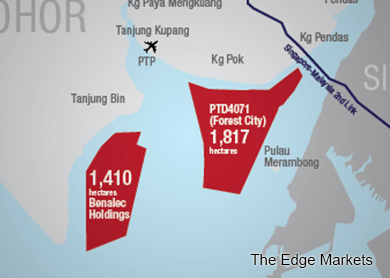 KUALA LUMPUR (Mar 19): The gross development value (GDV) of the controversial Forest City project, which is to be undertaken by Country Garden Pacific View Sdn Bhd, has shrunk 25% to RM450 billion after the project's size was cut down by 30%.
Country Garden Pacific View executive director Datuk Md Othman Yusof said the GDV estimation has to be brought down, after the project was resized.
"At 4,887 acres (1977.7ha), we estimated it (GDV) to be RM600 billion. With the reduction of size by 30% to 3,425 acres (1386.05ha) now, the GDV is around RM450 billion," Md Othman said during a media briefing here today.
He said the reason for cutting down the size of the project, which is to be entirely built on four separate reclaimed islands, is to preserve the seagrass at the development site.
In addition, he said about 300 acres of the second island has to be cut down, as it overlaps with the anhorage area where ship to ship transfer activities takes place.
Country Garden Pacific View also announced it is recommencing the Forest City project, which lies close to Singapore, and is scheduled to be completed in 2045.
The project, a 66:34 joint venture between one of China's largest developer Country Garden Holdings Ltd and Esplanade Danga 88 Sdn Bhd, whose main shareholder is the Sultan of Johor, has stalled since June 16 last year.
It was reported then that Singapore had voiced its concern over the project to the Malaysian government in two diplomatic notes.
In January this year, the Department of Environment (DOE) approved the project's detailed environmental impact assessment report (DEIA), despite Tanjung Kupang villagers arguing it would lead to the loss of their land and livelihood.
During a public dialogue on Sept 21 last year, residents had accused the developer, Country Garden Pacific View of bulldozing the project through. Fishermen complained of shrinking catches, since the reclamation works started.
It obtained the approval from the Department of Environment for its detailed environmental Impact assessment (DEIA) report in January, and its Environment Management Plan in February.
Md Othman also mentioned Forest City was included as part of of Iskandar Malaysia's development on Jan 27.
"We'll be able to enjoy the incentives that fall under the Iskandar Malaysia," he said, adding Country Garden Pacific View is in the midst of applying for these incentive, including tax relief under the flagship Iskandar Malaysia development.
On the project's financing, Md Othman said the company is currently using internal funding, while looking at local and international finance houses for fund.
The developer is still in the process of studying what products to launch and the pricing of these products is expected to be known in two months.