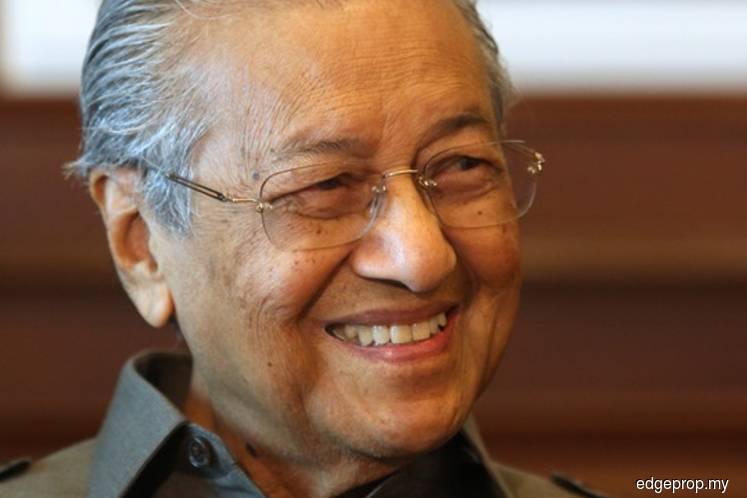 PETALING JAYA (Sept 7): Prime Minister Tun Dr Mahathir Mohamad jibed at Johor Menteri Besar Datuk Osman Sapian, saying he would support the latter if he wanted to allow foreigners to reside in Forest City while locals lived in wooden houses.
In a joint interview with Malaysiakini and Sinar Harian, the premier said foreigners who are allowed to purchase homes and live in Forest City could even transform the southern state into a city that is more developed than Singapore.
"Because these people have money and can invest, they are business savvy and can build beautiful buildings.
"But we will live in wooden houses. If that's what we want, it's okay, I will support the Menteri Besar of Johor.
"If we want to bring in more people, and they are rich and they will pay more taxes than us, okay. We will be rich," he added.
He made the biting remarks in response to the MB's suggestion that he was unaware about the state's foreign property ownership policies.
On a more serious note, Dr Mahathir said he did not want "these people" to live there.
"If they make a city that is so big, surely they would not just come here for five days.
"And if they open a shop, because surely there will be a shop — they wouldn't just open it for seven days and then go back to China.
"They would want to live here, and if they want to live here, they would want to be part of our country... then if they ask to become citizens, then we would not be able to refuse," he said.
The premier had caused a stir two weeks ago when he announced that foreigners will not be allowed to buy properties in the RM410 billion-Forest City and be issued visas to live there.
In response, developer Country Garden Pacificview Sdn Bhd had issued a statement saying their sales followed all Malaysian laws and they did not issue permanent residencies to buyers.
Osman said the negative publicity surrounding Forest City arose from certain parties making ill-informed claims about the project and that the project had actually contributed to the coffers of the state and federal governments through taxes, premiums and other payments.
Dr Mahathir later said while foreign purchasers were welcome, they would not be issued visas to live there.
Forest City is now being studied by a committee chaired by Housing and Local Government Minister Zuraida Kamaruddin who will submit her findings to the cabinet, which will likely deliberate on foreign ownership quotas for the development and the broader real estate market.