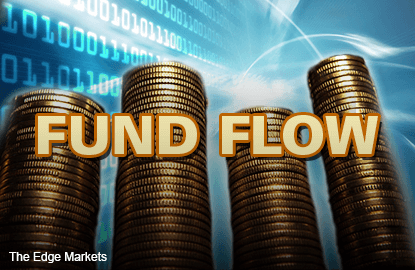 KUALA LUMPUR (Nov 14): Foreigners sold off RM800.4 million Malaysian equity last week, according to MIDF Research.
In his weekly fund flow report today, MIDF Research head Zulkifli Hamzah said the heaviest of the selldown appears to be in the past and the foreign money currently flowing out is, at most, residual.
"Hence, the heavy tide out of Asian equity last week was more contained on Bursa.
"Indeed, the net amount sold by foreigners on Bursa of RM800.4 million last week was lower than the RM948.1 million offloaded the week prior.
"Still, it was the seventh highest weekly outflow this year,  estimated based on transactions in the open market which excluded off market deals," he said.
Zulkilfi said foreign investors were actually net buyers on Monday and Tuesday, albeit moderately.
He said this was in contrast to that in the Thailand, Indonesia and Philippines (TIPs) markets where foreign selling was reported for the 2-day total.
He said the buying reversed abruptly on Wednesday and continued for the rest of the week.
He said that on Friday, the attrition turned ugly as the amount offloaded amounted to RM690.9 million.
He said it was the highest in a day so far this year.
"Despite the attrition last week, foreign investors remained net purchaser cumulative year-to-date.
"But the amount has shrunk to only RM261 million from a peak of RM6.47 billion in April, meaning RM6.21 million had been redeemed since April," he said.
Zulkifli said it was RM19.5 billion and RM6.9 billion net outflow in 2015 and 2014 respectively.
He said foreign participation remained surprisingly moderate.
"Foreign ADTV (average daily value of shares traded) remained below the RM1 billon mark at RM994 million.
"The market was well supported by local institutions last week," he said.
Zulkifli said retail investors came to life last week, explaining that retail ADTV shot up 37% to RM643 million.
He said it was the highest in 12 weeks and the first time it exceeded the RM500 million mark in six weeks.
However, he said the buying on dips conviction was weak as the buying and selling amount was almost equal last week.