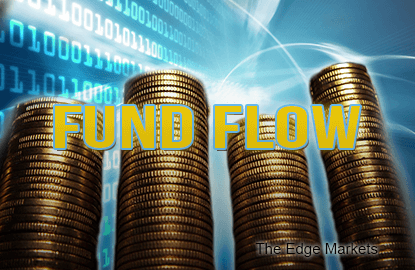 KUALA LUMPUR (Jan 3): During the last week of 2016, the Malaysian equity foreign fund flow remained negative, according to the MIDF Research strategy team.
In its weekly fund flow report today, MIDF Research said net amount sold by foreigners on Bursa was RM31.2 million, albeit a much smaller amount, compared with the prior week's figure of RM481.7 million.
The research house said throughout the whole week on net daily basis, foreign investors had been liquidating their investments with exception for Wednesday, which saw a net foreign inflow of RM57.5 million.
 
It said the highest attrition was on Tuesday, of RM70.1 million.
 
"Retail investors' gross participation rate continued to expand to RM429.6 million, from RM392.6 million in the prior week.
 
"The institutional investors' gross participation rate also improved to RM1,920.0 million, from RM1,667.0 million in the prior week," it said.
 
MIDF Research said that in 2016, the amount of foreign net outflow was RM3.0 billion.
 
"It is noteworthy that the figure was relatively low, vis-à-vis -RM19.5 billion net outflow in 2015," it said.