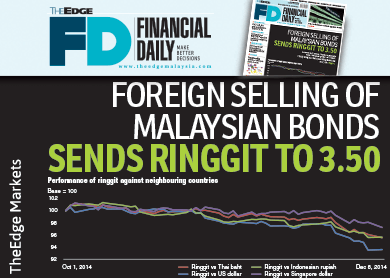 KUALA LUMPUR: The ringgit weakened further against most major currencies yesterday as investors sold local-currency debt papers amid mounting concerns about the impact of sliding crude oil prices on Malaysia's fiscal and current account balance.
Yields on 10-year Malaysian Government Securities (MGS) maturing in May 2024 added 5.8 basis points to a five-month high of 4.013%, Bloomberg data showed. Data on the central bank's website showed yields on seven-year MGS maturing in September 2021 added 19 basis points to 4.01% yesterday. Ten-year Islamic sovereign Malaysian Government Investment Issues (GII) added 11 basis points to 4.29% before closing at 4.26% — their highest since July.
Bond yields typically rise when bond prices fall, and prices fall when there are more sellers than buyers of the bonds which was what happened yesterday to Malaysian bonds, in particular the 10-year GII. Foreign bondholders will typically switch the ringgit they get after selling the bonds to US dollars, contributing to the ringgit's weakness.
Bond yields climbed and the FBM KLCI shed 0.49% to end at 1,740.84 points yesterday as oil prices slumped further even as investors contemplate just how well Malaysia can withstand oil prices falling below the US$65 (RM227)-mark.
RHB Research executive chairman and chief economist Lim Chee Sing told The Edge last week that Malaysia might have trouble meeting its fiscal deficit targets if oil prices fell sustainably below US$65 per barrel next year.
In a note yesterday, CIMB Research economist Julia Goh called US$65 per barrel for Tapis as "the pain point", beyond which government revenues "will be harder hit" while savings from fuel subsidies cut are capped at around RM11 billion to RM13 billion.
The Bloomberg Asia-Pacific Tapis crude yesterday shed 2.3% to close at US$70.90 — the lowest since May 2010 and one-third below the US$105 that economists estimate Malaysia based its 2015 revenue projection on. That happened even as Brent crude oil skidded 2.2% to its lowest since July 2009 of US$67.53 per barrel, while the West Texas Intermediate (WTI) slumped 1.76% to US$64.68 per barrel.
That sent the ringgit down 1.04% to a new five-year low yesterday, slumping to as low as RM3.5073 versus the US dollar. Closing at RM3.4955 versus the greenback yesterday, the ringgit has lost 11.3% since late August and is 3.3% weaker after the Organization of the Petroleum Exporting Countries resolved to maintain their output in late November.
That's not too far away from the RM3.60 level that some analysts expect the ringgit to weaken by next year before averaging between the RM3.30 and RM3.50 levels to the greenback for the full year.
"On balance, the ringgit could stay weak at around 3.30 to 3.45 per US dollar or even exceeding that level temporarily in the short term, due to overreaction to the plunge in oil prices," RHB Research economists Peck Boon Soon and Shafizal Shafaai wrote in a Dec 8 note.
Growth concerns, they added, might see the ringgit "average around 3.30 to the US dollar in 2015, supported by sustained current account surplus in the balance of payments, although the government could potentially miss its fiscal deficit target in 2015".
As at yesterday, the ringgit also slid 0.52% to a new low of RM2.6503 against the Singapore dollar intraday yesterday before closing at RM2.6404 — the weakest since early 1998 amid the Asian financial crisis — and closed weaker against most major currencies, save for the Japanese yen and Australian dollar.
Forex dealers said BNM intervened by buying the ringgit yesterday, which might have explained its rebound in the afternoon session. This could not be immediately confirmed at press time.
Fears over the resilience of the country's economy were exacerbated by weaker-than-expected October export figures as well as the latest Bank Negara Malaysia (BNM) figures that showed an RM8 billion (US$2.4 billion) drop in foreign reserves over one month to RM411.7 billion (US$125.7 billion) as at Nov 28, 2014 — the lowest since July 2011.
"We believe [BNM] reserves will face outflow pressures from continued uncertainty in global commodity and asset prices, and in anticipation of narrower current account surpluses," said CIMB Research's Goh.
Already, foreigners had between July and October this year withdrawn over US$2.2 billion worth of investments in MGS. Foreign holdings of MGS are down from a peak of 48.35% in July to 45.91% (RM146.74 billion) of the RM319.63 billion worth of outstanding MGS as at October 2014, central bank data showed. Foreign holdings of the Islamic Government Investment Issues are much lower.
This article first appeared in The Edge Financial Daily, on December 9, 2014.