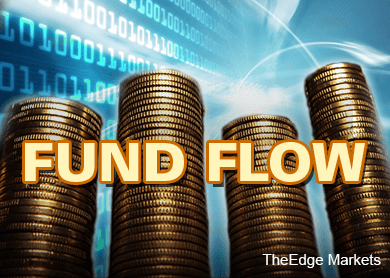 KUALA LUMPUR (May 18): Relatively heavy foreign selling of Malaysian equity continued for the third week in a row for the week ended May 15, according to MIDF Research.
In his weekly fund fund report, MIDF Research head Zulkifli Hamzah said investors classified as "foreign" sold equity listed in the open market on Bursa Malaysia amounting to RM537.7 million on a net basis last week, compared with RM460.4 million the week before.
He said that foreign selling was heavy in the first three days, peaking on Tuesday when RM223.5 million was offloaded, the 13th day this year than the amount had exceeded RM200 million.
"However, we note that foreign investors had turned net buyers on Friday, although the amount bought was only RM72 million.
"Prior to Friday, foreign investors had been selling for seven straight days," he said.
Zulkifli explianed that in the last two weeks, foreigner investors had offloaded RM1.58 billion in the open market.
He said this had increased the cumulative net foreign outflow in 2015 to RM4.20 billion.
In comparison, the cumulative foreign outflow for the entire 2014 was RM6.93 billion, he said.
Zulkifli said that foreign participation on Bursa declined last week after two weeks of elevated trading.
He said that the daily average gross purchase and sale fell below RM1 billion to RM901 million.
"Retail investors retreated from the market again after nibbling the week before.
"Retailers sold RM137.9 million last week, but most of the selling was recorded on Friday, when Malakoff was listed.
"Participation rate remained depressed at RM644 million, among the lowest this year. Risk aversion is still very high among retail investors," he said.
Zulkifli said that for the third week in a row, local institutions supported the market strongly.
He said that local institutions absorbed RM675.6 million last week, the fourth highest in a week this year.
He said participation rate was still elevated at RM2.0 billion.
Zulkifli said that local institutions have absorbed RM5.36 billion net so far this year. In 2014, they mopped up RM8.18 billion net.