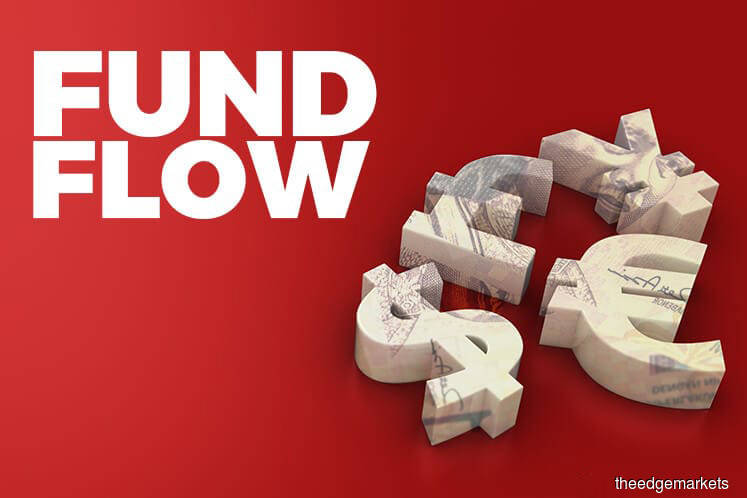 KUALA LUMPUR (May 14): International investors sold a whopping RM504.8 million of Malaysian equity ahead of the general election last week, compared to an outflow of RM438.4 million the prior week, according to MIDF Amanah Investment Bank Bhd Research.
In his weekly fund flow report today, MIDF Research's Adam M Rahim said the year-to-date inflow dipped to RM2.52 billion net as a result.
"Nonetheless, foreign and local institutional participation was robust, as their average daily trade values (ADTV) stood at RM1.22 billion and RM2.85 billion (the highest in 10 weeks) respectively. 
"Malaysia also remains as the largest beneficiary of inflows among the 4 ASEAN markets we track," Adam said. 
The outflows on these two days extended the foreign selling spree from last week to five days, the longest since February 2018, he added.
"It is noteworthy that Monday recorded the highest outflow, which amounted to RM273.6 million net.
"On the eve of GE14, foreign selling activity shrank by RM42.4 million to RM231.2 million net, with the local bourse climbing, boosted by buying activity from the local institutions, which have been net buyers for five days straight," Adam said. 
This Monday marks the first trading day after GE14, which witnessed the end of the six-decade rule by Barisan Nasional, he added.
In the wake of the election surprise win by Pakatan Harapan, some level of foreign attrition is bound to occur in the short term, amidst political uncertainties, Adam said. 
"Nonetheless, this could be capped by investors' perception towards Tun Dr Mahathir Mohamad, Malaysia's seventh Prime Minister who has 22 years of experience in leading Malaysia, before joining the then-opposition in 2016. 
"The new Prime Minister noted that he will focus on addressing concerns over economic and state finances, including reducing government debt but not devaluing the ringgit," he said. 
In the long run, Adam expects foreign investors to return to Malaysia, as Pakatan Harapan gradually works on its promises made during GE14.