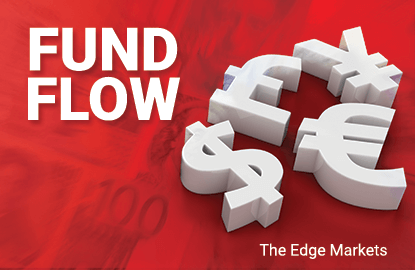 KUALA LUMPUR (Oct 17): Bursa Malaysia was not spared from the regional outflow last week, according to MIDF Research.
In his weekly fund flow report today, MIDF Research head Zulkifli Hamzah said foreign investors pulled out of Bursa in line with other regional markets as the ringgit weakened further to US dollar/ringgit at 4.19.
Last week, foreign outflow was RM227.4 million compared to an inflow of RM118.8 million the week prior, he said.
This week, all eyes will be on the tabulation of Budget 2017 slated for Friday.
He noted the August export data and higher inflation rate. August inflation rose higher by 1.5% compared to 1.3% expected.
Zulkifli said foreign investors were net sellers on Monday (RM25.2 million), Wednesday (RM108 million), Thursday (RM46 million) and Friday (RM100.2 million).
"They were net buyers only on Tuesday (RM12.4 million). Foreigners' participation rate fell drastically from RM1042.8 million the week earlier to RM783.2 million last week," he said.
Year-to-date cumulative net foreign inflow contracted to RM2.19 billion compared to RM2.42 billion the week before, said Zulkifli.
In retrospect, foreigners had offloaded RM19.5 billion in 2015 and RM6.9 billion in 2014, he said.
Zulkifli said local institutions turned net buyers during the week, loading up RM309.5 million worth of shares.
That occurred after they sold off RM30.9 million in the preceding week, he noted.
Zulkifli said local funds were buyers on Monday (RM44.7 million), Wednesday (RM136 million), Thursday (RM51.6 million) and Friday (RM109.7 million).
On the other hand, he said they sold stocks on Tuesday (RM32.5 million).
Zulkifli said retailers continued to sell stocks for the third successive week last week by offloading RM82.1 million.
In the week earlier, they sold RM87.9 million, he added. They were net sellers every single day last week.
He said they divested stocks worth RM19.5 million on Monday, RM19.5 million on Tuesday, RM28 million on Wednesday, RM5.6 million on Thursday and RM9.5 million on Friday.
He said participation rate for all three categories of investors declined last week due to the change of macro outlook that is largely influenced by the Federal Reserve's higher chances of monetary tightening in December.
That has led to money flowing out of emerging market, he noted.
He added there were no visible catalysts locally.