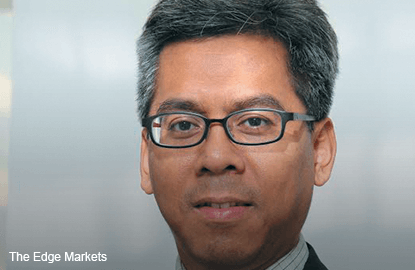 This article first appeared in The Edge Financial Daily, on November 3, 2015.
KUALA LUMPUR: Foreign investors turned net sellers last week after three consecutive weeks of buying, and sold an aggregate RM600.1 million after mopping up RM1.43 billion in the preceding three weeks, said MIDF Research.
In his weekly fund flow report yesterday, MIDF Research head Zulkifli Hamzah said it was not an outright deficit week though.
He said overseas investors were still accumulating local equity on Monday, buying RM123.1 million on that day.
He said it was obviously a carry-forward momentum from last Friday when a huge RM296.5 million inflow was recorded.
"The turnaround was last Tuesday, similar to that observed in Thailand. In Jakarta, foreign funds dumped their holdings heavily a day earlier.
"The real damage was on Thursday last, in the aftermath of the US Federal Reserve's (Fed) hawkish declaration of intent. Foreign selling on the day surged to RM359.7 million, the 12th highest in a day this year.
"On Friday last, the selling tapered to RM191.5 million," he said.
Zulkilfli said for 2015, last week's attrition raised the cumulative net foreign outflow to RM17.5 billion, compared with the RM6.9 billion outflow for the entire 2014.
However, he said the October month recorded a relatively rare incidence of foreign buying this year amounting to RM622.2 million, the first surplus since April and only the second time in the last 14 months.
He added that the market was entering a period of low market activity.
"This is evidenced last week by a significant drop in foreign participation.
"Average daily gross volume fell to RM916 million, the first time it dipped below the RM1 billion mark in seven weeks," he said.
Zulkifli said local institutions bought RM503.7 million on a yet active RM2.35 billion participation rate.
"The retail market was vibrant in October. However, it is likely to take a breather in line with the broader market.
"Participation rate fell below RM800 million for the first time in four weeks at RM758 million.
"Retail investors bought RM96.4 million net last week, but these are either late in the game or have the wherewithal to hold," he said.
Commenting on the region, Zulkifli said equity markets ended trading in the month of October on a rather subdued note.
He said trading was lacklustre and most benchmark indices ended last week in the redzone.
"In short, risk aversion in the equity markets around the globe has shot up.
"The Fed's Open Market Committee meeting last Wednesday was a hawkish declaration of intent," he said.
Zulkifli said it effectively set a scenario for increased market volatility in the intervening period until the next meeting on Dec 16.
He said investors' agitation last Friday was also evident ahead of China's official manufacturing PMI scheduled to be released on Sunday, and the US employment report on Wednesday.
"As it turned out, China's PMI indicated that the country's manufacturing sector contracted for the third consecutive month.
"After three weeks of buying, global funds turned net sellers of Asian equity. Selling was heavy in Jakarta and Thailand last week," he added.