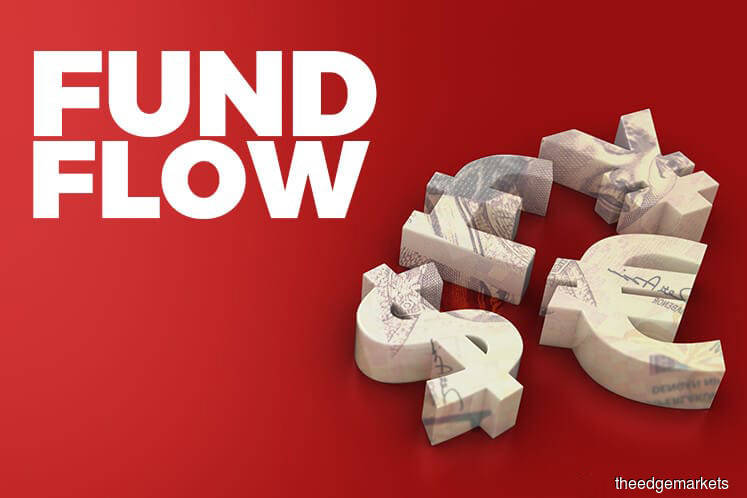 KUALA LUMPUR (July 30): Foreign funds offloaded RM498.4 million Malaysian equity on Bursa Malaysia last week, up from RM247.1 million the prior week, according to MIDF Amanah Investment Bank Bhd Research.
In his weekly fund flow report today, MIDF Research's Adam M Rahim said global investors were net sellers on every single day of the week, extending the daily selling streak to seven days.
"Foreign selling was the lowest on Monday at only RM28.1 million net, the smallest in a day since April 26, 2018 as risk appetite was strong following the statement by Malaysian Investment Development Authority (MIDA) regarding 402 projects in the pipeline with a proposed investment of RM75 billion as at May 2018.
"The pace of foreign attrition later swelled on Tuesday and Wednesday to RM129.1 million net and RM244.2 million net, respectively in spite of China's move to expand fiscal stimulus," he said.
Nevertheless, Adam said levels of foreign selling returned to a contained level of RM35.7 million net on Thursday.
He explained sentiment was rekindled as the US and EU agreed to suspend trade tariffs while negotiating lower barriers to transatlantic commerce.
Adam said international investors sold slightly more on Friday to a tune of RM61.3 million net as attention has now turned back to China after the US plans to go ahead on trade talks with Mexico and Canada.
"July is set to be the month with the third lowest outflow so far this year with a month-to-date attrition worth RM1.98 billion net as of last Friday," he said.
Adam said that on the regional front, Malaysia still has the second lowest outflow amongst the four Asean markets he tracks despite the cumulative year-to-date outflow approaching the RM9 billion mark.
"Market participation amongst foreign investors, retailers and local institutional funds stood strong.
"The average daily traded value (ADTV) of foreign investors advanced the most for the week by 8.7% to RM1.15 billion," he said.