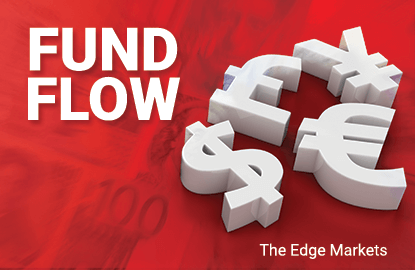 KUALA LUMPUR (Nov 7): Foreign investors turned more aggressive in their trading of Malaysian stocks last week, and dumped RM948.1 million, according to MIDF Research.
In his weekly fund flow report today, MIDF Research head Zulkifli Hamzah said the selling last week was the fifth highest weekly outflow this year.
He said this was estimated based on transactions in the open market which excluded off market deals.
"Net foreign selling dominated the entire trading week. The attrition turned ugly in the last two days of the week as the amount offloaded exceeded RM250 million per diem.
"On Friday, the liquidation hit RM348.6 million, the third highest in a day this year," he said.
Zulkilfi said the cumulative year-to-date net foreign purchase of Malaysian-listed shares is now only RM1.06 billion, down from a peak of RM6.47 billion in April.
He said foreign investors have redeemed since April, RM5.41 billion.
"This compared with RM19.5 billion and RM6.9 billion net outflow in 2015 and 2014 respectively," he said.
Zulkifli said foreign participation rebounded sharply last week.
He said foreign ADTV (average daily value of shares traded) rose 15% to RM843 million.
"Still, it was relatively moderate. The last time it broke the RM1 billion mark was 5 weeks ago.
"The market was heavily supported by local institutions last week," he said.
Zulkifli said retail participation remained depressingly weak.
He said retail ADTV remained below RM500 million five weeks in a row now.
"We reiterate that the market has not seen the extent of retail withdrawal since early 2013," he said.