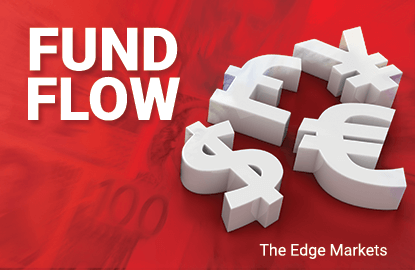 KUALA LUMPUR (Oct 24): Foreign money tide was low on Bursa Malaysia in the Budget week, and "foreign" investors bought RM211.1 million worth of stocks after disposing of RM227.4 million the week prior, according to MIDF Research.
In his weekly fund flow report today, MIDF Research head Zulkifli Hamzah said foreigners had alternated between buying and selling on a weekly basis in the past eight weeks.
Last Friday, the Prime Minister announced Budget 2017 while the consumer price index in September rose by 1.5% to 115.3 year-on-year.
Zulkifli said foreign investors were net sellers on Monday (RM70.7 million), Thursday (RM15.5 million) and Friday (RM33.2 million).
He said they were net buyers on Tuesday (RM254.2 million) and Wednesday (RM76.3 million).
"Foreigners' participation rate increased by 14% to RM894.14 million from RM783.2 million in the week prior," he said.
Zulkifli said year-to-date cumulative net foreign inflow expanded to RM2.4 billion from RM2.2 billion in the preceding week.
In retrospect, foreigners had offloaded RM19.5 billion in 2015 and RM6.9 billion in 2014, he noted.
Zulkifli said local institutions turned net sellers during the week, offloading RM110 million worth of shares after they bought up RM309.5 million in the preceding week.
He said local funds were buyers on Monday (RM85 million), Thursday (RM25.7 million) and Friday (RM54.4 million).
"On the other hand, they sold stocks on Tuesday (RM224.1 million) and Wednesday (RM51 million)," he said.
Zulkifli explained that retailers continue to sell stocks for the fourth successive week last week by divesting RM101.1 million, the most since September.
"In the week earlier, they sold RM82.1 million. They were net sellers every single day last week. They divested stocks worth RM19.5 million on Monday, RM19.5 million on Tuesday, RM28 million on Wednesday, RM5.6 million on Thursday and RM9.5 million on Friday.
"Participation rate from retailers and local funds declined slightly compared to the week before," he said.