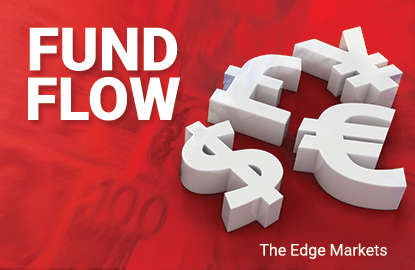 KUALA LUMPUR (Dec 27): Malaysian equity foreign fund flow turned negative again last week, according to the MIDF Research Strategy team.
In its weekly fund flow report today, MIDF Research said the positive net foreign fund flow of the prior week, its first since before the US election in November, was short-lived.
It said the net amount sold by foreigners on Bursa Malaysia last week was RM481.7 million compared to the prior week's net purchase of RM44 million.
"Nevertheless, as stated earlier, the negative foreign fund flow last week was equally prevalent in many other Asian equity markets.
"Throughout the whole week on net daily basis, foreign investors have been selling off their investments," it said.
MIDF Research said the highest attrition was on Friday of RM163.4 million and the lowest was on Tuesday of RM18.3 million.
The research house said that on a cumulative year to date, the amount of net selling by foreigners this year has expanded further to RM3 billion.
However, it said that compared to last year, the outflow amount is still relatively low vis-à-vis RM19.5 billion net outflow in 2015.
MIDF Research said retail investors gross participation rate continued to expand to RM392.6 million from RM378.5 million in the prior week.
"This is in line with the higher buying on dips conviction which surged to RM84.9 million from RM14.1 million during the prior week.
"On the other hand, the institutional investors gross participation rate fell to RM1.67 billion from RM1.93 billion in the prior week," it said.