This article first appeared in The Edge Financial Daily, on October 2, 2018.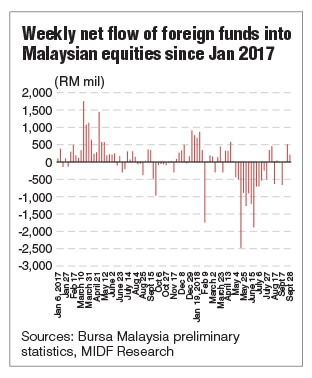 KUALA LUMPUR: Foreign funds bought equities listed on Bursa Malaysia for the third week running last week, the longest buying streak so far since the 14th general election (GE14) on May 9.
In his weekly fund flow report yesterday, MIDF Research analyst Danial Razak said international funds acquired RM212.3 million net of local equities last week, about half the net inflow in the previous two weeks.
"The month of September saw a foreign net inflow of RM66.3 million. Year-to-date outflow from Bursa, as of last Friday, stood at RM8.5 billion or US$2.2 billion, still the second-lowest foreign outflow among the four Asean markets that we monitor," he added.
Danial also pointed out Malaysia was one of the two markets in Asean, besides Indonesia, which attracted weekly foreign net inflows.
"Foreign investors first bought RM199.4 million net on (last) Tuesday followed by RM72.3 million net on (last) Wednesday. A highest weekly foreign net attrition worth RM37.9 million was seen on (last) Thursday as foreign investors reacted to an interest rate hike by the US Federal Reserve.
"The same trend was seen across Asean markets — Thailand, the Philippines and Indonesia, with the highest foreign outflow of US$53.6 million recorded in Thailand. Nevertheless, offshore funds paced down the outflow on (last) Friday, recording only RM10.9 million net attrition," said Danial.
Meanwhile, institutional investors were more active than the retail market and foreign institutions for the week ended Sept 28, 2018, as its weekly average daily traded value (ADTV) was 7.3% higher at RM2.2 billion.
The weekly ADTV of the foreign market declined more than 10% but still remains above the healthy level of RM1 billion. In the retail market, the ADTV grew 5.6% to RM917.8 million.
Regionally, MIDF Research noted that based on the provisional aggregate data for the seven Asian exchanges that it tracks, investors classified as "foreign" disposed of US$18.9 million net last week — the lowest weekly withdrawal so far this year.
"In the emerging Southeast Asian markets that we monitor, only Malaysia and Indonesia experienced a weekly foreign net inflow," it added.