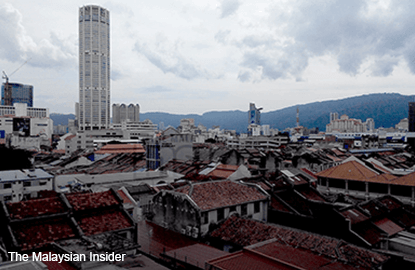 GEORGE TOWN (March 25): Japanese, French, Chinese, German and Dutch companies have expressed an interest in participating in the RM27 billion Penang Transport Master Plan (PTMP) projects.
"For instance, the Japanese companies are keen on supplying the trains, while the Dutch want to carry out the reclamation works," Penang state secretary office's local government division chief engineer Lim Thean Heng told reporters at the PTMP progress briefing today.
Lim said the Gamuda Bhd-led SRS Consortium is expected to call for tenders next year once they have been approved by the authorities. SRS Consortium is the project delivery partner (PDP) for the PTMP projects.
He said the tender packages comprise small and sub-tenders for various jobs once the implementation phase begins.
"We are looking at thousands of tender packages to facilitate numerous parts of the projects including infrastructure, machinery, and trains," he added.
Lim also said he has met several fund managers who are interested in learning the state's financial models due to Gamuda's participation as lead partner in the project.
"They asked about the implementation process, schedule and cost of reclamation of the island because Gamuda is involved and it was responsible towards its investors," he said.
SRS Consortium, a joint venture in which Gamuda holds a 60% stake and Ideal Property Development Sdn Bhd and Loh Phoy Yen Holdings Sdn Bhd holding 20% each, received its PDP appointment letter from the state on Aug 14, 2015.
The 15-year PTMP features a light rail transit (LRT) linking Bayan Lepas to Komtar, and a 20km Pan Island Link Highway (PIL) between Bayan Lepas and Gurney Drive, that would be funded via a land swap model.
The state expects to reclaim three islands dubbed `Penang South Reclamation — Smart City' measuring about 800 acres, 1,300 acres and 2,100 acres at a cost of between RM7 billion and RM8 billion that would have a five-time multiplier effect of RM100 billion and a growth catalyst for the state till 2050.
The islands with flushing channels would feature residential homes including 24,000 affordable units, about 1,000 acres of industrial area, 700 acres of or 15% green space, a 5km beach stretch, 25km coastal park, a 30km-long waterfront, sheltered pedestrian walkways and designated bicycle lanes.
It will also house a meetings, incentive, conference and exhibition (MICE) centre, sports arena, museum and a performing arts centre, and the airport.
Penang State Local Government, Traffic Management and Flood Management committee chairman Chow Kon Yeow said the state has received favourable responses from the stakeholders including the public and business communities.
"Based on overall positive response, Penangites welcome the implementation of the project.
"However, the fishermen community in the south coast remain concerned on the proposed reclamation as they are worried it would impact their income," he said.
Concurrently, project consultants appointed to carry out the studies on Detailed Environmental Impact Assessment (DEIA), Heritage Impact Assessment and Fisheries Impact Assessment have conducted focus group discussions and case interviews with stakeholders along Bayan Lepas LRT and PIL Highway, and affected fishing villages.
So far, a total of 44 focus group discussions and case interviews were held, Chow said, adding that out of 14 sessions involving 1,830 who attended the public consultation sessions, only one session disagreed.
He declined to comment on the resettlement cost and the number of people that would be affected as a result of the PIL Highway construction as it was still being finalised.
The DEIAs for the LRT and PIL Highway are expected to be submitted to the Department of Environment by early July while approval from the National Physical Planning Council (NPPC) chaired by Prime Minister Datuk Seri Najib Razak would be sought in November.
"The conditional approval Bayan Lepas railway scheme, which will be drawn up by SRS, would be sought in July. All the approvals including the DEIAs would have to fulfilled before we submit to NPPC," said Chow.