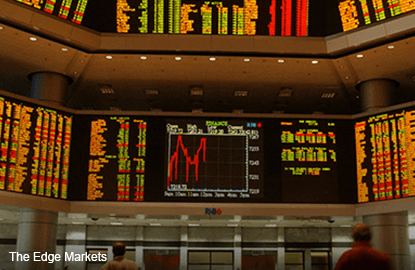 This article first appeared in The Edge Financial Daily, on April 5, 2016.
KUALA LUMPUR: Foreign buying momentum of stocks listed on Bursa Malaysia remained strong last week, which extended the current run to five consecutive weeks, according to MIDF Research.
In his weekly fund flow report yesterday, MIDF Research head Zulkifli Hamzah said for the fourth consecutive week, the amount of net foreign purchase had exceeded RM1 billion.
He said foreigners bought listed equities amounting to RM1.04 billion, compared with RM1.37 billion acquired in the preceding week. This was estimated based on transactions in the open market, excluding off-market deals.
Zulkifli added that foreign investors returned strongly to the local market after laying low on Good Friday and Easter Monday.
The net amount bought between Tuesday and Thursday last week exceeded RM300 million per day, even hitting RM401 million last Wednesday, the fifth highest in a day this year.
"However, foreign investors turned net sellers on [last] Friday, likely rattled by the -2.3% decline in Brent crude price on the day.
"Sentiment across the region was also weak on [last] Friday. Nevertheless, the amount sold on Friday was small, only RM46.4 million," he said.
Zulkifli said for the month of March, cumulative net foreign purchases amounted to RM6.1 billion.
He said that even exceeded the cumulative inflow in April 2013, the month prior to the general election, when foreign investors bought an estimated RM5.2 billion.
"We believe March 2016 was one of the highest months on record for foreign money inflow into listed equity in Malaysia.
"Meanwhile, last week's foreign purchases boosted the cumulative year-to-date net inflow to RM5.5 billion, still relatively low compared to the RM19.5 billion net outflow for the whole of 2015," he said.
Zulkifli said foreign shareholding on Bursa now is estimated to be around 23%, up from a 4½-year low of 21.8% recorded at the end of December.
He said foreign shareholding was 25.2% at end-May 2013, the highest since the 1997 to 1998 Asian financial crisis.
Zulkifli said foreign participation rate rebounded 10%.
He said the average daily value of shares traded remained above RM1 billion for the fifth consecutive week at RM1.14 billion.
"The retail market remained soft as retailers reverted to selling.
"Participation rate was miserable, dropping below RM600 million for the first time in six weeks at RM588 million," he said.
On the regional markets, Zulkifli said it was another week of mixed performance for global equities.
He said with oil price consolidating, and the US Federal Reserve (Fed) lacking conviction in moving forward, the market is in need of a lead.
"Fed's chair Janet Yellen on [last] Wednesday signalled that she is in no rush to tighten monetary policy, saying that the Fed must 'proceed cautiously'. It reduced the probability that rates will rise in the first half of the year.
"US non-farm payroll for March increased by 215,000, higher than expected, with unemployment rate at 5%.
"The strong numbers are a relief for the economy, which has been slowing lately. Yet, the market does not believe it has any bearing on the Fed's decision," he said.