This article first appeared in The Edge Financial Daily, on January 23, 2019.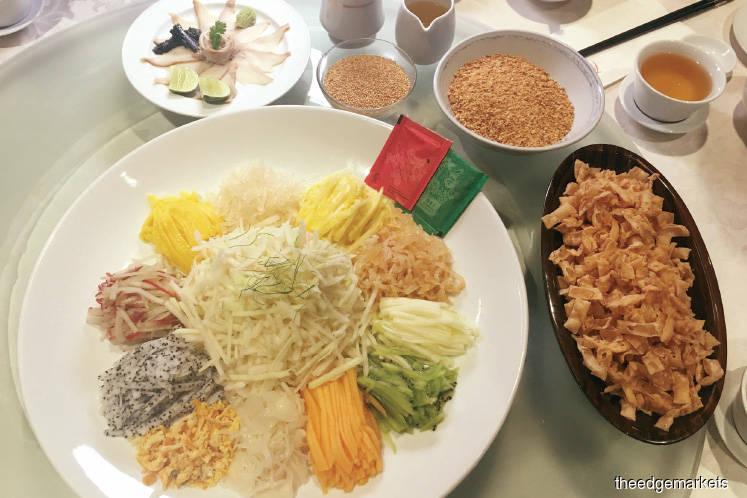 Those with a more sophisticated taste can try the Fortune Fong Sui Fresh Fruit Wasabi Wild Honey Abalone and Black Caviar Yee Sang at Genting Palace. Diners can choose from the variety of Lucky Salmon Yee Sang, Prosperous Wan Yee Sang, Prosperous Japanese Tuna Yee Sang and Prosperous Wasabi Wild Honey Black Caviar with Salmon Yee Sang at Genting Palace.
RESORTS World Genting (RWG) has certainly pulled out all the stops to ensure guests of all ages will have a Lunar New Year experience to remember. For starters, it has decorated practically almost every inch of the resort in red and gold in welcoming the Year of the Boar. Here are eight reasons why you and your family will enjoy yourselves up on the mountain.
At the Lakeside
To usher in the Year of the Boar there will be a fireworks display on the eve of Chinese New Year (CNY) [Feb 4] at the Lakeside. The Lakeside will be opened to the public from Feb 5 to Feb 19 where the Red Man trail will guide guests through a path of decorations and tempting retail outlets. (Fireworks shows will also be featured daily until the sixth day of CNY at 1pm, on the eighth day at 11.59pm, and on the last day [15th day] at 8pm).
Arena of Stars
The three Asian Divas — Frances Yip, Elisa Chan and Maria Cordero — make a return to the Arena of Stars for their annual concert on Feb 4. Also on the same day there will be a special Shanghai-themed dinner held at the Genting International Convention Centre with Malaysian-born Hong Kong-based actress and singer Chu Mimi performing.
There will also be fireworks at the Genting Grand flagpole area and Lakeside. Lion Dance performances will be at the Arena of Stars on the first until the sixth day of CNY at 10am, noon, 3pm and 6pm. There will be no 6pm show, however, on the fifth day and a resort-wide parade will be held on the eighth day.
Until Feb 28, the courtyard will be transformed into a "bouncy" wonderland. The Pokémon Inflatable Challenge is an obstacle course suitable for children. And after all that activity you may head over to the Genting International Showroom, where Pokémon The Movie: The Power of Us will be having its exclusive English screening in Malaysia at 8pm from Feb 2 until Feb 24 (4.30pm matinee showings on selected dates).
Food Truck Park
Forty food trucks will set up station from Feb 5 until Feb 19, bookended by dramatic archways festooned with banners and cherry blossoms. The Food Truck Park is a rest area for guests exploring the Red Man trail, where they can tuck into grub served by some of Malaysia's best food trucks — The Kopiboy, MKR Pizza, Malacca Fried Chicken, Ice Nami, Azry Kebab, The Good Mixer Truck and Summer Big Cup — while enjoying the cool weather.
Pokemon fever continues
The RWG Pokémon Festival continues and will be decked in a red-and-gold theme through Feb 28 thus captivating guests with their amazing powers and adorable nature. Pikachu will be headlining a Chinese New Year Pikachu Parade — a carnival procession featuring lion dances, fairies and plenty of Pokémon decked in red and gold. There will also be the Pikachu Dance show at SkyAvenue's Times Square stage. Pikachu will also be joined by Eevee this new year. The Pikachu Parade and Pikachu Dance shows will be held on selected dates in January and daily from Feb 2 to Feb 19.
Thirty-two life-sized Pokémon figurines have been carefully placed across Level 3 of SkyAvenue Mall and Level 2 of First World Plaza. Fans will have the opportunity to step into the shoes of Ash in the RWG Pokémon Trainer programme and will be tasked with various CNY-themed missions and quests from solving puzzles to seeking out hidden Pokémon, and recording them in their trainer book.
Maxims Hotel
e18hteen which is known for its refined Chinese dishes has eight special dishes prepared this Lunar New Year namely the Braised Pork Knuckle With Lotus Root, 10-Head Abalone and Fatt Choy (RM188 nett) and Pan-Fried Stuffed Canadian Scallops With Black Bean Paste (RM68 nett) to name a few.
Meanwhile, the Imperial Rama will be offering three "succulent" menus (from RM2,688 nett for 10). Dishes include Steamed Waxed Meat Claypot Rice, Stir-Fried "Zhengjiang" Iberico Pork and Steamed River Sultan Fish. Abalone "Poon Choy" is one of the dishes that requires orders to be done one day in advance which offers a luxurious dining option for the family.
Genting Grand Hotel
There are seven set menus to choose from at Genting Palace. Prices range from RM588 to the exclusive set menu priced at RM8,888. The RM588 nett set menu is for four, RM888 nett for six and various options for 10 from RM1,888 nett. Diners will be treated to dishes such as Shark's Fin Soup, Steamed Wild Tiger Grouper, Lucky Roasted Suckling Pig and Chilled Bird's Nest Soup. The extravagant menu of RM8,888 for 10 pax, features premium items such as Wok-Fried Australian Lobster, Braised Three-Head Abalone and Steamed Empurau With First-Grade Mandarin Skin.
Yee sang
In Malaysia, it would not be a Lunar New Year without feasting on an iconic dish, yee sang (prosperity toss) — a dish that represents hope for prosperity, vigour, and all things auspicious for the New Year. Restaurants in RWG will be ready to serve not only a variety of yee sang but also several other Lunar New Year set menus that are available across the resort from Feb 4 until Feb 19.
Pineapple tarts
Golden brown with juicy fillings, pineapple tarts represents and ensures the arrival of prosperity for the year. These morsels are available at special kiosks at Genting Palace, First World Hotel and the Malaysian Food Street and Awana Sky Central and SkyTropolis and will be available for sale until Feb 19.