This article first appeared in The Edge Financial Daily, on September 13, 2018.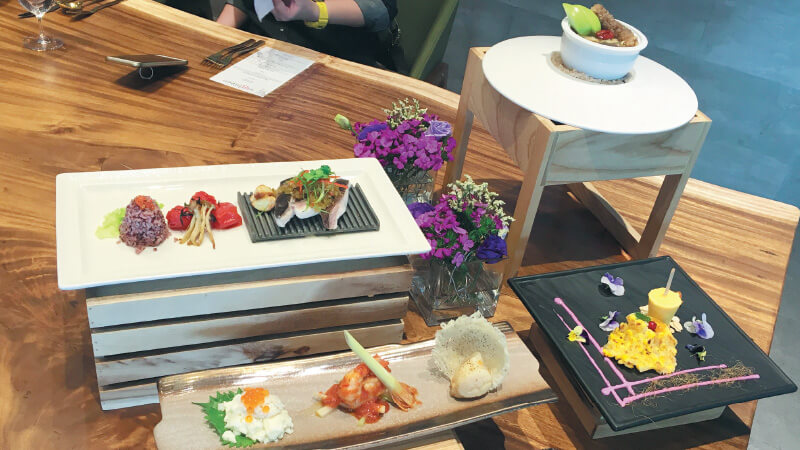 Amuse-bouche, appetiser trio, a hefty steamed fillet of freshwater Wallago Attu for main course and dent corn four ways for dessert prepared by e18hteen.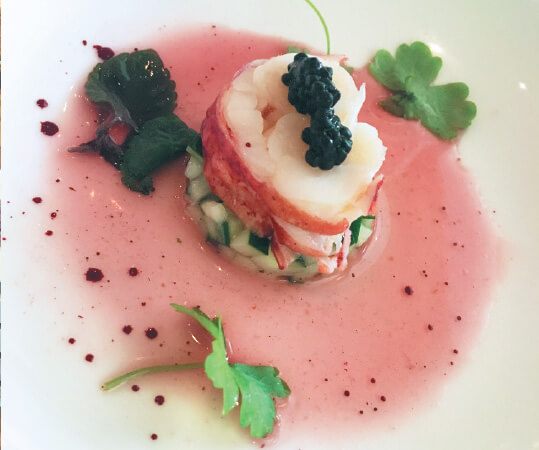 A simple poached lobster with seaweed sauce, smoked herring caviar, redcurrants prepared by The Olive.
The country's premier food festival — Malaysia International Gastronomy Festival (MIGF) 2018 — is going to take over the nation's eyes, stomachs and hearts. This year's MIGF will be the biggest and most delicious yet, and once again Resorts World Genting is at the forefront of MIGF's offerings. The theme this year is "Muhibah Chefs — Good Food Brings Us Together", and that challenge is taken up at The Olive, Genting Grand Hotel and the lofty e18hteen on the top floor of Maxims Hotel.
The culinary teams of The Olive and e18hteen, represented by Chef Radzuan Hamzah and Chef Jimmy Poh, have set out to bring the best ingredients and recipes from across Malaysia and the globe together in a delectable fashion. Everyone will be able to sample some of that magic as the two restaurants will serve up their special MIGF festive menus from now until Sept 30.
The Olive
For MIGF 2018, The Olive, helmed by Radzuan, wants to take its guests on a culinary journey of the world's best ingredients, brought together in the spirit of muhibah in wonderfully creative ways. Its festive menu (RM300 nett or RM450 nett with wine pairing) begins with a simple amuse-bouche of a fresh French oyster, its brininess livened up with orange pulp and an Asian twist of shaved salted egg yolk. The menu then heads east to Kyushu, the source of Japan's No 1 beef, Miyazaki wagyu. Sourced from the Nakanishi farm and only available at Resorts World Genting in Malaysia, the A5-grade Miyazaki wagyu is wrapped in a puff pastry served with honey mustard, a micro cress salad and an invigorating glass of Domaine Chandon Brut Rose NV.
The waters of Nova Scotia produce some of the best lobsters in the world and they are the star of the third dish — a simple poached lobster given umami complexity with seaweed sauce, smoked herring caviar, redcurrants and a crisp pouring of Jean Philippe Marchand Saint Romain "Sous le Chateau" 2011. Le Tourin d'oil doux, a garlic soup leads the way to a hearty main: a generous fillet of Scottish salmon intermingled with woody, fruity flavours through a raspberry lemon glaze, beeswax-infused ginger, asparagus and apple chips. Wash that down with the robust Joseph Drouhin Beaujolais-Villages 2013. Then prepare for dessert: a delicate hazelnut financier with chocolate chips, soft cremeux and vanilla soft caramel, paired with a pouring of Armagnac 18 Ans Gelas.
e18hteen
E18hteen, led by Poh, will be serving up a Chinese feast that is a little less ordinary for MIGF 2018. Its festive menu (RM168 nett or RM288 nett with wine pairing) starts off on a European note — an amuse-bouche of chilled gazpacho with tomato hearts and diced cucumbers. An aquatic appetiser trio then take you back into Chinese territory with a smooth pan-seared scallop on top of king mushroom, a stir-fried river scampi bursting with the zest of lemongrass in spicy sauce and delicately scrambled white omega egg with crab meat and ikura, a glass of Drappier Carte d'Or Brut Champagne NV would complement this dish.
Soups are de rigueur in a Chinese feast and Poh presents a unique double-boiled fish bone soup with Chinese yam, sea cucumber, almond and the unusually appropriate crisp sweetness of granny smith apple. From the ocean to the river, the main course is a hefty steamed fillet of freshwater Wallago Attu. Served with black rice with wolfberries, hon mushrooms and roasted baby roma tomatoes in the chef's special sauce (with the option of a bright Macon Villages "Fleur d'Azenay" Domaine d'Azenay 2013), the dish is a union of perfect produce and superlative skills. Dessert is a tribute to the hidden pleasures of the humble sweetcorn, interpreted in four ways with fresh dent corn cascading over corn custard, accompanied by crispy falafel corn and corn ice cream. And complete the experience with the sweetness of Torbreck the Bothie Muscat 2012.