This article first appeared in The Edge Financial Daily, on June 28, 2018.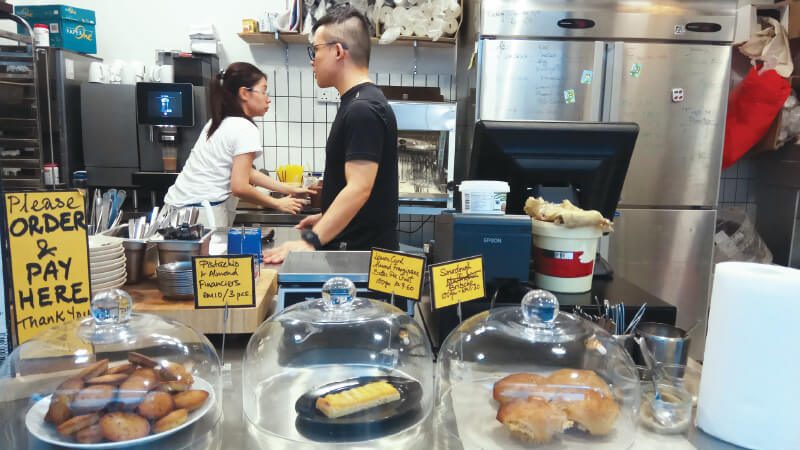 Tommy le Baker's main highlight is the freshly baked sourdough bread.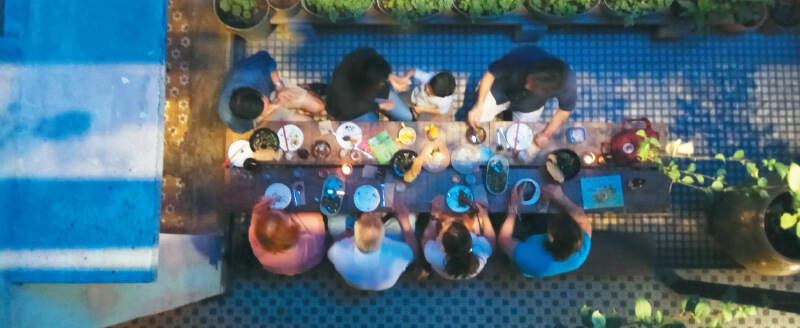 Vegetables served at Chocha Foodstore are sourced from the restaurant founders' small farm in Cheras.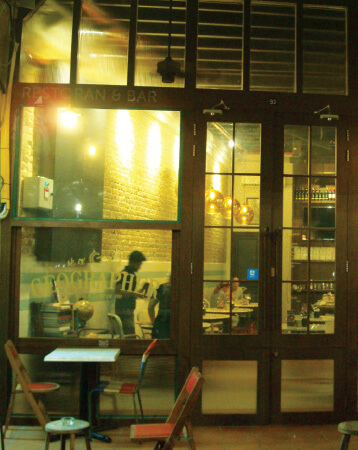 Geographer Café KL, popular among travellers especially backpackers, offers creative dishes that are MSG-free.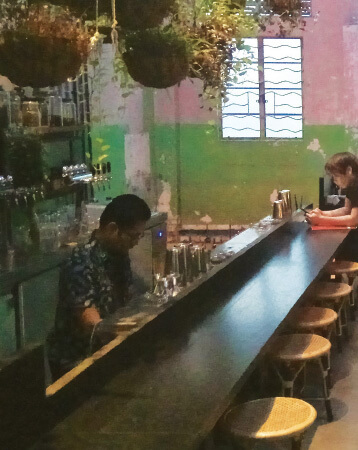 Botak Liquor aims to showcase home-grown produce in an evocative retro-Asian fused with a tropical setting.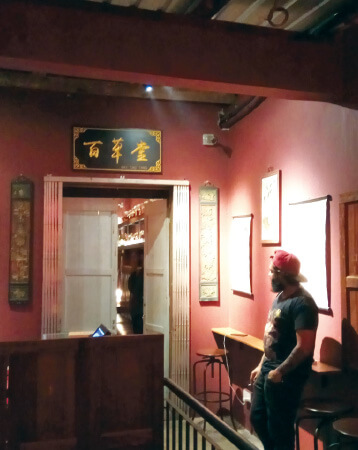 Bar Zhen hides a pre-war shophouse upstairs.
THE historical parts of Kuala Lumpur are getting a new lease of life, with new hip eateries, retail outlets, and budget boutique hotels co-existing with old-world establishments. The gentrification, from British colonial edifices which have, and are still, undergoing restoration, to creative souls setting up novel enterprises, have injected great buzz into these once gritty areas. Even better, they are easily reachable by public transportation including public buses, the light rail transit and mass rapid transit rail networks.
Geographer Café KL
With a British India-style interior, this eatery — popular among travellers especially backpackers — offers creative dishes that are MSG-free, a winning quality in my books. The "British India Company" Breakfast with a large portion of South Asian-style, house-made chicken kebabs and potato bhajia, sunny-side-up eggs, organic tomato, shimeji mushrooms, spiced baked beans and sourdough bread is hearty enough to keep you going for the rest of the day. If you prefer Southeast Asian-style snacks, try the vegetarian tempeh "meatballs" complemented by roasted tomato sauce; or the Hu Peow Th'ng, a Peranakan or Straits Chinese clear soup with fish maw, lotus root and shiitake mushrooms (RM15). The salads with a local twist are recommended too, such as the Burned Caesar — greens served with a Malaccan belacan dressing with umami subtleties and the kerabu salad of local herbs.
Geographer Café KL, 93 Jalan Tun HS Lee, Kuala Lumpur
Botak Liquor
Set within a pre-war shophouse in Chinatown, this bar aims to showcase home-grown produce in an evocative retro-Asian fused with a tropical setting. A small farm behind the neighbouring houses of the owners of Chocha Foodstore — a restaurant downstairs — supplies pomeloes, passion fruit, papaya, ulam raja and chillies used as ingredients for cocktails which Botak Liquor specialises in. It has a sunken bar with potted plants hung above it, creating a calm vibe.  
Only white and un-aged spirits such as savoury, earthy whiskies, Australian applewood gin and Balinese rum, known for their clean flavours, are used to create unique concoctions. You can also try floral aromatic drinks such as jasmine and tarragon with gin and suze, or bright orange carrot juice mixed with pineapple Pisco kaffir lime and a house-made hot sauce for added kick. However, I am fond of the outlet's "exotic" cocktails using unexpected combinations of ingredients such as jackfruit and grapefruit. The concoction infused with bunga kantan and pumpkin is particularly tantalising with toasty and savoury flavours. Botak Liquor also stands out for its cocktails on tap — they have more body, texture and are slightly fizzy without using any soda water.
Botak Liquor, 156 Petaling Street, Kuala Lumpur
Chocha Foodstore
A purveyor of fresh produce, this is found in its Asian fusion dishes featuring mainly local ingredients that have earned acclaim among diners. Tuck into vegetables sourced from the restaurant founders' small farm in Cheras, Kuala Lumpur; snapper fish caught off  Sarawak; and rice cultivated in the state's Bario highland villages. Several friends and I enjoyed sharing a bowl of Biang Biang Noodles — thick and wide sheets of pasta topped with crushed peanuts and chilli oil. The robust flavours left us salivating for more, so we ordered the duck confit rice bowl — a savoury mixture of barley and rice — well complemented by pieces of duck meat. You should not go past the mouth-watering Crispy Chilli Squid and Cincalok Fried Chicken with robust flavours either. For something less spicy, we chose the vegetarian Mushroom Frittata made with shitake and oyster mushrooms, potatoes and leeks, and found it yummy.
Chocha Foodstore, 156 Petaling Street, Kuala Lumpur
Bar Zhen
A Chinatown alley lit by Chinese lanterns, one where your mum would tell you to avoid, however surprises visitors with the alluring-looking Bar Zhen. Well hidden upstairs is a pre-war shop-house; We entered from the alley and up a flight of stairs at the end of a dark hallway to find  a cool hangout lined with Chinese medicine cabinets and maroon walls adorned with vintage posters. Further inside is Bar Zhen, a reference to the famous decoction in Chinese herbology used as a panacea to cure illnesses. Little wonder, then, that many of the bar's signature cocktails include traditional herbs for added kick. Take the Lychium Maca Osmanthus Tea — this spiked tea, served hot in a teapot and poured into tiny teacups, is a hit among customers. This sweet vodka-based beverage has a fragrant bouquet and is smooth on the throat. Also in demand is the Red Dates Clover Club, beautifully served in a bowl with a lid. It has a strong raspberry flavour tempered by the use of kaffir lime leaves and egg white. The Tongkat Ali Kopitini is a great contrast to the aforementioned; it is a strong espresso martini drink that will reinvigorate your senses, or keep awake all night-long.
Bar Zhen, 5 Jalan Balai Polis, Kuala Lumpur
Tommy le Baker at The Zhongshan Building
Fancy a spot of shopping together with a wholesome meal? At The Zhongshan Building, housing individual design studios, bookstores, an art gallery, music studios, record shops, a bespoke atelier and event spaces, you can tuck into artisanal house-made pastries and breads at Tommy le Baker at the back part of the restored old-world building. Tommy's main highlight is the freshly baked sourdough bread, which goes well with cheeses such as Camembert, goat, Brie and Emmenthal sold here. Or go for the smoked salmon tartines in a serving of four, made with sweet tomatoes, creamy mustard and mayo.  After your meal, step into the adjoining hip Naiise retail store at the front of the premises. It peddles more than 1,200 brands from around the world, including about 40 from Malaysia, mostly under-the-radar varieties.
Tommy le Baker, The Zhongshan Building, Jalan Rotan, Kampung Attap, Kuala Lumpur