This article first appeared in The Edge Financial Daily, on October 9, 2019.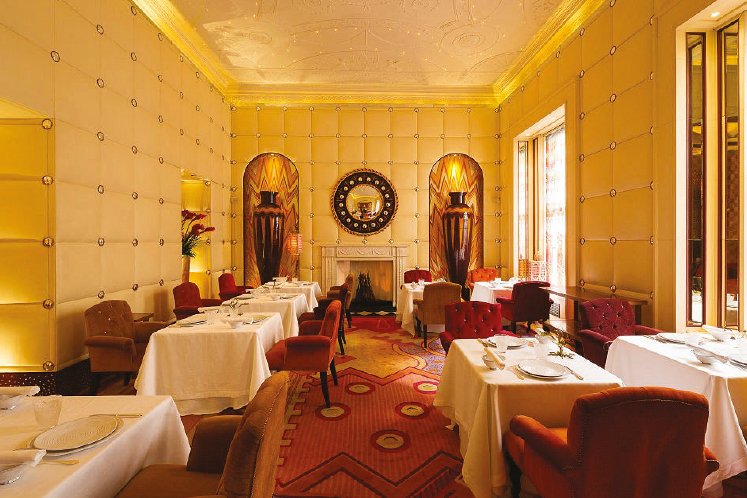 The Lecture Room & Library at Sketch, the UK's newest three-star dining room. Photos by Bloomberg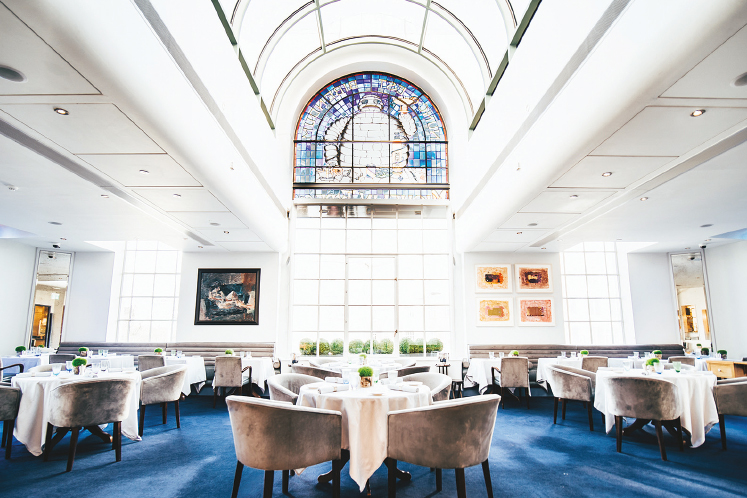 An interior of Claude Bosi at Bibendum.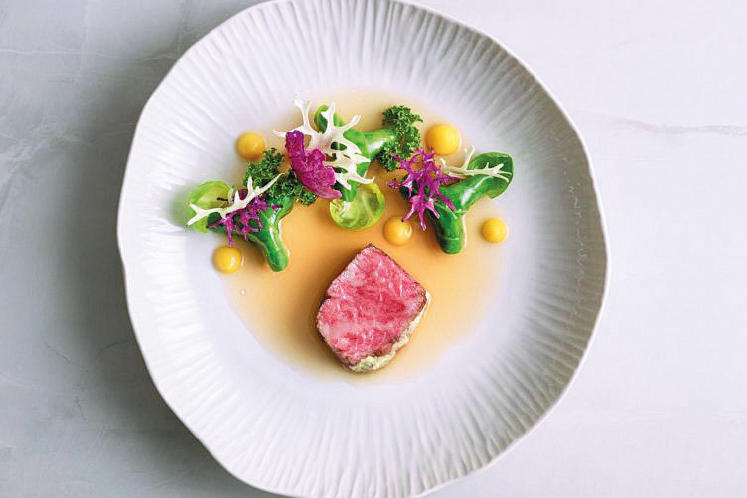 Wagyu beef from La Dame de Pic.
A record number of UK and Ireland restaurants were awarded Michelin stars at a ceremony in London on Monday, including the ultimate accolade of three stars for the Lecture Room & Library at Sketch, a French spot in Mayfair co-owned by Paris-based chef Pierre Gagnaire. A total of 187 establishments feature in the guide for 2020, including four new two-stars and 23 one-stars.
Sketch becomes one of only five restaurants in the UK to hold three stars. The flagship Lecture Room is known for quirky and creative dishes such as hand-collected Scottish scallops with pear, celeriac and shiso, served with turmeric butter and quinoa. The Grand Dessert features seven miniature plates in two servings. The seven-course tasting menu costs £120 (RM609), with a vegetarian option.
The décor at Sketch, a London town house with a total of four restaurants and bars, is even more unusual than the food, with huge egg-shaped loos a particular favourite on Instagram. Sketch is co-owned by Gagnaire holding three Michelin stars at his eponymous restaurant in Paris, and restaurateur Mourad Mazouz with establishments in Paris and London.
Three restaurants were promoted to two stars from one: La Dame de Pic in London; the Dining Room at Whatley Manor in Malmesbury, England; and the Greenhouse in Dublin. Aimsir, a restaurant opened just this year in Celbridge, Ireland, went straight to two stars. Four restaurants in London gained their first stars: Endo at the Rotunda; Dysart Petersham; Da Terra; and Mãos.
"Despite the obvious challenges facing the industry here in the UK, we are thrilled that this has been such a stellar year, and we have seen many first ventures opening and rapidly rising to success," international director of the guides Gwendal Poullennec said.
On the downside, three London restaurants lost their single stars: Benares, Galvin at Windows, and Yauatcha Soho. The Araki lost all three of its stars after chef Mitsuhiro Araki returned to Japan.
The Michelin awards attract considerable criticism, including being unpredictable and often appearing inconsistent. However, chefs are obsessed with the awards, and getting in or moving up the rankings amounts to considerable money in bookings.
Little else is talked about in kitchens before the announcement. This year, there was widespread speculation that two other London restaurants might be promoted to three stars: Claude Bosi at Bibendum and Core by Clare Smyth. There was also a notable shortage of women winning new stars. The sole beneficiary was Anne-Sophie Pic, based in France.
Michelin has done a reasonable job this year in recognising young talent, particularly in Ireland, where two restaurants achieved a two-star status: the Greenhouse in Dublin, and the aforementioned Aimsir in County Kildare, about a 30-minute drive west from the capital. However, other respected young chefs were ignored, including the popular Tom Brown at Cornerstone in east London.
No one predicted a third star for Sketch, which won its first star in 2005 and the second in 2012. I have long been a fan of the place, but I have no idea why this was the year, though it does deserve it. My best meals in London in the past 12 months have been at Claude Bosi at Bibendum, and it is very disappointing that Bosi did not win his third star.
(The other restaurants earning three stars were Gordon Ramsay and Alain Ducasse at the Dorchester, both in London; and the Fat Duck and the Waterside Inn, both in Bray village.)
Brexit, which in London is even more of an obsession than food, had only a limited impact on high-end restaurants. While it has made it more difficult to hire European staff on which the UK hospitality industry depends, the pound's decline has made restaurants more affordable for overseas visitors.
The awards were announced at the Hurlingham Club, in a ceremony attended by leading chefs from across the UK.
Three stars are given for "exceptional cuisine, worth a special journey", Michelin said. "Our highest award is given for the superlative cooking of chefs at the peak of their profession."
Two stars represent "excellent cooking, worth a detour". One star is for "high-quality cooking, worth a stop". A Bib Gourmand represents more value-driven restaurants, where diners can get three courses for £28 or less, but not quite at the level of a star.
The French tyremaker produced its first guide in 1900. Available for free until 1920, it was initially intended for chauffeurs. The volume contained practical information including street maps and tips on repairing tyres.
Above is a partial list of the winners, focusing on London. **Indicates a new entry. — Bloomberg
Three stars
Alain Ducasse at the Dorchester, London
Gordon Ramsay, London
**Sketch (the Lecture Room & Library), London
Fat Duck, Bray
Waterside Inn, Bray
Two stars
**Aimsir, Celbridge, Ireland
Andrew Fairlie at Gleneagles, Auchterarder, Scotland
Belmond Le Manoir aux Quat'Saisons, Oxford, England
Core by Clare Smyth, London
Claude Bosi at Bibendum, London
**The Dining Room, Malmesbury, England
Dinner by Heston Blumenthal, London
Greenhouse, London
Hélène Darroze at the Connaught, London
Kitchen Table at Bubbledogs, London
**La Dame de Pic, London
Ledbury, London
Le Gavroche, London
L'Enclume, Cartmel, England
**Greenhouse, Dublin, Ireland
Patrick Guilbaud, Dublin, Ireland
Hand and Flowers, Marlow, England
Midsummer House, Cambridge, England
Moor Hall, Aughton, England
Nathan Outlaw, Port Isaac
Raby Hunt, Darlington, England
Sat Bains, Nottingham, England
Umu, London