This article first appeared in The Edge Financial Daily, on August 1, 2019.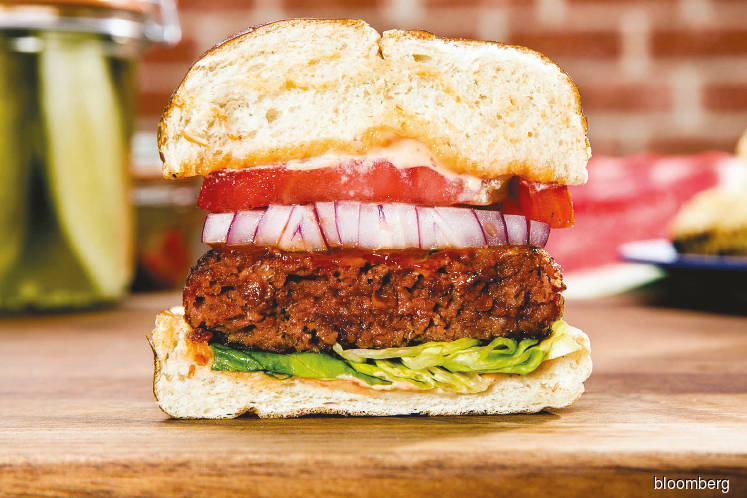 A Beyond Meat burger. Photo by Bloomberg
AMERICAN universities have been granting Doctors of Philosophy in Meat Science for nearly 100 years. What do we have to show for it? About 20 flavours of Spam.
Do not misunderstand. I am not knocking Hormel's protein pucks (do not sleep on the jalapeño flavour). Rather, I am trying to put some perspective on the pure genius of Beyond Meat. Seldom do we see such a bolt of white-space lightning, particularly in the consumer goods game.
On its current trajectory, plant-based meat will go down as one of grocery-store greats, alongside the ice-cream cone, Swiffer and the Tide Pod. These miracle products cleaved the glorious span of plastic-wrapped history in two: the before and the after.
The strategic coup at Beyond Meat is that the company ignored vegetarians entirely. It does not offer an alternative to meat — say, a veggie burger — and, when it has a choice, stacks its patties in the grocery store right next to the ruddy ground chuck.
"We are bypassing the animal," its chief executive officer Ethan Brown said a few weeks ago, "and using plants to build meat directly."
It is a novel ideal, but not miraculous research and development; they make the stuff out of normal things like peas, beets, mung beans and cocoa butter. And there is already a crowd of rivals from Boca Foods and the throwback Tofurky to digital darlings like Impossible Foods, which sells an Impossible Whopper at Burger King. Even the Midwest meat wizards — including Hormel's Spam scientists — have been hauling truckloads of beets back to the lab.
If Beyond Meat hits its revenue target for the year, it will hold about a quarter of the estimated plant-based patty market in the US. None of these things has put off the bulls. Beyond Meat shares have surged roughly 10-fold since their May debut, making it the hottest initial public offering (IPO) of the year thus far.
Now, having convinced consumers that it made a relatively regular old hamburger, comes the challenge: convincing them it is not a commodity. This is a pretty common hurdle, particularly in the food world. Marketing helps but, arguably, it is best accomplished with savvy distribution.
At the end of the last quarter, 12,000 restaurants, including Carl's Jr and TGI Fridays, were slinging Beyond Meat, comprising half of the company's revenue. Since then, it added 4,000 Tim Hortons in June, an agreement with Blue Apron's meal-delivery platform and, last Wednesday, it announced a new deal with Dunkin' for sausage patties.
Beyond Meat is growing five times more quickly in restaurants than it is in grocery stores, becoming to fast food what the microchip is to computers and phones. And every deal expands its empire of free marketing. The Dunkin' partnership, for instance, brings to the fold 10,000 more outlets where Beyond Meat will get prominent placement.
Here is a critical part of its pitch to IPO investors: "We believe we have established our brand as one with halo benefits to our partners." The Beyond Meat burgers, in short, are just like all the traditional patties, just slightly healthier, greener, etc.
Too bad the name is not catchier; Spam is so much better. — Bloomberg