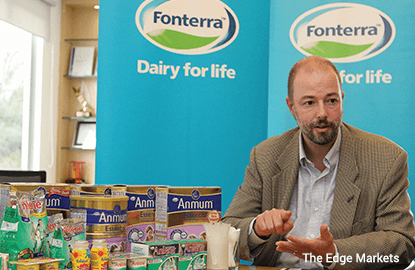 This article first appeared in The Edge Financial Daily, on March 14, 2016.
SHAH ALAM: New Zealand's dairy-based consumer and food product giant Fonterra is confident of another strong performance by its Malaysian unit in the current year despite being hit by falling consumer sentiment and a weaker ringgit.
"The rate of growth for food services in general in Malaysia has been growing high single digits or low double digits over the last five to seven years, and we expect the trend to continue," said Fonterra Brands (M) Sdn Bhd managing director for Malaysia and Singapore Jose Miguel Porraz Lando.
"In 2015, Malaysians consumed 1.9 million servings of our brands every day," he told The Edge Financial Daily. "Although [2016] is a challenging year, we continue to see dairy playing a higher role in Malaysians' lives, and they have consumed dairy at a higher rate than before."
Porraz Lando declined to divulge turnover and earnings figures, but said Fonterra enjoyed either No 1 or No 2 position in terms of market share in Malaysia for every brand it sells in the market.
He said its consumer product division, whose products include Fernleaf, Anlene, Anmum and Chesdale, accounted for 60% of its sales volume, while its food service division, boasting brands likes Anchor, Perfect Italiano and Mainland, accounted for the remaining 40%.
The Malaysian operations, based in Shah Alam, Selangor, are undertaken by Fonterra Brands (M).
Porraz Lando said the company will continue to see growth in its core businesses for the financial year ending July 31, 2016, driven by its strong brand presence in Malaysia, its relentless research and development effort to come up with new products, and the efficiency of the management team.
He said the group successfully managed the challenges arising from the weaker domestic and global economies, whereby the implementation of the goods and services tax had dampened consumer sentiment.
The success was underpinned by the group's 40 years of presence in Malaysia, and the big range of products sold in this country. Malaysia is Fonterra's fourth-largest market worldwide.
Porraz Lando said the group's food service division, driven by strong growth in clients, such as restaurants and bakeries, will continue to see a growth of "high single digits to low double digits" extended from a similar growth rate in the past five to seven years.
This is mainly supported by value-added consultation services provided by the group to its clients, as well as new products that allow its clients to save cost, while preserving the taste of the food.
Porraz Lando explained that Fonterra provides consultation services to its clients, from recipe development to optimisation of kitchen process, to help them deliver high-quality end products.
For example, he said, the group developed a preheated cream that helps Italian restaurants to save cost by reducing the dilution of cream and time to heat the cream, and as a result, increases productivity which directly contributes to higher earnings.
"We developed this cream that comes preheated. With one litre of milk, you will get one litre of sauce. The heating time is substantially faster. Also, when you get the dish faster to your customer, it means generally your customer will be happier," he said.
He said Italian kitchens and bakeries are an area of strong growth for the group.
Porraz Lando said Malaysians tend to increase their dairy intake and opt for high-quality western food, and this poses a good opportunity for the group to continue to grow.
"We can grow our presence to reach, [in the] next financial year, from 1.9 million dairy servings a day to two million or more dairy servings a day," he said.
Porraz Lando said Malaysia also serves as Fonterra's regional hub as could be seen from the recent investment of RM3 million to set up a shared service centre, known as Global Business Services Asia, to provide financial services to its company's businesses in the Middle East, China, Vietnam and other parts of Asia.
In the longer term, Porraz Lando said Fonterra would also stand to benefit when the Trans-Pacific Partnership agreement comes into force.
He explained that Fonterra had used Malaysia to export a lot of dairy ingredients to the region. Currently, Malaysia is the world's 10th largest dairy product exporter.
"With Malaysia going into a trade agreement, the market access and transparency will provide more opportunities for us," he said.