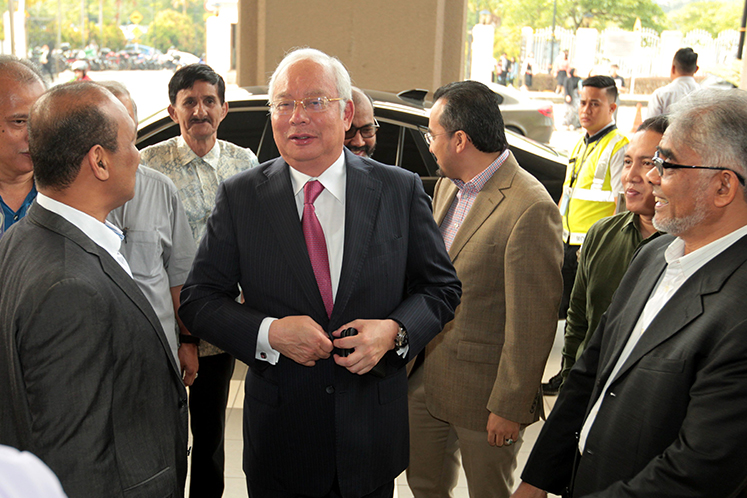 KUALA LUMPUR (June 12): Former premier Datuk Seri Najib Razak has filed a fresh application to remove Datuk Seri Gopal Sri Ram as the lead prosecutor in the 1Malaysia Development Bhd audit tampering trial, which will resume on Monday.
This follows former Attorney-General Tan Sri Mohamed Apandi Ali's allegation earlier this week that Sri Ram was sent to see him in January 2018 by Tun Dr Mahathir Mohamad, to persuade him to arrest the then prime minister, Najib.
It is understood that Najib and Apandi had filed an affidavit in support of the application filed today.
The audit tampering case is fixed for case management on Monday before Justice Mohamad Zaini Mazlan.
DPP Ahmad Akram Gharib, when contacted, confirmed the matter.
Najib's lawyer Tan Sri Muhammad Shafee Abdullah, when contacted, said he will insist that the court hears the application first before the continued hearing of the case.
"This affects the integrity of the trial process," he said.
Prior to this, Najib has tried twice to remove Sri Ram as the prosecutor in the case.
He first made an application before 1MDB trial judge Justice Collin Lawrence Sequerah, who dismissed it. His decision was upheld by the Court of Appeal and Federal Court.
Najib and Shafee, who is also facing an RM9.5 million money laundering charge, filed separate judicial review applications to again challenge Sri Ram's appointment as prosecutor.
This was initially dismissed by the High Court and the decision was upheld by the Court of Appeal.
However, the Federal Court treated the judicial review application as separate from the one heard before Justice Sequerah and ordered that the case be heard on its full merits by the High Court where the application had been filed.
The hearing for the case is still pending as yesterday was the e-review session with the outcome still unknown.
Najib is charged with abuse of power as a public officer in his capacity as Prime Minister and Finance Minister in altering the 1MDB audit report which was to be tabled to the Public Accounts Committee in 2018. This is so that no action could be taken against him by Parliament.
Former 1MDB president Arul Kanda Kandasamy is charged with abetting Najib.