This article first appeared in City & Country, The Edge Malaysia Weekly, on November 11, 2019 - November 17, 2019.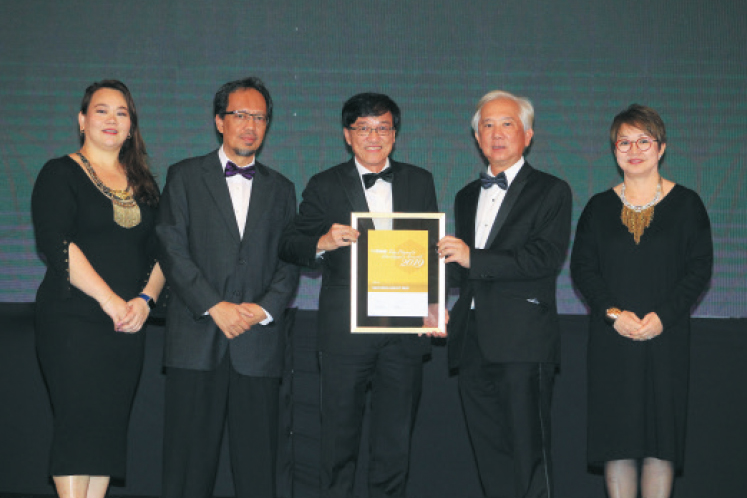 CEO Datuk Ho Hon Sang with (from left) City & Country editor Rosalynn Poh, The Edge Malaysia editor-in-chief Azam Aris, The Edge Media Group publisher and group CEO Datuk Ho Kay Tat and EdgeProp.my managing director and editor-in-chief Au Foong Yee. Photo by Mohd Shahrin Yahya / The Edge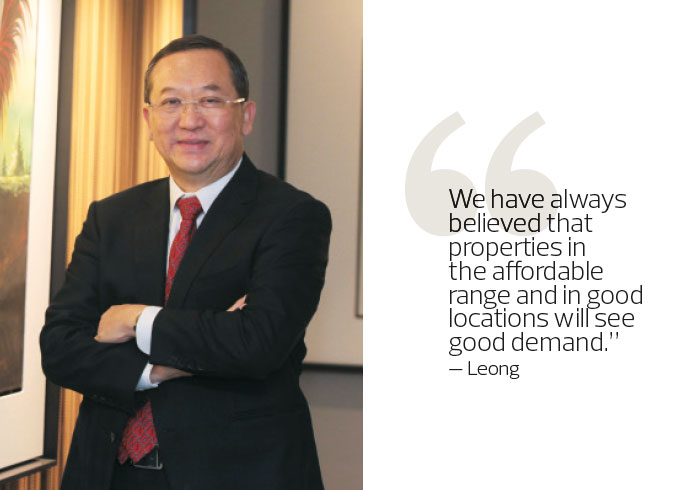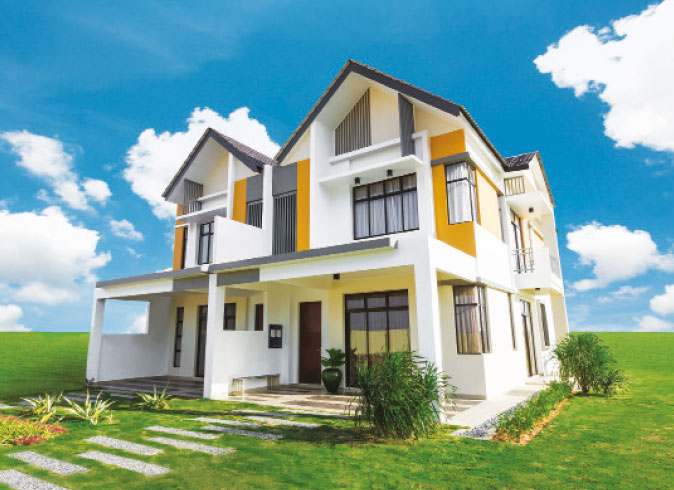 An artist's impression of Orchid link homes in Meridin East, Johor. Pictures By Mah Sing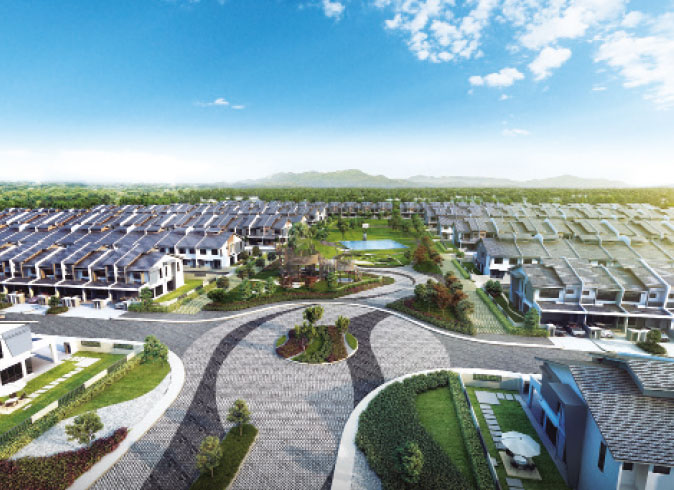 An artist's impression of M Aruna in Rawang.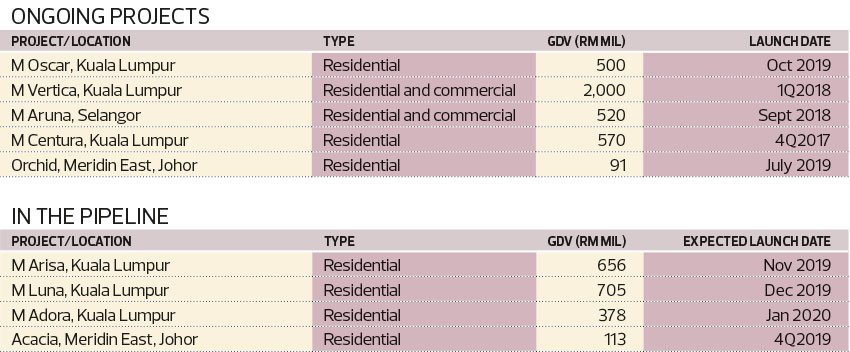 No. 6 | Mah Sing Group Bhd
 
2019
2018
Overall
6
7
Quantitative
2
2
Qualitative
7
7
This year marks the silver jubilee of Mah Sing Group Bhd. "Mah Sing has been in property development for 25 years and have gone through several up and down cycles in the property market. As a market-driven developer, we take pride in understanding market needs and tailoring our strategies to suit the demand," says founder and group managing director Tan Sri Leong Hoy Kum.
"We have been leveraging our experience as a leading property developer in Malaysia for over two decades in aligning our growth strategy with the trends and movements in the market," he adds.
The group has sold about 41,000 housing units since it ventured into the sector in 1994 and aims to continue to offer affordably priced quality homes in strategic locations.
This year, the group marked another milestone by making its first foray into the hospitality sector with the official opening in October of Ramada by Wyndham Meridin, Johor Baru.
Mah Sing has once again made it to the Top 10 ranking of The Edge Malaysia Top Property Developers Awards 2019. It has been on the list since 2013.
In an email interview, Leong tells City & Country about the group's achievements throughout the year and its direction and future plans.
City& Country: How has the year been for the company?
Tan Sri Leong Hoy Kum: It has been an action-packed year for us. Currently, public sentiment and perception towards the industry is that it is going through challenging times. However, Mah Sing sees a silver lining.
Despite the present challenging market conditions, properties in the affordable range and located strategically with good accessibility remain in high demand.
In 2019, we have been actively looking for suitable land and successfully acquired three prime pieces in the Klang Valley — M Oscar (off Kuchai Lama, next to Happy Garden and Sri Petaling),
M Luna (Kepong) and M Adora (Wangsa Melawati). Development orders have been approved for these developments and we were able to market them within a short time frame.
These affordably priced developments are well-located in established neighbourhoods that have ready amenities and infrastructures, coupled with strategic access to highway connectivity.
These are the driving factors for our products to be well received in the market amid the scarcity of prime land in the Klang Valley today.
This quarter will be an exciting one for us as a series of project launches and registration of interest have been lined up.
We launched M Oscar over a weekend early last month and saw the first phase of 200 units fully sold.
What challenges are the company facing in the current soft market? How will you overcome them?
Housing loan eligibility has been one of the main challenges over the past few years. Difficulty in securing maximum loan margins continue to plague potential homebuyers, causing high withdrawal rates.
We understand the government has been continuously finding solutions to boost housing
eligibility. The government, together with Bank Negara Malaysia and other financial institutions, is coming up with some financial schemes to enable more first-time homebuyers and the lower-income group to secure housing loans.
These include the introduction of rent-to-own schemes for first-time homebuyers and the extension of the Youth Housing Scheme by Bank Simpanan Nasional as announced in Budget 2020.
These measures and other incentives in Budget 2020 are expected to be among the driving factors for the property market to continue to be resilient and maintain steady growth moving forward.
The incentives from the Home Ownership Campaign, which has been extended until Dec 31, are also impetus to assist and encourage home ownership. We participated in the campaign with some of our projects in the central region, Penang and Johor.
In line with our tagline, "Reinvent Spaces.
Enhance Life", we plan our residential products to be affordable without compromising on quality and facilities to further enhance the lives of homebuyers.
We shifted our focus to affordably priced homes from 2013 and will continue to do so this year, with 81% of our target sales for residential properties priced below RM700,000.
Our residential developments are specifically tailored to meet the current demand as they are affordably priced products of good quality.
Mah Sing has undergone some changes since 2017. Please tell us more about them.
Over the past two years, Mah Sing has undergone a major transformation journey, from a rebranding exercise to multiple new land acquisition deals, forging new partnerships and exploring many of the group's firsts in business processes, products and marketing initiatives.
The momentous year for Mah Sing was in 2017 when we unveiled our new corporate logo and tagline, "Reinvent Spaces. Enhance Life", marking the next phase of a group-wide transformation.
Last year, Mah Sing embraced new innovative ideas and introduced a lot of firsts in its business processes, products and marketing initiatives such as the introduction of MY Mah Sing mobile application. The Aster project in M Aruna, Rawang, was a pilot project to adopt the industrialised building system precast technology.
The group also witnessed a collaboration with Lazada Malaysia to list properties on the online platform for homebuyers to register their interest — a first in Southeast Asia.
This year, we continued to innovate. We are adapting to the advancement of various digital platforms and leveraging the strength of digital marketing and innovative marketing initiatives to reach out to wider market segments.
Please tell us more about Mah Sing's upcoming projects.
M Oscar was launched last month and the overwhelming response to Phase 1 shows promising prospects. It is located 800m from the upcoming mass rapid transit 2 (MRT2) Taman Naga Emas station.
The two-tower development is 100m above sea level and and residents will get to enjoy unobstructed views of the surrounding neighbourhoods. We will integrate three key concepts into the design — Canyons, Stars and Water — which will be reflected in the grand entrance, star-lit podium and meandering stream respectively.
It has a strong focus on lifestyle elements in order to encourage home owners to appreciate the balance between the hustle and bustle and calm serenity of life.
M Luna, which we have opened for registration, will comprise two towers of serviced apartments on a 5.47-acre parcel in Kepong. It will have a "luxury you can afford" concept with indicative starting prices from RM385,000 and indicative built-ups from 700 sq ft.
We officially opened the sales gallery of
M Arisa last month. The project will occupy 3.31 acres in Sentul and will provide a direct shuttle bus service to the nearest LRT and MRT stations, including Sentul Timur LRT station (2.4km away), as well as three KTM stations — Sentul, Kampung Batu and Batu Kentonmen — about 2.5 to 3.5km away.
In Johor, we will be launching Acacia in Meridin East — a 2-storey link house development suitable for multigenerational living.
To benefit the residents of Meridin East and the surrounding communities, we are building a connecting road to the Tanjung Langsat–Cahaya Baru Toll Connecting Highway, which is part of the Senai Desaru Expressway. In addition, work has begun to widen Jalan Kong Kong, a road to access the township, into a 40m, four-lane thoroughfare. Both road infrastructure improvements are targeted to be completed by 2020.
What kind of growth do you want to see in the next 12 months? What is your strategy?
As at June this year, our remaining land bank stood at 2,086 acres and this will yield a remaining gross development value and unbilled sales of about RM25.8 billion. It will provide steady earnings visibility for us, which can sustain growth for the next eight to nine years.
Our prudent cash flow management has allowed us to have a healthy balance sheet with cash and bank balances of RM1.3 billion.
We are currently in a good position to continue our focus on replenishing our prime land bank in the Klang Valley, especially in the affordable property range.
In line with our growth strategy, we are constantly on the lookout for more prime land in strategic locations with attractive price points as it resonates with our aim to expand in areas with large population growth.
We have always believed that properties in the affordable range and in good locations would see good demand. Hence, we will continue to roll out affordably-priced quality projects in strategic locations to meet market expectations.
Given our strong track record of tailoring our products to meet the needs and demands of buyers, we are positive that our projects will continue to gain traction.