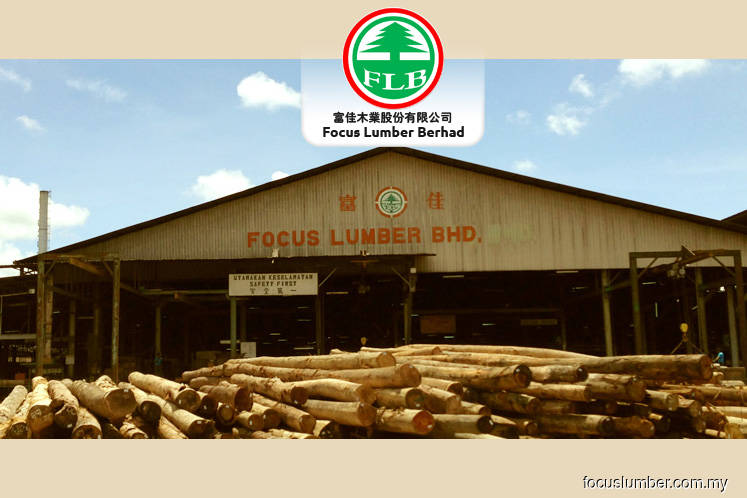 KUALA LUMPUR (Aug 20): Focus Lumber Bhd's net profit tripled year-on-year in the second quarter on higher sales, improved gross margin, and foreign currency gains, due to the strengthening of the US dollar against the local note.
In the quarter ended June 30, 2018 (2QFY18), the plywood and veneer manufacturer's net profit grew to RM9.61 million from RM2.98 million a year ago, as revenue strengthened 35% to RM55.75 million from RM41.31 million, on the stronger sales and higher average selling price.
"Current quarter's sales volume had included a portion of sales from a delayed vessel in March this year, while sales in June 2017 was affected by low production volume," the group said in a bourse filing today.
For the cumulative six-month period ended June 30, 2018 (6MFY18), Focus Lumber's net profit grew 6% to RM9.8 million from RM9.25 million a year earlier, though revenue retreated 6% to RM85.73 million from RM90.93 million.
Going forward, Focus Lumber is confident with the group's outlook for the remainder of this financial year.
Although log exports have been banned by the new state government since May this year, it sees no sign of decrease in the purchase price of logs, which it believes is likely due to a temporary shortage as a result of investigations being carried out by a special task force set up by the current government.
It was referring to the task force set up to probe illegal logging activities in the state, which was announced in mid-July.
The group said while the price of plywood has slowly come down from its peak, it is still very high as compared to 2017's average price. "Management will observe the major trend in this industry such as cost of raw material, plywood selling price, as well as foreign currency exchange rate, and act accordingly when necessary," it added.
Focus Lumber closed four sen or 2.94% higher to RM1.40 today, giving it a market capitalisation of RM144.48 million.