This article first appeared in The Edge Financial Daily, on August 8, 2019.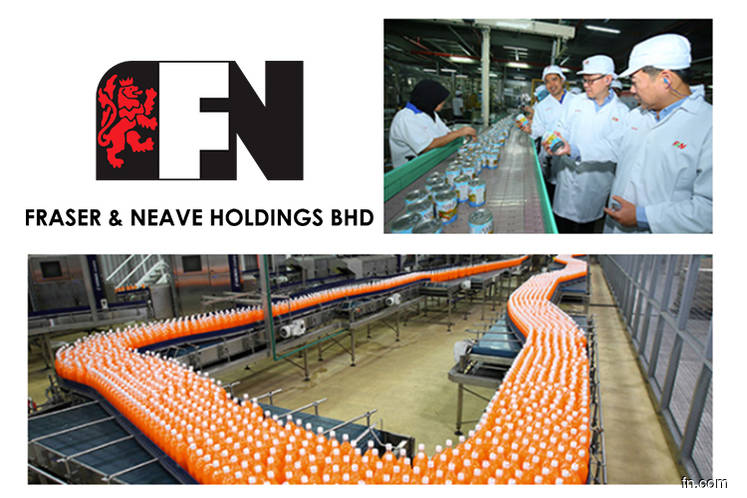 Fraser & Neave Holdings Bhd
(Aug 7, RM34.50)
Maintain hold with a higher target price (TP) of RM35.20 from RM35.10 previously: Fraser & Neave Holdings Bhd's (F&N) revenue for the nine months ended June 30, 2019 (9MFY19) rose 6.1% year-on-year (y-o-y) to RM3.1 billion while core net profit rose 5.9% y-o-y to RM340.4 million (post accounting for RM1.8 million net gain from tax refunds and reimbursement of import duty drawbacks). Core net profit was above our expectations but in line with the consensus (80% of the FY19 estimate). The better-than-expected third quarter ended June 30, 2019 (3QFY19) results were due to softer prices of key raw materials (sugar, palm oil and milk), lower marketing spending and higher profits from Thailand operations due to a stronger Thai baht.
 
3QFY19 revenue grew 4% on a quarter on quarter (q-o-q) basis, driven by higher sales contributions from its Malaysian operations during the Hari Raya festive period and higher export revenue from its Thai operations. The earnings before interest, taxes, depreciation and amortisation (Ebitda) margin rose 1.2 percentage points (ppts) q-o-q from higher economies of scale, lower marketing spending in Malaysia, and overall favourable raw material prices. Accordingly, core net profit increased to RM114.2 million (+6.7% q-o-q) despite a higher tax rate of 26.1% (+4% ppts q-o-q).
While the prices of both packaging and milk powder have been on an uptrend recently, F&N has fully hedged its milk-based and sugar requirements until September of the forecasted year 2019  (2019F) (end-4QFY19F). We believe the higher costs will negatively impact F&N's profit from FY20F, but that should be mitigated by low sugar prices in Malaysia. Also, we expect its sales volume from 4QFY19F to be driven by the launch of healthier drinks in Malaysia and more aggressive marketing efforts to boost dairy product sales in Thailand.
Given the stronger-than-expected results, we raise our FY19 to FY21 earnings per share (EPS) estimates by 2% to 4.9%, mainly to account for lower sugar prices and higher dairy sales in Thailand. Note that we project only a 2.5% y-o-y growth in FY20F net profit as we expect the higher sales volume to be slightly offset by higher dairy input prices.
In tandem with the rise in our FY19F to FY21F EPS, we raise our discounted cash flow-based TP to RM35.20. We maintain our "hold" call as we believe the stock is fairly valued at this juncture (27.3 times calendar year 2020 forecast price-to-earnings, plus one standard deviation of its historical five-year mean) and we do not see any major rerating catalysts in the short term. Key upside and downside risks are higher-than-expected declines or rises in the prices of key raw materials (milk powder, palm oil and sugar). — CGSCIMB Research, Aug 6