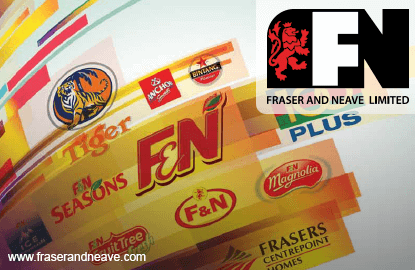 KUALA LUMPUR (Nov 3): Fraser & Neave Holdings Bhd's (F&N) net profit declined 13% to RM49.59 million in the fourth quarter ended Sept 30, 2016 (4QFY16) from RM56.72 million a year earlier mainly on weaker Malaysian operations.
In a statement to Bursa Malaysia today, food and beverage (F&B) manufacturer F&N said revenue dropped to RM976.5 million from RM1.02 billion.
"F&B Malaysia revenue declined by 10.9% from RM636.3 million to RM566.6 million compared with the corresponding quarter commensurating with the softer market conditions and consumer confidence post Hari Raya and timing of Hari Raya sell-in period year-on-year. The softer market conditions have also resulted in cautious stocking levels at all trade levels, thus impacting sell-in.
"F&B Malaysia operating profit reduced significantly from RM58.8 million to RM10.3 million (-82.5%), on lower revenue, less favourable sales mix, higher trade discounts and higher consumer trade marketing expenses." F&N said.
F&N proposed a dividend of 30.5 sen per share for 4QFY16, bringing full-year dividends to 57.5 sen.
For the full year, F&N said net profit grew to RM385.37 million from RM280.07 million a year earlier while revenue increased to RM4.17 billion from RM4.11 billion.
F&N chief executive officer Lim Yew Hoe said in a statement the group would remain vigilant and respond to changing market dynamics while proactively focusing on appropriate measures to maintain its competitiveness.
"In the immediate term, the softer domestic and global economic environment and escalating commodity prices do pose a challenge to sustain the pace of growth. In the longer term, the various transformation initiatives will put the group on a stronger platform for sustainable growth in both revenue and profit," Lim said.
At 12:30pm, F&N shares settled unchanged at RM24.40 for a market value of RM8.94 billion. The stock saw 603,000 shares traded.