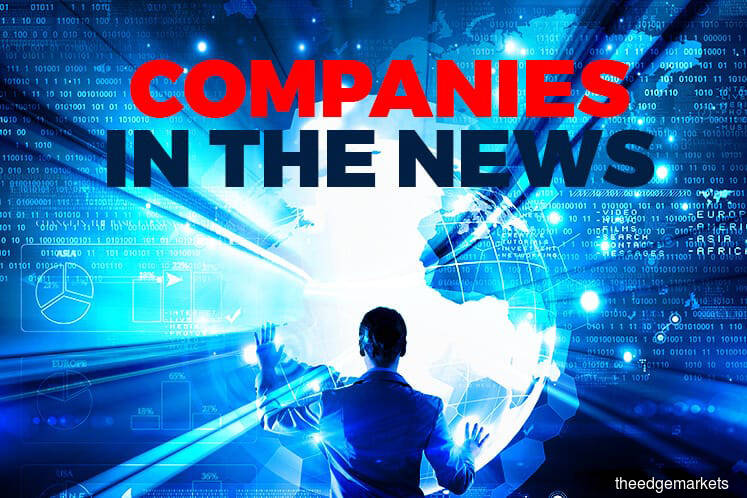 KUALA LUMPUR (Aug 2): Based on corporate announcements and news flow today, companies in focus on Friday (Aug 3) may include: Fraser & Neave Holdings Bhd (F&N), Omesti Bhd, Toyo Ink Group Bhd, Kronologi Asia Bhd, Scomi Group Bhd and Unisem (M) Bhd.
Fraser & Neave Holdings Bhd said third quarter net profit jumped 51% to RM104.5 million, from RM69.37 million a year earlier, thanks to positive contributions from Malaysia and Thailand.
Revenue for the July to September period, however, was slightly lower by 1% to RM1.03 billion, from RM1.04 billion previously.
The group said operating profit for its Malaysian food and beverage segment shot up by 102.8%, due to cost savings.
In Thailand, operating profit improved by 11.4%, thanks to favourable input and packaging material costs, despite a slight revenue decline due to price competition.
F&N said cumulative net profit for the first three quarters remained flat at RM303.89 million, against RM303.73 million in the previous October-June period. Revenue decreased slightly to RM3.11 billion, from RM3.13 billion.
Omesti Bhd has teamed up with Singapore-based ViewQwest Group to collaborate in the network services and communications infrastructure space to provide improved Internet service for customers in Malaysia.
An agreement was signed with ViewQwest Holdings Sdn Bhd.
"We are currently restructuring our network business and this opportunity to partner with ViewQwest provides a good fit for both our companies.
"We hope to be able to provide superior personalised customer service and improved uptime," said Omesti executive director Mah Xian-Zhen.
Expected outcomes of the partnership also include ultra-high speed internet connectivity, 24-7 customer service and next-generation firewall protection.
Toyo Ink Group Bhd has proposed the issuance of 53.5 million free warrants on the basis of one warrant for every two shares held, on an entitlement date to be announced later.
The exercise price of the warrant has been fixed at RM1.50, representing a premium of 61.32% to the theoretical ex-price of 85.21 sen per Toyo Ink share after the proposed free warrants issue, calculated based on the five day volume weighted average market price of Toyo Ink shares up to July 31, of 52.82 sen.
The group said if the warrants are fully exercised, gross proceeds will be RM80.25 million.
Kronologi Asia Bhd plans to raise up to RM22.84 million via a placement of up to 10% of its shares to third-party investors to be identified later.
The proceeds, derived from an illustrative price of 63 sen per share for the issuance of up to 36.25 million new shares, would enable Kronologi to expand its business, without incurring interest costs or service principal repayments, as compared to bank borrowings.
From the total proceeds, RM10 million will be used for managed services cum transnational infrastructure equipment and RM8 million will be used for future business development and expansion; RM4.32 million will be set aside for working capital, while the balance RM520,000 will be used to defray estimated expenses related to the proposed exercise.
Shah Hakim @ Shahzanim Zain has resigned as chief executive officer of Scomi Group Bhd to focus on other business commitments.
Consequently, his board position as executive director has been redesignated as non-independent non-executive director. Besides that, Shah Hakim currently sits on the board of Scomi Energy Services Bhd, Scomi Engineering Bhd and KMCOB Capital Bhd.
To replace Shah Hakim, Scomi announced in a separate filing that it has appointed Sammy Tse Kwok Fai as the new CEO.
In 2004, Tse took up the position as chief operating officer of entities within the South China Group, before leaving in 2007 to be the executive director and CEO of EPI Holdings Ltd, a company listed on the main board of the Hong Kong Stock Exchange. He resigned from these positions in 2016, but continues to provide consultancy services to EPI Holdings.
Semiconductor manufacturer Unisem (M) Bhd's net profit for the second quarter ended June 30, 2018 slipped 26% year-on-year to RM31.14 million, from RM42.09 million, primarily attributable to the depreciation of the US dollar-ringgit exchange rates, as compared to the prevailing rates in the previous year.
Unisem said the lower earnings for the period were further impacted by lower profit margins arising from the change in its product mix.
Quarterly revenue was 6% lower at RM343.2 million, compared to RM365.74 million previously.
The group plans to pay an interim dividend of 2.5 sen per share on Sept 7.
For the cumulative first half of the year, Unisem's net profit more than halved to RM37.2 million from RM86.99 million, while revenue slid 8% to RM664.75 million from RM725.99 million.