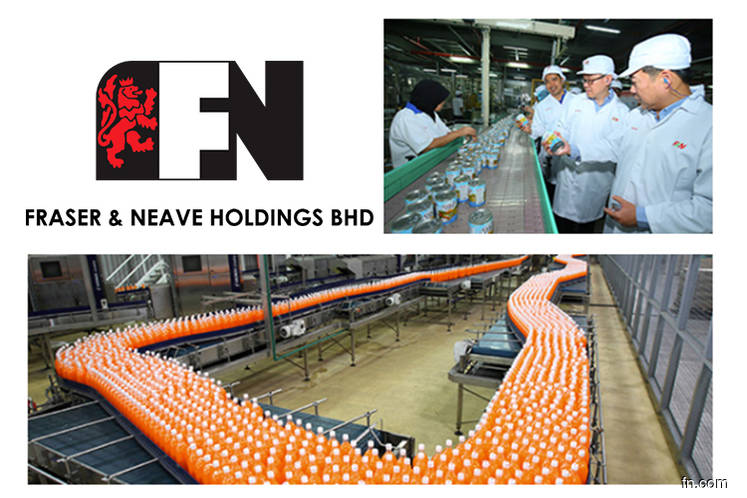 KUALA LUMPUR (Feb 3): Fraser & Neave Holdings Bhd (F&N) started its financial year ending Sept 30, 2020 (FY2020) with an improved first quarter, as net profit grew 4.48% year-on-year to RM128.37 million from RM122.86 million.
The stronger first quarter of Oct 1 to Dec 31, 2019 (1QFY2020) came amid a 9.98% improvement in revenue to RM1.11 billion from RM1.01 billion, driven by better contributions from its Malaysian and Thai operations, according to F&N's stock exchange filing today.
Earnings per share for the quarter correspondingly rose to 35 sen, from 33.5 sen in the year ago quarter.
In particular, F&N said its food and beverage business in Thailand (F&B Thailand) recorded an 11.7% increase in operating profit to RM110.9 million from RM99.3 million, thanks mainly to higher Thailand domestic sales and favourable input costs from a stronger Thai baht.
This is on the back of a 15.2% increase in revenue to RM525.9 million from RM456.5 million, driven by successful customer loyalty programme, wider outlet coverage, new launches and a favourable ringgit/Thai baht forex translation.
As for its F&B Malaysia business however, while revenue rose 5.7% y-o-y to RM584.97 million from RM553.45 million, operating profit for the segment fell 7.2% to RM48.7 million from RM52.5 million. This was due to higher input costs for raw materials and the earlier phasing of marketing activations for the new festive season, together with higher marketing expenses incurred for the launch of new products.
On prospects, while F&N expects consumer sentiment to remain weak in Malaysia, it believes its beverages segment should do better. Its dairies segment, however, is expected to see continuous competitive pressures.
"We will also be introducing more new product offerings to increase our presence in healthier categories and to further underline our leadership in our core categories. We will also sharpen our commercial execution in preparation for 2020 Hari Raya festive sales," F&N said.
As for its Thai business, despite some headwinds seen for the domestic economy, the group said brand investments and new product launches should drive organic growth there, as well as in Cambodia and Laos. It is also expecting lower effective tax rate for its Thai operations this year, with approval of the Thai government's Board of Investment on tax incentives for its capital expenditure there.
F&N shares closed 1.28% or 42 sen lower at RM32.44 today, valuing it at RM11.90 billion.