This article first appeared in Digital Edge, The Edge Malaysia Weekly, on December 28, 2020 - January 10, 2021.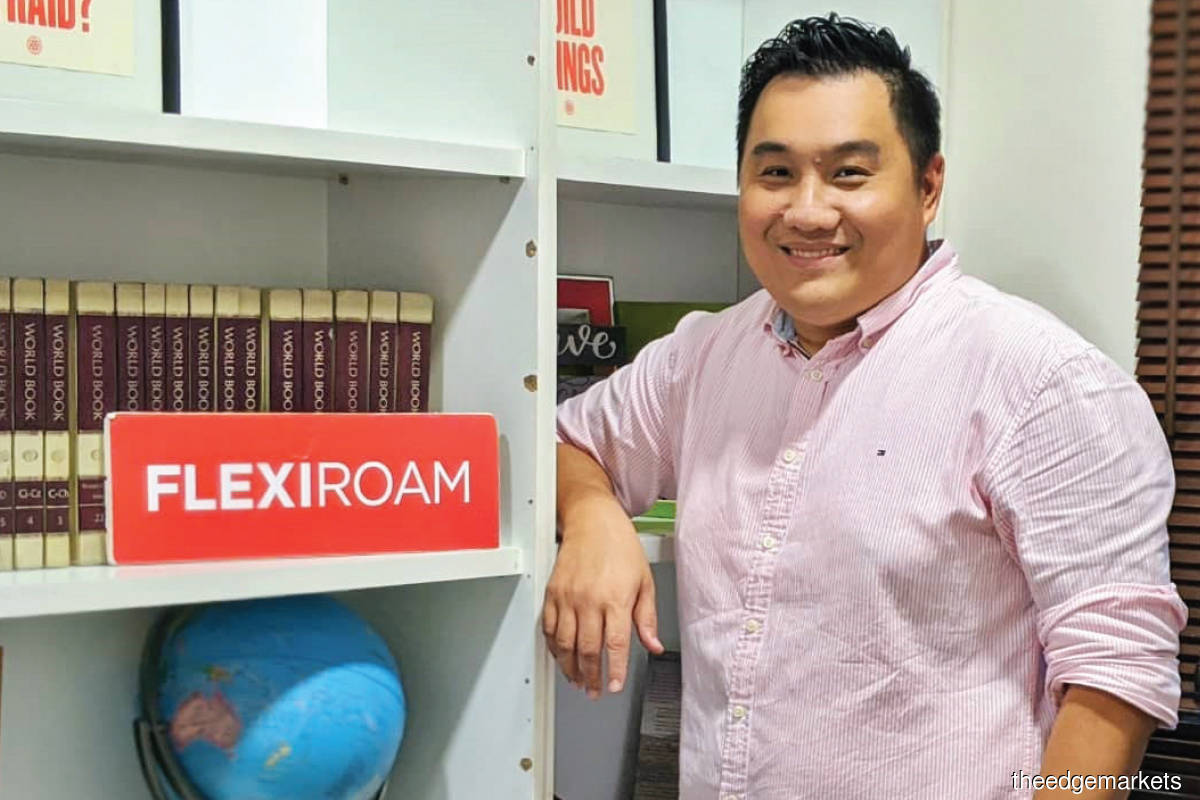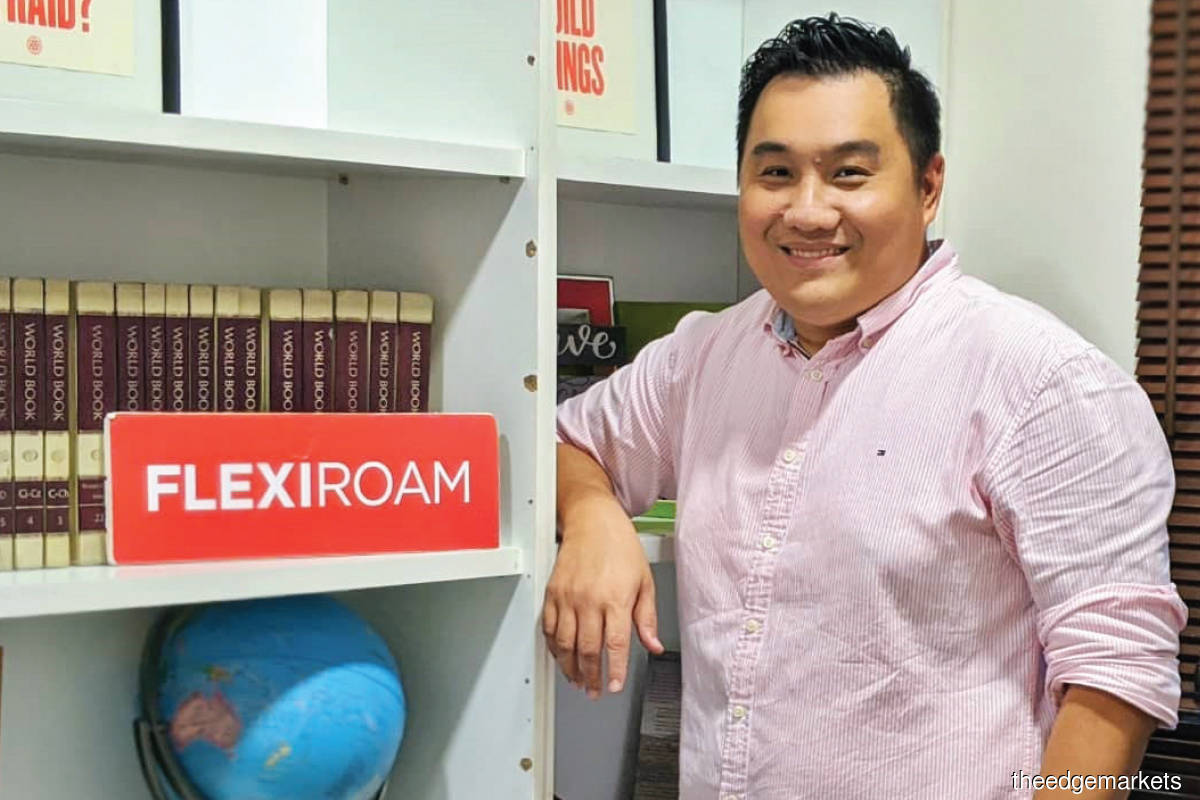 "Connectivity is not just for travellers but for all kinds of things — smart lockers, smart vending machines, smart POS systems. We repositioned ourselves as a super connector." - Ong
When the Covid-19 pandemic hit, Flexiroam Sdn Bhd CEO Jefrey Ong thought he was prepared. He had noticed the signs way back in January, even before his global business was actually affected, and brainstormed with his management team to come up with a contingency plan. It was activated the moment the country went into the first Movement Control Order (MCO) period.
But like many others, he couldn't have foreseen the length or severity of the pandemic. The company, which provides mobile roaming packages for travellers in 150 countries, saw its business slashed by between 80% and 95% as more and more countries imposed travel bans and the only ones travelling at one point were airline staff and those manning cargo planes.
Ong, who had started Flexiroam in 2011 and listed it on the Australian Stock Exchange in 2016, had a dilemma on his hands. Flexiroam provided a mobile data service for travellers and in the absence of these, it had no income but a large team of people to support.
Prior to March, the company was on track to achieve profitability for the first time since it was listed. "We were doing close to A$10 million some time in December 2019. But because of Covid-19, we had a 95% drop in sales," he says.
Ong was devastated. "All the blood, sweat and tears put into the business to scale up to profitability were wasted. We were back at square one and on top of that, we were still maintaining a fairly large operation with almost 60 people in the company, half of whom were expatriates."
When the crisis struck, he called together his team to try and think of new ways to supplement the company's income. "We thought of selling sanitisers, delivering food and maybe even distributing Covid-19 test kits to make some income to sustain our operations," he says.
But after some deliberations with his core management team, Ong realised that none of these would do. "We recognised that the best thing we could do for the people in our company, to ensure that their livelihoods were taken care of, was to find them new jobs in sectors that were still relevant to the economy."
This came under one of the company's core values of "loving people". Ong did not see how he could continue to "love" his team with a drastic drop in sales, no runway and no idea of what the future would be like.
In April, he told his staff that they would receive their last paycheques in May but until then, he would activate his network and try to find them jobs in other companies. Within a month, he managed to find most of them new jobs, 30% at a higher salary.
Ong treated his staff like family and told those who could not get jobs in the interim that they could stay with him to save on rent and his wife would cook for them.
"The government was giving companies incentives to retain employees but we decided not to take it because at that point, we did not see the light at the end of the tunnel for us. We had no idea when travel would actually restart, although many speculated that the rebound would happen in the third quarter of this year," he says.
Ong is glad he took prompt action because once the layoffs and retrenchments started, it was much harder to get a job.
He retained a core team of 10 people and their first task was to streamline and reduce the company's operations because one person would not be able to handle the jobs of five. For starters, they stopped the delivery of physical SIM cards, opting for embedded SIMs instead.
Basically, Flexiroam delivered its services to customers in one of two ways — they could sign up for a service using a physical SIM card or opt for the embedded SIM, which would be delivered digitally. In the latter case, once the customer had signed up for the service, they could download the Flexiroam app and have access to its service.
The problem with this was that they were only available to those using the latest Apple phones. As for those who did not have the appropriate equipment, Ong says ruefully that the company would "just have to say no to that potential opportunity".
"Once we had scaled down our travel operations, we could put the business on cruise control. We then selected a small team to focus on looking at new opportunities for the company, to leverage what we had already built but reusing it for different verticals," he says.
The team listed out the company's strengths: experience serving customers globally, a good relationship with telecommunications companies all around the world, a 300-strong global distributor base in 150 countries and a very agile and resilient team ready to pivot. "These were our core assets, the resources left within the company. And with them, we would have to rethink what Flexiroam stood for," says Ong.
The first vertical it managed to capture was providing connectivity for the AIDS 2020 conference, which featured keynote speakers such as the then US House of Representatives Speaker Nancy Pelosi and National Institute of Allergies and Infectious Diseases director Dr Anthony Fauci.
Originally, the conference was to be held in the US. But because of the pandemic, it had to be converted into a virtual conference. The problem with this was that some 800 of the delegates were from Africa and did not have good enough connectivity to allow them to participate.
The company did not actively seek this opportunity; it landed on its lap. One of Flexiroam's distributors in South Africa approached it for a solution to this conundrum and it came up with one on the fly, presenting delegates with Flexiroam SIM microchips to stick to their current SIM cards.
After activating the service through the Flexiroam app, these delegates were provided with unlimited data for 10 days — first, to participate in the events of the four-day conference (July 6 to 10) and then, to keep the conversations going beyond the programme, which would not only showcase the latest developments in HIV research but also present brand-new data on Covid-19.
The team managed to pivot so successfully in such a short span of time that it would also handle connectivity for the HIV conference in Germany and other related virtual conferences in the world today, says Ong.
The company found another opportunity when the MCO was relaxed, to use its connectivity for mPOS (mobile point-of-sales) terminals and vending machines. "These devices need to have connectivity to facilitate financial transactions and they need connectivity that is reliable and able to connect to multiple mobile networks on a single SIM card," he points out.
It also realised that there was an opportunity in providing connectivity for smart vending machines, which need to connect to the cloud to inform the vending operator when drinks are running low and which can take payment from credit cards and e-wallets.
"These vending machines need to be online all the time. But it is not as simple for a vending operator to walk into the office of a telco to ask for connectivity. And they would need to have multiple types of coverage. Some areas are covered by Maxis while others are by Digi or Celcom," says Ong.
"We realised that Flexiroam could provide them with connectivity all over the world so that their smart vending machines could remain connected to the cloud."
And this was how the company figured out a way forward. "Connectivity is not just for travellers but for all kinds of things — smart lockers, smart vending machines, smart POS systems. We repositioned ourselves as a super connector," he says.
Now, the company has two main areas of business — Flexiroam Travel (its traditional business) and Flexiroam Solutions (which covers things like virtual conferences, mPOS and anything that requires Internet of Things connectivity).
As the company is listed, Ong is unable to say how much the non-travel revenue is contributing to its bottom line, but he does reveal that it is "picking up". "It's growing at a very fast pace," he says.
Flexiroam recently raised A$3 million in a rights issue and Ong says it will be using this money to grow its non-travel business, which is the mPOS vertical, as well as prepare for the rebound in travel, now that vaccines have come out and it looks like a recovery in that segment is imminent. "We know this will not happen so soon, but we have to start preparing ourselves to capitalise on the rebound when it really happens."