This article first appeared in Personal Wealth, The Edge Malaysia Weekly, on December 9, 2019 - December 15, 2019.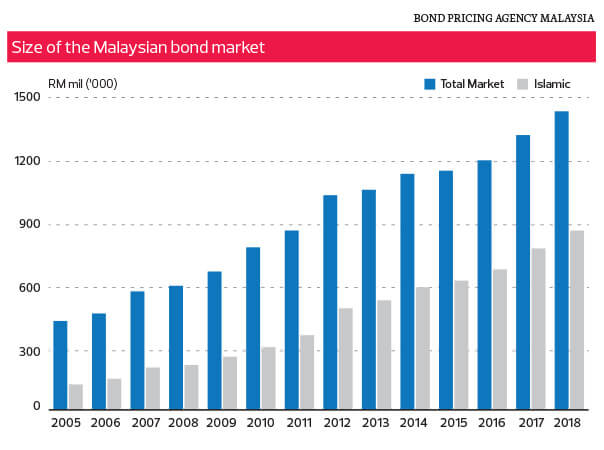 Retail bonds have seen a low take-up due to, among others, a lack of lower-rated or high-yield bonds in the market, said industry players at the Malaysian Bond & Sukuk Conference 2019 on Nov 28.
Ahmad Al Izham Izadin, manager of research and business development at Bond and Sukuk Information Exchange (BIX Malaysia), said the take-up has been slow because there are not enough high-yield bonds in the market, and not because the demand is low.
In his presentation, "Retail bonds: Democratising Fixed Income Investments", he pointed out that the current yields provided by bonds are not lucrative enough to entice retail investors. "Retail investors are largely driven by big profits. That is why they are turning to peer-to-peer (P2P) financing, bitcoin and other similar assets that are able to produce a yield of 10% or higher. But these retail investors are not fully aware of the risks involved when investing in these assets compared with retail bonds," he added.
At a panel session, "Malaysian Bonds & Sukuk Markets: Where Are We Now?", Datuk Chung Chee Leong, president and CEO of Cagamas Bhd, said the lack of high-yield bonds has led to investor concentration in the local bond market. "The local bonds and sukuk are currently concentrated in [the hands of] a small number of big investors, pension funds, insurance companies and financial institutions. The lack of retail participation has led to a less vibrant market.
"For instance, Thailand has a vibrant bond market today simply because there is a lot of retail participation. There are many BBB-rated and A-rated bonds for the retail investors there. When these investors look for higher yields in the bond market, they go for lower-rated paper."
"When it comes to AAA-rated paper, some retail investors may say, 'Fixed deposits are providing me with almost the same returns. So, why should I buy these bonds or sukuk instead?'"
At the panel session, Mohamad Safri Shahul Hamid, senior managing director and deputy CEO of CIMB Islamic Bank Bhd, pointed out that the dearth of high-yield bonds is due to a lack of incentives for corporations to issue them. "Investment banks compete with each other to get hold of high-rated but low-yield bonds such as government-guaranteed, AAA and AA-rated bonds. However, when it comes to lower-rated or high-yield corporate bonds or sukuk, it is a turf on which nobody wants to play," he says.
"In this scenario, these low-rated issuers would opt for the loan market or unrated bond market, which explains why there is a gap in [the overall market for] lower-rated high-yield bonds. This is why we are looking to see if we can bring these guys back to the public markets and get them rated. That is also why we are trying to push for the retail sukuk and bond agenda, which has been a success in Thailand and Indonesia."
Other reasons for the low  take-up among retail investors include a lack of liquidity and limited access to bond information, says Ahmad.
To solve this issue, Cagamas' Chung called for measures to encourage and educate investors and corporates on the benefits of being involved in the retail bond space. "Those who are currently in the corporate bond and sukuk markets are the big players. Smaller players or small and medium enterprises will find it difficult [to participate]," he said.
"But that is about to change with the use of technology. For example, micro-sukuk is already being issued in Indonesia. Looking at these trends, why can't these be offered in Malaysia?
"Another thing we can explore is to attach a premium to bonds, to encourage investors to participate in the retail bond space. We also need to open the market so that lower-rated bonds help facilitate more retail participation."
On Oct 16, Indonesian microfinance institution BMT Bina Ummah issued the world's first primary sukuk on a public blockchain using Blossom Finance's SmartSukuk platform. Known as the first "micro-sukuk", it has raised IDR710 million (RM210,044) to offer financing to Indonesian entrepreneurs.
"Unlike the majority of issuances, this pioneering sukuk offers genuine profit-sharing for investors — not fixed income — and is closer to the Islamic investment principles that discourage excessive debt and leverage," Blossom Finance chief strategy and risk officer Khalid Howladar was quoted as saying in an article.
Despite the lack of market participation, BIX Malaysia's Ahmad was optimistic about the growth prospects of the local retail bond market as Malaysia has an increasingly strong domestic savings market. "If you look at savings growth since 2007, the amount of money in savings accounts doubled last year, totalling about RM160 billion. The amount of money in fixed deposits grew to RM602.61 billion, an increase of 47.18% since 2007. As at last December, 48.3% of all savings in fixed deposits were held by individual investors instead of corporate agencies," he said.
During the conference, Bond Pricing Agency Malaysia Sdn Bhd CEO Meor Amri Meor Ayob said that as at Nov 22, the total market size of the local bond market had surpassed the RM1.5 trillion mark. "As at Oct 31, the total bond market had seen a growth of 6.5% compared with 2018, with sukuk seeing a growth of 9.9%. What many people may not know is that the bond market has seen at least double the trading volume of the equity market on a monthly basis.
"According to our data from 2015, if you are an investor in the bond market, you will consistently make money. It is not the same thing as being a passive investor in the equity market. The volatility you see in equities does not exist in the bond market."