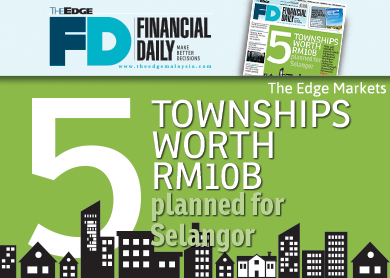 KUALA LUMPUR: Five new townships, with a combined gross development value (GDV) of RM10 billion, are being planned for Selangor this year. The townships will be developed by Darul Ehsan Investment Group Sdn Bhd (DEIG), Selangor's newly-incorporated sovereign wealth fund, jointly with private developers.
Menteri Besar Inc (MBI) of Selangor group chief operating officer Soffan Affendi Aminudin said DEIG would identify the five joint-venture (JV) partners, including public listed developers, by year-end.
He said the company is in the process of making a request for information (RFI) from several property developers. However, he declined to reveal their names.
"Based on the RFI, we will proceed with a request for proposal (RFP) from the players. Soon after, they can begin to develop the townships," Soffan Affendi told The Edge Financial Daily in an interview.
According to him, the JV structure will be based on the share of GDV and not equity stakes.
DEIG will develop its biggest mixed township, at a GDV of RM5 billion, in Shah Alam. The other developments will be in Gombak and Section 14, Petaling Jaya, but they will offer a smaller GDV of up to RM1 billion, said Soffan Affendi.
Meanwhile, the other two projects will be in Bukit Beruntung but plans on these developments are too preliminary to reveal.
The township developments are part of the Selangor government's bigger plan to improve the state's revenue by monetising its assets such as land, minerals, waste management, education and healthcare.
Selangor Menteri Besar Mohamed Azmin Ali had earlier told The Edge weekly that the state government wanted to develop some 5,000 acres (2,023.4ha) of land in the next three to five years, and hoped to make property development the main contributor to state revenue.
"We foresee that the cash cow for Selangor is going to be on the property side, while waste management will provide a recurring income of about RM500 million a year to the state because it's a concession and cash business," said Soffan Affendi.
However, State Assemblyperson for Damansara Utama Yeo Bee Yin during the state assembly in April this year raised concern about the Selangor government's involvement in business.
"We have often heard that JVs with private companies will increase the return for government-linked companies (GLCs). It is not necessarily so.
"According to the answer to my written questions in state assembly session in November 2015, there are a total of 38 projects completed by Permodalan Negeri Selangor Bhd (PNSB) through JV. However, PNSB still suffered a return that is much lower than industry average," Yeo said.
Soffan Affendi acknowledged that previously most of the state government's property development partnerships were based on profit sharing which includes the elements of revenue, cost and profit.
"The state was previously always the victim because it couldn't control cost and when cost can't be controlled there would be leakages and profit contribution to the state would be smaller.
"Now, with the consolidation under DEIG, we will get into the top line arrangement and the state will act as an investor and not get into business," he said.
Meanwhile, Soffan Affendi said the developers which will be involved in the development of the five proposed townships will be able to utilise the mineral resources in the state to develop the areas.
"It is not compulsory for the companies to use the state's minerals, because at the end of the day the most important thing is location. But rather than to get [building] materials from some place further like Negeri Sembilan or Perak to build the townships, [they] might as well get it here," said Soffan Affendi.
He noted that Selangor has a total sand reserve of 200 million tonnes at the Bestari Jaya catchment in Kuala Selangor, with the average price of sand at RM20 per tonne. The state also has a 600-acre quarry that is able to produce 2 million tonnes of sand a year, which can last for another 40 years.
"We just need to consolidate all of these [assets] under one roof to get things moving," he said, referring to the reason why DEIG was established. DEIG was incorporated to consolidate, rationalise and unlock the value of Selangor's assets under the state GLCs which is said to be worth some RM30 billion.
"At this stage, we are in the midst of immobilising our resources. It will take another three years for us to measure the returns we can give to the state," said Soffan Affendi.
"But at this stage, we are expecting a 10% return from the whole [Selangor 2015] budget and this will gradually increase over time," he said.
Earlier this year Azmin tabled the state's biggest ever budget of RM2.42 billion, with RM1.13 billion earmarked for development expenditure.
This article first appeared in The Edge Financial Daily, on June 1, 2015.