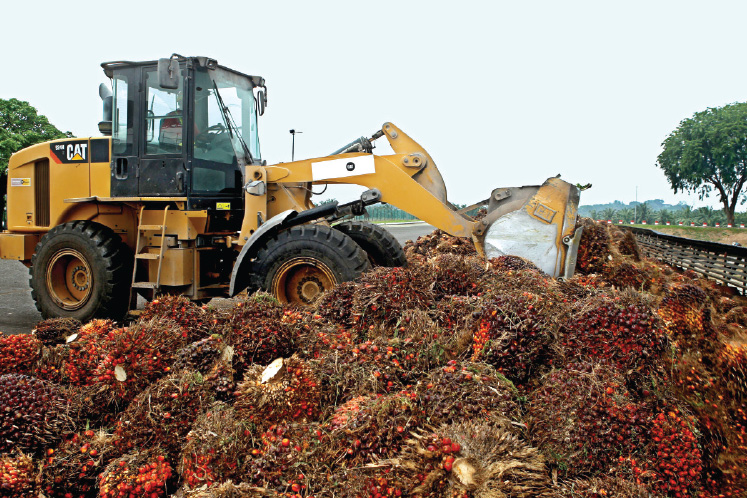 KUALA LUMPUR (April 3): In light of the Sabah Government's decision to close down palm operations (including fresh fruit bunch [FFB] harvesting) in Tawau, Lahad Datu, Kinabatangan, Semporna, Kunak and Kalabakan, five plantation giants have requested the State Government to reconsider the closure and allow critical operations to continue.
These plantation big boys, namely FGV Holdings Bhd, Sime Darby Plantation Bhd (SDP), Kuala Lumpur-Kepong Bhd (KLK), Wilmar International Bhd and Genting Plantations Bhd (GenP), have all issued statements supporting the Malaysian Palm Oil Association's (MPOA) and Malaysian Estate Owners Association's (MEOA) appeal to the Sabah State Government to reopen the six areas – which account for 75% of the total production in Malaysia's largest palm oil-producing State.
While all the plantation giants and the two associations reiterated that they all understand the Sabah Government's concerns over the spread of COVID-19 among palm oil plantation and mill workers, there is also the consensus that the move will have adverse impact, ranging from exodus of migrant workers, higher risk of infection among workers to delay of harvesting fresh fruit bunches and a fall in production volume.
The latest that has voiced its concern is GenP, which issued a statement today highlighting that the closure of critical oil palm estate and milling operations, as result of the Federal Government's Movement Control Order (MCO) to curb the COVID-19 pandemic may jeopardise an essential service for the food industry.
"In addition, we firmly believe that the oil palm industry can better support containment initiatives by continuing operations as the nature of its estate and milling operations enables the enforcement of strict social distancing guidelines.
"We have worked closely with MPOA and the relevant authorities to implement all the guidelines and standard operating procedures (SOPs) under the MCO in all our oil palm estates and mills," said GenP in the statement. GenP owns 47,632 hectares in the State.
"Therefore, we hope that the State Government will consider MPOA's appeal favourably and allow the oil palm industry to resume its critical estate and milling operations in Sabah," Genting Plantations said.
To recap, Sabah Chief Minister Datuk Seri Mohd Shafie Apdal announced early this week that the districts will be closed for palm oil operations until April 14 in order to combat the spread of COVID-19.
The State's decision resulted in the shutdown of palm oil operations in a total of six Sabah districts, which account for 75% of the State's crude palm oil (CPO) production. This is likely to result in fresh fruit bunches (FFB) not being harvested timely.
The six areas are Tawau, Lahad Datu, Kinabatangan, Kalabakan, Semporna and Kunak.
FGV, the country's biggest oil palm planter, pointed out that the palm oil industry was recognised as an essential service and all operations related to the industry need to be continued to avoid worse financial and social implications.
FGV's total estate, mills and refining plants in Sabah measure up to 128,692 hectares, according to its Annual Report 2018.
"FGV hopes that the Sabah State Government will deliberate MPOA's views and reconsider the decision. FGV has committed to adhering to all standard operating procedure and guidelines in all FGV estates and mills since the Movement Control Order was implemented on March 18 and is continuing to work closely with all stakeholders to ensure that the risks to the safety and health of all employees are minimised," it said.
Meanwhile, SDP, which has 53,676 hectares for upstream properties, said that containment measures against COVID-19 need to be balanced.
"At the same time, SDP believes that the initiative on containment needs to be balanced with considerations to not jeopardise industries recognised by the National Security Council (NSC) as essential to avoid potentially adverse and severe implications arising from the decision," it said.
Singapore-listed Wilmar International also joined the fray and expressed its hope for the Sabah Government to review the closure, highlighting that there is a looming food crisis both at home and abroad as a result of the severe disruption in supply chains and logistics.
While the Government has classified palm oil refineries as an essential service, the closure of palm oil estates and mills will have a direct impact on the ability of such refineries to operate.
"This will inadvertently impact the supply and production of food products and cooking oil that are essential items in Malaysia, which is what we are trying to avoid in the first place," Wilmar said.
KLK stated that even within this short closure, its workers are starting to get restless. Should they remain idle for too long, KLK is concerned that they may start to congregate to overcome their boredom and ignore social distancing practices.
"It would also be more difficult to convince them to stay if they, as basic salary earners, leave to seek better opportunities during the closure of operations. This could potentially create a sea of drifting unemployed workers that could defeat the whole purpose of the MCO and expose the wider community to a higher risk of COVID-19 infection," KLK added.
These plantation companies have underscored that they have the appropriate measures in place to contain the spread of COVID-19. These include voluntary lockdowns, sanitisation of public spaces and daily temperature checks for employees.
The extended MCO period has affected businesses across the board and companies with plantations in Sabah are not spared either.