This article first appeared in The Edge Financial Daily, on March 17, 2020.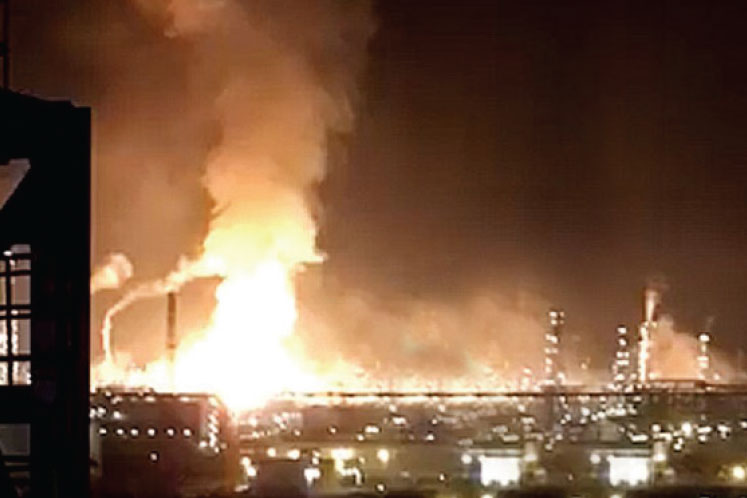 KUALA LUMPUR: Pengerang Refining and Petrochemical (PRefChem) said yesterday that investigations into the cause of the fire and explosion incident at its facility in Pengerang, Johor, is still ongoing.
In a statement yesterday, PRefChem said the incident occurred at the diesel hydrotreating unit within the Pengerang Refinery Complex at 10.39pm yesterday.
"It is with great sadness that we confirm that five people have lost their lives as a result of the incident, one person has suffered from a 40% second-degree burn, and one person escaped unhurt," it said.
PRefChem added that the emergency response team is working closely with the relevant authorities. The site has been shut down and the situation is under control, it added.
"Safety remains our utmost priority, and we wish to assure members of the public that the situation is under control, and there are no health and environment-related risks in regard to this incident," PRefChem said.
"A thorough investigation is ongoing and we are extending our fullest cooperation to the authorities. PRefChem is saddened by the incident and extends our condolences to the families of the deceased.
"Our thoughts are with all those affected by the incident," it said.
PRefChem is a strategic alliance between Petroliam Nasional Bhd and Saudi Aramco.
This is the second reported incident at PRefChem's facility in Pengerang within a year.
In April 2019, a fire and explosion involving PRefChem's atmospheric residue desulphuriser took place, resulting in the facility being unable to process high sulphur crude oil, up until sometime this year.
PRefChem's joint ventures, namely Pengerang Petrochemical Co Sdn Bhd and Pengerang Refining Co Sdn Bhd, together operate a 300,000 barrels per day refinery, an integrated steam cracker with a capacity of 1.3 million tonnes of ethylene, with associated propylene, butadiene, benzene, polyolefins and ethylene glycol facilities.
Separately, Petronas Dagangan Bhd (PetDag) and Petronas Chemicals Group Bhd (PetChem) both clarified via brief stock exchange filings yesterday evening that the fire incident has had no impact on their businesses.