This article first appeared in The Edge Financial Daily, on October 11, 2018.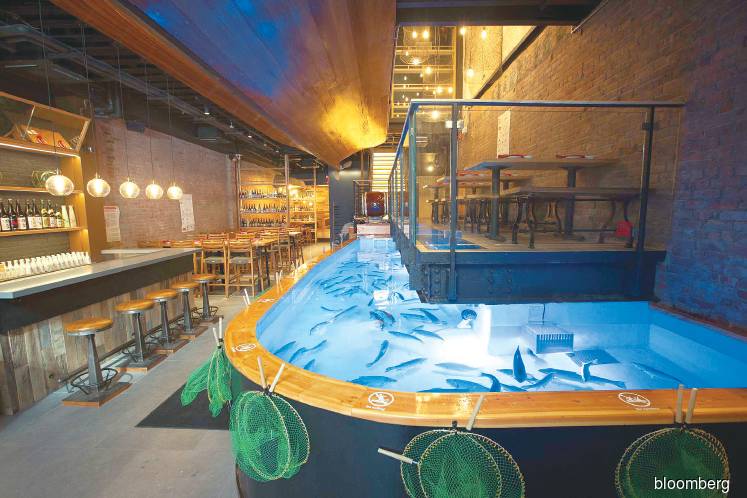 Diners just dip a line into a giant tank full of fish for this farm-to-table experience
 
Your odds of catching a big striped bass for dinner in New York City are not especially high. A pier in Brooklyn, close to the Williamsburg J Crew, probably offers the best chance. Your next step is to find someone to clean and cook it for you.
Or you can just book a table at Zauo. Starting Sunday, diners will be able to walk into the Chelsea restaurant and dip a line into a giant tank full of frisky striped bass — plus salmon, fluke, trout and other fish. It is a farm-to-table thesis served with a rémoulade of Japan-style kitsch. It is dining theatre at the extreme, an outsize gimmick in a town built on them. It is also quite entertaining.
On a Monday morning, dozens of fish zombied past my salmon-scrap-gobbed hook, like so many Midtown commuters. A three-pound (1.36kg) striped bass hurried by on the right, a 14-inch (35.6cm) rainbow trout lazily detoured to the left, and a steelhead the size of my arm lumbered underneath.
After two minutes, the mark came along. A fresh-faced trout paused for a beat; wondered, What is this?; and voilà: Brunch was served.
There is a giddy joy in catching a fish, and it does not abate much based on the setting. The incongruity of feeling the fish's electric dance on a line at Zauo, two steps from a bar stocked with high-end sake, is part of the fun.
This is not a hushed temple of sushi where guests line up like congregants. The staff goes out of its way to keep the atmosphere bright. When a fish is hooked, a concerted cheer rings out from the three or four "fish attendants" directing traffic around the tank. As it thrashes into the net, someone bangs a big bass drum. Just as quickly, the critter is whisked to the back of the house, where the kitchen staff makes sure it will never swim again.
Somehow, it is not as ridiculous as it sounds. Fish tanks and giant drums aside, the space is subdued. Sure, the entire second floor is designed as a "boat", with the keel running the length of the bar downstairs, but it comes off as spartan. Blond wood gives way to brick and the occasional buoy in a sushi-counter vibe. "It's all very simply, very systematic," said spokesman Ayako Kaneyoshi. "After all, it is a chain restaurant."
Zauo's owners run 13 sibling locations in southern Japan that are especially popular with international tourists. Restaurants in that area — and in Chinatowns around the world — have tanks of seafood where you can see your dinner swimming around. Zauo is arguably the first to let customers do the catching.
The Manhattan location, the family's first outside Japan, required an entirely new piscine supply chain. Aside from the Maine lobsters, all the inventory is trucked in from farms: salmon from New York and striped bass from Northern Carolina. My rainbow trout grew up in Pennsylvania. The trout, salmon and striped bass are kept together in two different tanks. Upstairs, 50 flounder doze in a separate tank like a smattering of sleepy-eyed welcome mats, with fluke, lobster, rockfish and abalone as friends. The flounder are the most exotic fare, having flown in from Japan.
There are 134 seats, and diners will fish in waves of 15 to 20 at a time. Each person pays, in total, for whatever grabs the hook, with prices ranging from US$45 (RM186.88) for a trout or bass to US$110 for one of the massive salmon (which, considering the size, may be one of the city's best seafood deals). Those who elect to have a fish caught for them will pay slightly more (US$55 for the trout, US$125 for the salmon) — but to get exactly what you want, there are nets available. Once the fish is safely in the kitchen, diners choose from a few simple preparations: sashimi, grilled, fried in tempura or simmered in soy sauce and mirin. All arrive whole, with the head and bones, unless you ask otherwise. Fluke or flounder bone chips are extra.
For those who do not dabble in indoor fishing, there is a sashimi-heavy a la carte menu, as well as non-seafood options including deep-fried tofu, tempura chicken and braised pork belly. Some of the offerings are made from the byproducts of the day's catch; the miso soup, for instance, incorporates a fish-bone broth. Dessert is a range of gelato: wasabi, yuzu and matcha.
The mind reels at what could go wrong. The slim walkways around each tank have the makings of a horrendous Instagram jam. A solo diner is in for some expensive gluttony should she unwittingly snag a salmon — you catch it, you buy it. And the set-up seems prime for high jinks in bonus season or when a bro bachelor party books the big table at the prow of the boat upstairs. The signs that forbid bathing and synchronised swimming are easy to overlook.
The operation still has some kinks to work out. The opening was delayed for six months. There is a distant concern that an eager diner may, in fact, fail to hook a fish — get skunked, as they say on the Brooklyn piers. Although that, of course, is fishing. Whatever you do, do not overthink it. And do not catch and release. — Bloomberg