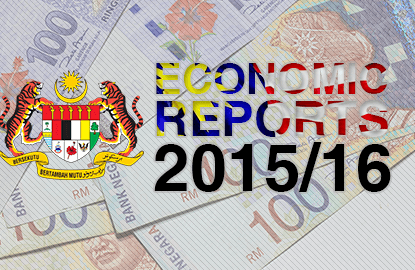 KUALA LUMPUR (Oct 23): The federal government expects to reduce the nation's fiscal deficit to 3.1% of gross domestic product (GDP) in 2016 from 3.2% this year, the Economic Report 2015/2016 stated.
This is on the back of fiscal reform initiatives, which include rationalisation of subsidies and the implementation of broad-based tax — the goods and services tax (GST).
Expenditure on subsidies, which include assistance and incentives, is expected to decrease to RM26.2 billion in 2015 from RM39.7 billion due to lower fuel subsidy payments following implementation of a managed float fuel pricing mechanism for petrol RON95 and diesel.
Revenue from GST is expected to increase next year, following the full-year implementation of the broad-based tax, the report stated.
The government will also implement a medium-term fiscal framework (MTFF) from 2016 to 2018 to achieve fiscal targets.
Federal government debt rose to 54% of GDP
However, federal government debt has increased to RM627.5 billion or 54% of GDP as at end-June 2015 from RM582.8 billion or 52.7% of GDP for the whole of last year, mainly due to higher domestic debt issuance to meet deficit financing requirements.
"Domestic debt remains the major portion of total debt at 97% (RM608.7 billion) with MGS (Malaysian government securities) and MGII (Malaysian government investment issues) constituting 87.8% of the total debt (47.4% of GDP)," the report read.
"The remaining 3% (RM18.8 billion) of total federal government debt is from offshore borrowings, which is mainly denominated in US dollar."
The report stated that offshore borrowings remained manageable at 1.6% of GDP, despite the appreciation of the US dollar.
The total federal government debt reflects the accumulated funding requirements to meet deficit financing and civil servants' housing loan scheme.
As at end-June 2015, the debt used to finance the deficit, comprising outstanding issuance of MGS, MGII, market loans and project loans, stood at RM569.7 billion (49.1% of GDP).
MGS remained the largest debt instrument of the government as at end-June 2015, with an outstanding amount of RM343.8 billion or 54.8% of total federal government debt while MGII stood at RM207 billion (33%).
The report stated that financial institutions continued to be the largest holder of MGS and MGII at 31.3%, followed by the Employees Provident Fund (EPF) at 23.2% and insurance companies (5.5%).
Outstanding market loans of RM13.3 billion remained the largest component of accumulated offshore borrowing, while project loans stood at RM5.5 billion.
External debt up 6.26% following ringgit's depreciation
Malaysia's external debt also increased by 6.26% to RM794.3 billion or 68.4% of GDP as at end June 2015 from RM747.5 billion or 67.5% of GDP last year, partly due to the valuation effect following the depreciation of the ringgit.
The report stated that about 60% of external debt was denominated in foreign currencies, and a majority of the debt was contributed by non-resident holdings of ringgit-denominated debt securities and deposits at 26.2% of GDP, followed by private sector debt at 11.8% of GDP.
Non-resident holdings of ringgit denominated debt securities, largely in the form of medium- and long-term securities, increased to RM209.2 billion as at end-June 2015.
Public sector offshore borrowing accounted for 10.3% of GDP. Offshore borrowings increased to RM419.9 billion or 52.9% of total external debt as at June 2015, due to higher net borrowing of medium- and long-term debt by the non-bank private sector as well as public corporations.
Development expenditure to go up 20% this year, and rise 5.49% in 2016
The government also noted that debt service charges are estimated to increase by 7.9% to RM24.4 billion this year from RM22.6 billion last year, representing 11.4% of total operating expenditure (OE).
However, the government said the 11.4% of debt service charges, consisting mainly of coupon and interest payments, remains manageable, well below the 15% threshold.
Debt service charges are expected to increase further by 9.3% to RM26.64 billion next year, representing 12.4% of total OE; OE is expected to increase by 0.9% to RM215.22 billion in 2016 from RM213.31 this year.
Meanwhile, development expenditure (DE) is expected to increase by 20% to RM47.4 billion in 2015 from RM39.5 billion in 2014, mainly due to the construction of infrastructure projects, and rise another 5.49% to RM50 billion in 2016.
The economic sector will be the largest recipient of DE this year, with 59.7% share or RM28.3 billion, followed by social (26.3%), security (10.4%) and general administration (3.6%).
In 2016, the economic sector will remain the largest recipient of DE with RM30.3 billion (60.6%), followed by the social sector at RM13.1 billion (RM4.7 billion for education/training, RM4.4 billion for healthcare and affordable housing).
The security sector gets RM5 billion, while the remainder RM1.6 billion has been earmarked for the general administration's facilities upgrade.
The government said although debt is well-capped at 55% to GDP, placing Malaysia among medium-indebted countries, it will ensure its financing needs and debt service charge obligations are met at the lowest possible cost over the medium and long term.