This article first appeared in Personal Wealth, The Edge Malaysia Weekly, on June 1, 2020 - June 07, 2020.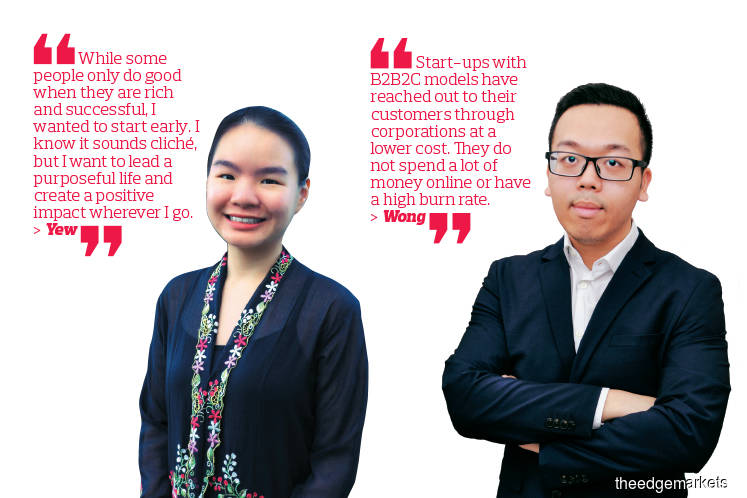 At 26, Yew Jian Li is founder and managing director of Citrine Capital Sdn Bhd, a company that invests in for-profit start-ups that aim to have a positive impact on society. Although she is passionate about impact investing, there are people who are sceptical about her experience and knowledge given her age.
"Some people think I lack experience and capability, judging me just based on my age. Some have called me an idealist for trying to make this world a better place. There are also those who simply disregarded my efforts when I approached them," says Yew.
Some people have doubts as to whether she is genuine in her quest to make a difference and truly understands the societal issues on the ground as she comes from a well-to-do family. The company is mainly funded by her father, whom she describes as a successful businessman who made his fortune after selling his business. With his support, she has been able to pursue her dream of being an impact investor.
Nevertheless, Yew remains humble and steadfast in working towards her goals. Whenever she faces scepticism, she chooses to learn from those who are willing to give constructive criticism. "I assure them that I am eager to learn and improve myself. I have set a high bar for myself," she says.
Yew's passion for impact investing began in university, where she was actively involved in social work. Once, she participated in a fundraising activity for a charity event and stood by the roadside with a tin in her hand. All day long, she asked passers-by to donate some money to the poor and needy.
At the time, Yew realised that many of those who dropped a coin or two into her tin were from the middle- or lower-income groups. "I assumed that they were not very well off, judging from their appearance. Yet, they gave generously," she recalls.
"The memory of that experience has stuck with me. It made me think about why some people, who may be less capable, financially or otherwise, were more willing to share than those who were more capable."
This experience has shaped Yew's world view. She even joined several impact-focused organisations when she was studying for her degree in biochemistry and molecular biology at the University of Melbourne.
After graduating, Yew took a gap year before pursuing a master's degree to do some volunteer work with several organisations across Southeast Asia. These included the Centre for Education and Development in Vietnam, the Kuraburi Burmese Learning Centre in Thailand and Volunteer for the Visayans in the Philippines.
The Centre for Education and Development comprises scientists, educators and training and development specialists who aim to improve education and human development in Vietnam. The Kuraburi Burmese Learning Centre provides free education for migrant children from Myanmar while Volunteer for the Visayans provides professional social welfare services to underserved communities in Tacloban.
"While some people only do good when they are rich and successful, I wanted to start early. I know it sounds cliché, but I want to lead a purposeful life and create a positive impact wherever I go," says Yew.
Two years after she graduated from King's College London with a master's degree in emerging economies and international development, she founded the Social Innovation Movement in February last year, which advocates for social innovative capital and promotes community entrepreneurism. Citrine Capital was set up last August.
Impact investing still viewed negatively
With Citrine Capital, Yew aims to attract capital to invest in start-ups that can create a positive impact on society. She acknowledges, however, that her firm is still new and it will take time to build a track record and attract capital. Doing so is important to her as local investors in general, she says, view impact investing in a negative light.
She adds that many of them are not convinced that impact investments can generate the desired risk-adjusted returns. Investors also tend to keep their allocations for investments and charity purposes separate, instead of combining the two objectives.
"They think that if they want to do good, they can just donate some funds to non-governmental organisations. While this may be a common practice, [this approach] may not be sustainable in the long run," says Yew.
She points out that Citrine Capital is registered with the Companies Commission of Malaysia as an impact investment holding company. She plans to register it as a venture capital firm with the Securities Commission Malaysia in the future.
Currently, Citrine Capital is only managing assets for Yew's family. It will only accept external funding when it starts to show good results.
So far, the firm only provides pre-seed and seed funding of RM100,000 to RM500,000 to early-stage start-ups. To qualify for funding, the start-ups have to be assessed in terms of risks, returns and potential impact on society.
Start-ups that operate in the healthcare and education industries are preferred as their business models are more likely to have a direct positive impact on society. Singapore-based ThoughtFull World Pte Ltd, which provides accessible and affordable mental wellness solutions to the general public, is one of Citrine Capital's investee companies.
The firm is currently looking at a start-up that has developed a platform for the running community. The platform offers rewards to runners based on the distance and time they clock in.
"We believe both start-ups will have a positive impact on society in terms of mental and physical health, especially during the Movement Control Order (MCO) period as people are housebound with limited human interaction," says Yew.
Citrine Capital vice-president Wong Jin Hui says the firm's investment strategy is to invest in start-ups with a clear revenue stream and a steady increase in subscribers. He favours technology start-ups with a business-to-business-to-consumer (B2B2C) model, which usually means tapping into the client base of large corporations.
The more popular B2C business model, where start-ups acquire customers directly by marketing products and services to the general public via online channels, may not be the best choice in Southeast Asia right now, says Wong, who has been a food delivery start-up founder and an analyst at venture capital firms.
He explains that the burn rate of the B2C model is too high as these start-ups tend to spend a lot of money online. "I remember reading a research report that said 80% of the money raised by start-ups had gone to internet giants such as Facebook and Google [via marketing]."
The traction garnered in Southeast Asia through this expenditure was also less significant than in countries such as the US and China, he adds. That is why a lot of later-stage start-ups with B2C models were badly hit by the Covid-19 outbreak and MCO.
"On the other hand, start-ups with B2B2C models have reached out to their customers through corporations at a lower cost. They do not spend a lot of money online or have a high burn rate," says Wong.
"Let's say a start-up is operating in the consumer industry. It can partner companies such as 99 Speedmart to reach out to their customers. Start-ups operating in Southeast Asia are slowly realising that spending large amounts of money on online marketing is not always going to work."
He adds that his experience working with early-stage start-ups over the past four years has led him to realise that more of these companies are switching from B2C to B2B2C models.