This article first appeared in Personal Wealth, The Edge Malaysia Weekly, on May 1, 2017 - May 07, 2017.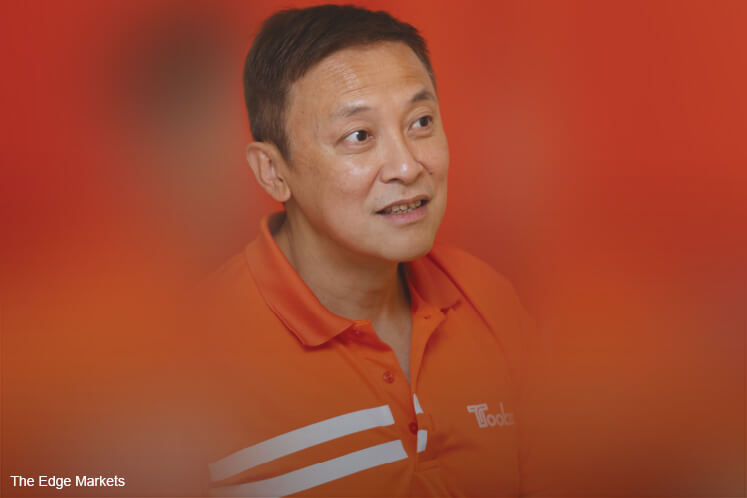 Angel investing is serious business for Datuk Wei Chuan Beng. He is willing to put in more time, money and expertise than the average investor to help his investee companies succeed.
He typically invests between RM1 million and RM4 million in a company. Other local angel investors usually put in RM20,000 to RM50,000.
"I know this is not a normal amount. Most angel investors put in a small amount, so they do not lose sleep if the investment does not work out. I call this the 'spray and pray' approach — they just spray small amounts of money at many different companies and pray that one or two of them hit the jackpot and generate good yield," says Wei.
He is the co-founder of most of the companies he invests in. To mitigate the risk of these companies going bust, he is actively involved in their businesses, although he does not hold any official positions or titles. This allows him to add value and increase the possibility of the companies succeeding.
Wei has spent 28 years in Malaysia's technology sector and has extensive knowledge about entrepreneurship in terms of strategy, market penetration, positioning and other areas that could be improved upon.
There are a few factors that influence his investment decisions. First is the timing of the solution that the investee company is developing and whether it actually meets the current market demand.
"It takes a bit of reading the situation — the technology at a certain point of time and the readiness of the market to adopt it, in addition to economic and political factors as well as regulatory frameworks," says Wei.
"Even the greatest idea may not take off sometimes due to unsuitable timing. I learnt this the hard way when I started REDtone's Internet Protocol television 10 years ago. The technology was very much talked about as the future of television, but the infrastructure was not here yet. In the end, we had to move away from the technology even though you can see that it is everywhere now."
The second factor that influences his investing decisions is the people behind the companies. Wei prefers to know the founders or team members of the potential investee company to have a better understanding of their strengths, weaknesses, characters and inclinations.
"The right people can make good out of the most adverse situation. Without them, the company may falter, even in the best conditions," he says.
"So, first of all, I need to make sure that the entrepreneurs are very open-minded. They cannot choose what they like and what they don't. If they restrict themselves, then they are denying themselves a lot of opportunities.
"Second, they must be fast learners. The technologies and business models are all very new, so they need to keep up with the pace of the industry."
For instance, Wei recently invested in an e-auction company, MNP Auctioneers Sdn Bhd, via equity crowdfunding (ECF) platform Crowdo. It was his first ECF investment, which he made after attending the company's pitching session.
"I can see that there are very strong people behind the company. Stephen Soon, the director of the company, is a licensed auctioneer. He has been doing this for more than a decade. You can imagine his expertise in the industry. Now, he is scaling the business through digital technology, which automatically makes it a global market entrant. This more than fulfils my requirement for a good company to invest in," says Wei, adding that ECF platforms are a good channel for increasing and curating deal flows in the country.
Wei has been an angel investor since late 2015. So far, he has invested in eight companies through his firm Wei Ventures — car purchasing platform Tookar, medical opinion service Medical Opinion Asia, artificial intelligence-based purchase adviser Wooppy, electronic payment service provider Mobile Money, business advisory Samasuka, inventory and stock management system company TrackSol, Internet of Things enabler Favoriot and China-based senior care telecommunications services platform 365 GA.
Due to the size of his investments, he does not put money into companies that do not require his expertise or those that show the slightest possibility of failure. "But of course, I am ready for failure as well. In fact, I believe that failure is a much better teacher than success. The most important factor is that I must enjoy the journey I am on, no matter what company it is," says Wei.
A learning process
There is only a handful of active angel investors in Malaysia. Wei says the segment is still in its infancy due to the lack of success stories and more attractive investment opportunities for local high-net-worth individuals (HNWIs).
"Those who have made it financially have many other investment alternatives inside and outside the country that are more attractive and less risky than angel investments. On top of that, a lot of HNWIs focus on wealth preservation and they want to keep their capital even if there is no upside," he says.
"And not all of them have a technology background like me. These people have made their money from traditional businesses, so it is a bit harder for them to appreciate the notion of angel investing. When they do have money to invest, they think of buying land, building a factory or buying machinery to produce something. That is usually how they think. It is easier to visualise returns that way. The pool of investors who want to invest in digital services to solve some real-world problems is a lot smaller than that."
Wei is better known as the founder and non-independent, non-executive director of REDtone International Bhd. He stepped down as managing director in January last year to focus more on his angel investments.
Wei started REDtone in 1996 and listed it on Bursa Malaysia in 2004. He expanded to China the following year. The company offers a wide range of telecommunications services, telecommunications network management services and industry digital services. Under his guidance, the Multimedia Super Corridor-status company garnered more than 26 local and global awards.
Wei was a prominent member of the National ICT Association of Malaysia (Pikom), of which he was a part from 2003 to 2012 and was chairman for two years. He has been a member of the Young President Organisation since 2005 and has held various leadership positions, including co-founding a Southeast Asian division, the new SEA Dragon Chapter.
Wei describes his juggling of many roles as "parallel processing". "Even the early version of Windows could do a few processes at a time. As the multiple applications were interrelated, they were able to come out with a greater result. I believe that I work best the same way — doing a few things with a common base at the same time to get better results," he says.
Angel investing currently makes up 10% of Wei's portfolio. He treats these investments as an educational adventure rather than as a way of generating good returns. He mainly invests in properties (50%) and other instruments (40%) for wealth preservation.
"The biggest motivation for me when it comes to angel investments is the learning process. Digital services are going to be the global frontier and I want to be involved in the development. Seeing all the different technologies and what they are capable of is very exciting to me," says Wei.
He adds that he has seen returns since his first angel investment, but not from a financial perspective. The problem with most angel investors is that they are very critical of the financial analysis of the investee companies. This, he says, is not going to work as they will take time to find the right business model.
"Don't rush entrepreneurs. Yes, it is your money, but do not anticipate an early exit and expect the company to achieve wonders in just two or three years. Of course, this is not impossible. But most of the time, success takes much longer than one would imagine. You want them to build a good company that is able to make an impact, not something that is simply built, packaged and sold," says Wei.
"Asean is actually a very fragmented market — unlike the US and China, where it is more homogenous and businesses can scale very quickly. For companies to build a strong enough foundation and scale, they will need at least five years. Until then, we need to do our part and help them along the way."
Wei is also keeping himself busy as an adjunct professor at Universiti Teknologi Malaysia and Universiti Tun Hussein Onn Malaysia. He decided to take on those roles to help develop successful entrepreneurs as a way of giving back to society.
"I worked for Hewlett-Packard (HP) 30 years ago. Back then, it was a darling company like Facebook and Google are today, and the founders have been my inspiration. They were responsible for spawning Silicon Valley and a lot of people who came out of HP set up companies to form that ecosystem. Now that I have gone through the cycle, I give lectures on entrepreneurship as a national service. If I see potential in the innovation that these fresh entrepreneurs have, I don't mind being a shareholder. I think they are causes worth supporting," says Wei.
Look for companies with regional/global outlook
He advises new angel investors to have faith in entrepreneurship and innovation as they are the core of angel investing. "There are a lot of sceptics in this world. They like to believe in only visible successful assets. When Lim Goh Tong bought Genting Highlands, it was just a jungle on top of a mountain. Who would have imagined that it would be what it is today?
"The growth of digital services and cyberspace in general is not something you can see with the naked eye. You have to have faith in your investments and do something to make them work. That is how you do it right."
It is also important for local angel investors to look for opportunities outside the country or invest in Malaysian companies that have a regional or global plan to have a higher chance of succeeding, says Wei. He points out that Malaysia's gross domestic product is sluggish compared with that of China, Vietnam, the Philippines and Indonesia. Therefore, angel investors should not limit their scope to just local companies.
"Malaysia is a very small market insofar as Asean is concerned. China, with its 1.3 billion population, is growing at 7% to 8%; Indonesia, with its 260 million population, is growing at 5% to 6%; the Philippines, with its 103 million population, is growing at 7% to 8%; and Vietnam, with its 63 million population, is growing at 6% to 7%. Meanwhile, Malaysia with a population of 30 million is only growing at 4% to 5%. This is a lot slower than those countries with bigger markets," says Wei.
That is why it is important for local angel investors to ensure that their investee companies in Malaysia are scalable regionally and globally to take advantage of our neighbouring high-growth countries, he says. "Many local start-ups are still figuring out how to become global players. You will find that they have a limited scope in their outlook. Usually, they just want to be successful domestically. It is the angel investor's role to guide them to better objectives."