This article first appeared in Personal Wealth, The Edge Malaysia Weekly, on February 10, 2020 - February 16, 2020.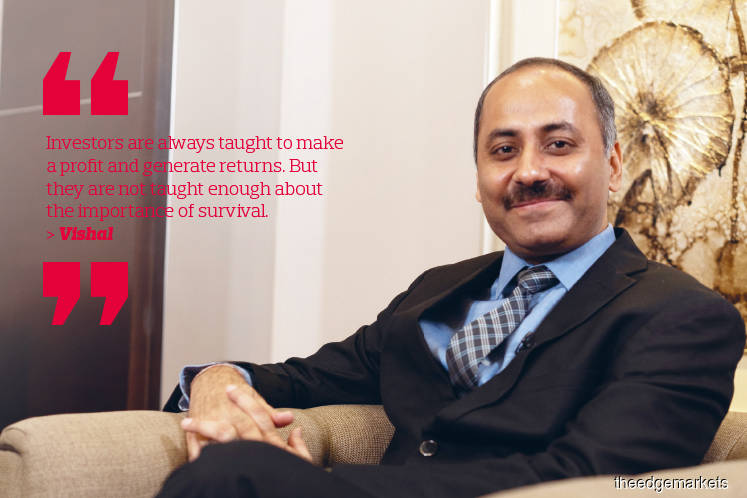 Successful value investing is all about adhering to simple yet effective principles and executing with discipline. One should also focus on the things that do not change to maintain a long-term perspective.
Vishal Khandelwal, founder of India-based value investing blog Safal Niveshak, holds fast to these mantras. He was reminded of them when he flew to Los Angeles last year in the hope of meeting Charlie Munger, the long-time partner of Warren Buffett and vice-chairman of Berkshire Hathaway Inc, at the annual general meeting of Daily Journal Corp (Munger is chairman of the publishing and technology company).
Value investing is about observing some key principles year in and year out and being disciplined when making investments, says Vishal. "Munger and Buffett have been repeating these over the years. These are not secrets, but they are tough to execute in all market cycles. Both of them have done well all these years because they stick to these principles.
"We need to focus and learn about the things that do not change. If you focus on things that are constantly changing, you will not have a long-term perspective."
It has been eight years since Vishal became a value investing coach and founded Safal Niveshak, which has garnered 60,000 followers thus far. He has also published two e-books on value investing.
As a stock investor, he has generated an annualised return of about 21% over the past eight years. "I did so by mainly investing in mid to small-cap stocks [in India]," he says.
This enabled him to outperform the BSE MidCap Index (which tracks the mid-cap segment of the Indian stock market) and Nifty 500 Index (which tracks the broader market). These indices have provided investors with annualised returns of 13.45% and 14.35% respectively over the corresponding period.
Vishal was a speaker at the Value Investing Summit 2020 in Kuala Lumpur last month. The annual conference was organised by 8VIC Malaysia Sdn Bhd, a subsidiary of Australian Securities Exchange-listed financial training and service provider 8VIC Global Pte Ltd.
In an interview with Personal Wealth, Vishal shares his journey as a value investor and a value investing coach. He also talks about some of the valuable lessons he learnt in his early days.
Benjamin Graham is a must-read
Vishal, who was born in Rajasthan in Northern India, started his career as an equity research analyst in 2003. He worked at a Mumbai-based independent research firm Equitymaster Agora Research Pte Ltd.
His job was to analyse public-listed companies and make recommendations to retail clients, who were mainly from the middle and upper-middle class. He rose through the ranks to become a senior analyst and head of research three years later.
Vishal found his experience at the firm invaluable as it taught him to analyse the fundamentals of a company and to invest over the long term. "I was already a value investor then, although I had not fully grasped what it truly meant. Sometimes, I look back and think, what if I had joined an investment bank or brokerage firm? I may not have become a long-term investor. I could have been pressured into making a profit for my company and become a salesman or a short-term trader. I would not be where I am today," he says.
In 2006, the value investing concept started to take root in Vishal's mind. Later, it would become a philosophy that he would adhere to throughout various market cycles.
That journey began when a friend lent him a copy of The Intelligent Investor, a widely acclaimed book on value investing by Benjamin Graham that was first published in 1949. He did not like the book initially as he found it too technical.
"It was too difficult to understand for most Indian investors. But my friend told me to read two chapters — Chapter 8 and 20. The former talked about how to deal with market volatility positively and the latter was on the concept of margin of safety, which teaches you how to protect yourself from losing money when investing in the stock market. Those were life-changing chapters to me," says Vishal.
He used the value investing approach to guide him over the next two years. It was not until 2008, when the global financial crisis shocked the world, that he experienced a turning point in his career.
Vishal survived the crisis, partly because he adhered to the margin of safety concept. But more importantly, he had a bit of luck. "I sold all of my stock holdings before the market crashed to pay off my mortgage. I had promised my wife that I would pay off the loan within five years and that was how I got lucky. I could not have foreseen that the market would crash after that," he says.
However, his clients got burnt. They had bought stocks recommended by him and lost a lot of money. Those stocks had good fundamentals and were supposed to hold over the long term, but their prices plummeted during the market meltdown. So, Vishal had to take some of the blame for their losses.
"I felt really bad because it was their hard-earned money. However, that gave me a revelation, which is every investor should learn [what they can] about their investments, including how to protect their capital in bad times. They should be empowered and take things into their control instead of buying and selling stocks blindly based on third-party recommendations. That made me want to teach investors how to fish instead of giving them the fish," he says.
In 2012, Vishal resigned from the firm and started Safal Niveshak, which means value investing in Hindi. The website provides articles on the topic as well as online courses for investors.
Important lessons
While Vishal has a good track record when it comes to investing, he acknowledges that he has also made some mistakes. A lesson he has learnt is to avoid anchoring, or using the first set of information one sees — such as the purchase price of a security — as a reference point when evaluating a financial instrument. This was something he would do when he was an investment analyst.
Back then, he had spotted an attractive company called Asian Paints Ltd, an Indian multinational paint company headquartered in Mumbai. It was the best company in its industry, with an excellent management team and strong fundamentals. Its stock price was also very cheap.
"That was in 2003 and the stock was trading at about INR20 per share before rising to more than INR1,000 [in 2016]. I should have bought it and held on to it. But my broker told me that the stock had already risen 10% and asked whether I still wanted to buy it. I said no. Let's wait until the price falls again," says Vishal.
"The fact is, the stock never fell back to that level [of INR20]. The price kept rising over the years. That was one of the earliest mistakes I made."
Instead of looking at the stock price, which could lead to anchoring bias, investors should look at the fundamentals of the company instead, he adds. "Investors can average up when buying stocks of quality companies [if they are unsure at which price point they should enter], but they tend to not do this. They usually average down to minimise losses when prices fall."
The second mistake Vishal made was not looking closely enough at the fundamentals of a company. However, this was not due to anchoring bias but following the general rules of value investing too rigidly without giving it a second thought.
This happened when he invested in a good company at a low price and held on to the stock for three years. When the price continued to stay low, he sold his shares — not knowing that it would subsequently increase by leaps and bounds.
Why did he sell the shares then? "I did it as I was trying to apply Graham's method, which says an investor should sell a stock when it has provided you with a 50% return or after three years [regardless of what the share price is]. So, I sold the stock without focusing on the fundamentals, which remained strong. The business and profit were growing and it has remained a wonderful company," says Vishal.
Another lesson he has learnt is to always research a company before investing in it. "When I was an analyst, I bought into a company called Hotel Leelaventure Ltd [now known as HLV Ltd], which builds and manages some of the finest properties in India. I was at a conference in one of their hotels and was impressed by the fact that it was fully booked for the next six months. I called my broker to buy the stock right away," he says.
"What could go wrong? I thought. The company was managing big hotels and beautiful properties. All of them were fully booked for the next six months.
"I did not do enough research before investing in it even though I was already an analyst. I looked at its income statement and the profit and revenue were growing fine. But I did not look at the balance sheet, which showed that the company had taken on a large amount of debt to build properties. It became challenging for them to pay off those debts. I lost some money after that."
Find the best approach
Investors who are starting out without any liabilities should look at various approaches to investing and find one that suits them the most, says Vishal. "They can do something creative like trade derivatives in small amounts and be prepared to lose some money. They can be passive investors instead of active ones. They can buy into mutual funds with less common strategies such as a special situation fund. Just try out what is best for them."
Passive investing, or investing in exchange-traded funds (ETEs) that track the performance of certain indices, is a good way for those who do not want to spend much time on market research.
"You have to find out what works well for you and stick with it. There is no right or wrong way in investing. What works for you, works for you. It is a very personal thing," he says.
As for Vishal, he will continue to be a value investor. He prefers to maintain this style of investing simply by adhering to the principles advocated by legendary investors such as Buffett and Munger.
Simplicity is also what he aspires to achieve in his personal life. "I have crossed the age of 40. Before this, I tried to accumulate things and added a lot of new things to my life. But after I turned 40, I started to subtract instead of accumulate. I began to realise that a lot of things were not necessary for my life," he says.
"I have given up a lot of things, including sugar, which is not good for my health. I have given up a lot of unhealthy food. I have learnt to say no to a lot of things that I do not like. I have never smoked or drunk alcohol, so these are not on my list.
"When you can focus and meditate on only a few things and think deeply about then, you can slow down your life and see things that you previously could not, like an early sunrise. You can also enjoy the things that are most important to you such as family and friendship."
Vishal likes to remind investors about two things based on his investing experience. The first is survival.
 "This is my biggest mantra. One of the main reasons investors such as Buffett can do so well is because they managed to survive in various market cycles when so many others got burnt. To survive, you need great discipline to follow simple rules, which include having a margin of safety, investing in quality businesses and have a long-term investment view. If you know something will kill you, such as short-term trading and leverage, don't do it," he says.
"Investors are always taught to make a profit and generate returns. But they are not taught enough about the importance of survival."
The second thing is how one defines financial freedom. "It is not about having enough money in your bank account. Instead, ask yourself what is the purpose of having enough money in your bank account," says Vishal.
"It may not be because you want to be rich. Instead, you may want to have enough money to do certain things in life. If you have enough money to do that, that is financial freedom. You can be a very simple person and lead a simple life. You do not need a lot of money for that."