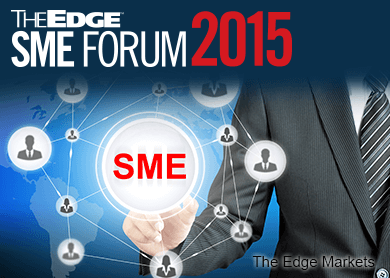 KUALA LUMPUR: Companies will have to make their first goods and services tax (GST) declarations by today, if they earn over RM5 million and are filing on a monthly basis.
No request for extensions will be entertained, the Royal Malaysian Customs and Excise GST director Datuk Subromaniam Tholasy told the participants of the inaugural The Edge SME Forum 2015 at Kuala Lumpur Hilton on Saturday.
He was responding to a comment made by the Chinese Chamber of Commerce and Industry of Kuala Lumpur and Selangor (KLSCCCI) president Datuk Ter Leong Yap in his welcome speech, calling for a moratorium of two years from penalising businesses which make genuine mistakes in their GST filings because of the steep learning curve involved. The KLSCCCI was one of the co-organisers of the event.
"Drastic measures have been put into place against SMEs which don't comply with GST," Ter pointed out.
But Tholasy was not having any of it. He pointed out that companies had been given 17 months to prepare for GST. "Some 73% of the companies have filed their returns so far. What happened to the other 27%?"
He said there had been many requests for extensions, even from government-linked companies (GLCs) but they had all been summarily refused.
To Ter's request, he said: "Don't ask for a two-year grace period. It's very easy. It only takes five minutes of your time to file the one page of returns electronically."
The filing date would be the end of the month, technically, May 31, but since May 31 is on a Sunday, companies would be given until June 1 to make their filing.
Regarding companies which may not have their figures collated in time for the deadline, he said: "Just make an estimation and submit the returns first. Once you are ready with the figures, call in to make amendments. We understand that mistakes will be made."
Usually, if a company makes amendments to its GST filing, it would set off an alarm on the website, identifying the company as "high risk" and therefore, in need of investigation.
Tholasy said the customs department would make an allowance just this once and deactivate the indicator. But he warned: "Make sure the subsequent returns are filed on time and accurately."
A 400-strong crowd turned up for the forum, which was organised to highlight and discuss the most pressing issues for SMEs in today's tough operating environment. It also provided a platform for aspiring and existing SME owners to engage with industry leaders regarding the challenges they face.
The participants were provided with a wide array of topics that are relevant to SMEs in Malaysia today, including the recent implementation of GST, financing options and availability, technology adoption, and how SMEs can position themselves for the Asean Economic Community (AEC) that is coming into place this year.
Among the distinguished speakers that were present at the event were group managing director of SME Bank Datuk Mohd Radzif Mohd Yunus, secretary general of the Asean Business Advisory Council (ABAC) Syed Nabil Aljeffri, and chairman of the fiscal & economic research committee for KLSCCCI Teoh Kok Lin.
"There's never been a more challenging time for SMEs than now, especially with GST issues," said The Edge Media Group's chief executive officer and publisher Ho Kay Tat in his opening address. "Nevertheless, the diversity and competitiveness for SMEs is vital towards achieving sustainable economic growth in the country."
Another issue that garnered attention at the forum was the difficulty that SMEs face in getting financing.
"Despite the government's continuous efforts, SME financing is still a key development constraint. What we've seen from the perspective of the bank is that there is an expectation gap between what SMEs expect from financiers and what financiers can offer," said Datuk Mohd Radzif.
"Often, loan rejections from financial institutions are because SMEs fail to provide sufficient documentation, carry too high leverage or outstanding loans, or have insufficient sales or cash flow."
He added that this gap comes about because SMEs are generally risk takers, while the banks are risk averse. "The solution has got to be constant engagement with associations for both to understand the needs of each party," said Datuk Mohd Radzif.
Syed Nabil talked about the opportunities available when the single Asean market becomes a reality but he also spoke of the impediments to getting there and what ABAC was trying to do to help private sector companies."The goal is to globalise SMEs, which can be a challenge because some systems such as good bookkeeping is still not as developed in Asean, and that becomes problematic when SMEs want to venture into other countries," he observed.
Nevertheless, Malaysia is in a promising position as the country is the highest recipient of foreign direct investment for the last two years in Asean, said Syed Nabil.
"To capture more investment opportunities, we are looking into developing joint ventures and mergers and acquisitions as a primary tool for business collaboration," said Syed Nabil.
SMEs should also embrace technology to get up to speed with the world's changing business environment, said Teoh. "For example, technology is even changing the way that SMEs can raise funding, such as from equity crowdfunding. When it comes to technology, there's no right way, but not embracing technology is certainly not the right way," he concludes.
This article first appeared in The Edge Financial Daily, on June 1, 2015.