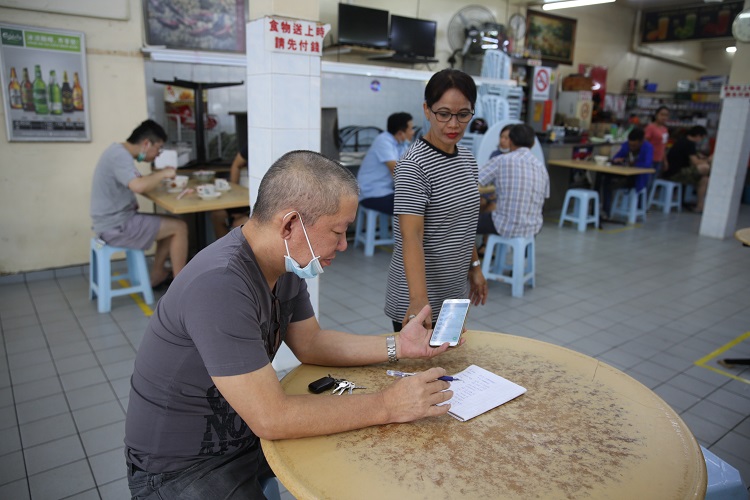 (This article has been amended.)
KUALA LUMPUR (May 4): The Conditional Movement Control Order (CMCO) was imposed today, ending almost seven weeks of restrictions on travelling, dining out and business operations in an effort to jump-start an ailing economy ravaged by the coronavirus and moves to contain its spread.
Prime Minister Tan Sri Muhyiddin Yassin said the economy was haemorrhaging an estimated RM2.4 billion a day throughout the MCO period.
The Edge's photographers Sam Fong, Shahrin Yahya and Suhaimi Mohd Yusuf visited Kuala Lumpur and Petaling Jaya to find several juxtapositions — on one hand, crowds reappeared at public transport and traffic teemed on the streets of the capital; on the other, shops stayed closed and malls were quite empty.
Commuters at platforms and certain train stations laudably practised social distancing, but for others, it just did not seem possible to keep the requisite one metre apart.
At grocery stores such as a Mydin along Jalan Tunku Abdul Rahman, patrons patiently queued up to have their temperatures taken and hands sprayed with sanitiser before they were allowed inside.
In coffee shops and cafes, tables were spaced apart and seats were marked with tape to stop patrons from sitting on them.
Even while shops were allowed to reopen and operate as usual, not all of them chose to take advantage of this new freedom.
A Bernama report on Jalan Masjid India said while the armed soldiers and barbed wire have gone, the street was still quiet as only a few shops on the street were reopened today.
It attributed their hesitance to fears of contracting Covid-19, given that 242 cases of the disease were found in the area, which was placed under the Enhanced Movement Control Order (EMCO) last month after an outbreak in the flats there.