This article first appeared in The Edge Malaysia Weekly, on May 23, 2022 - May 29, 2022.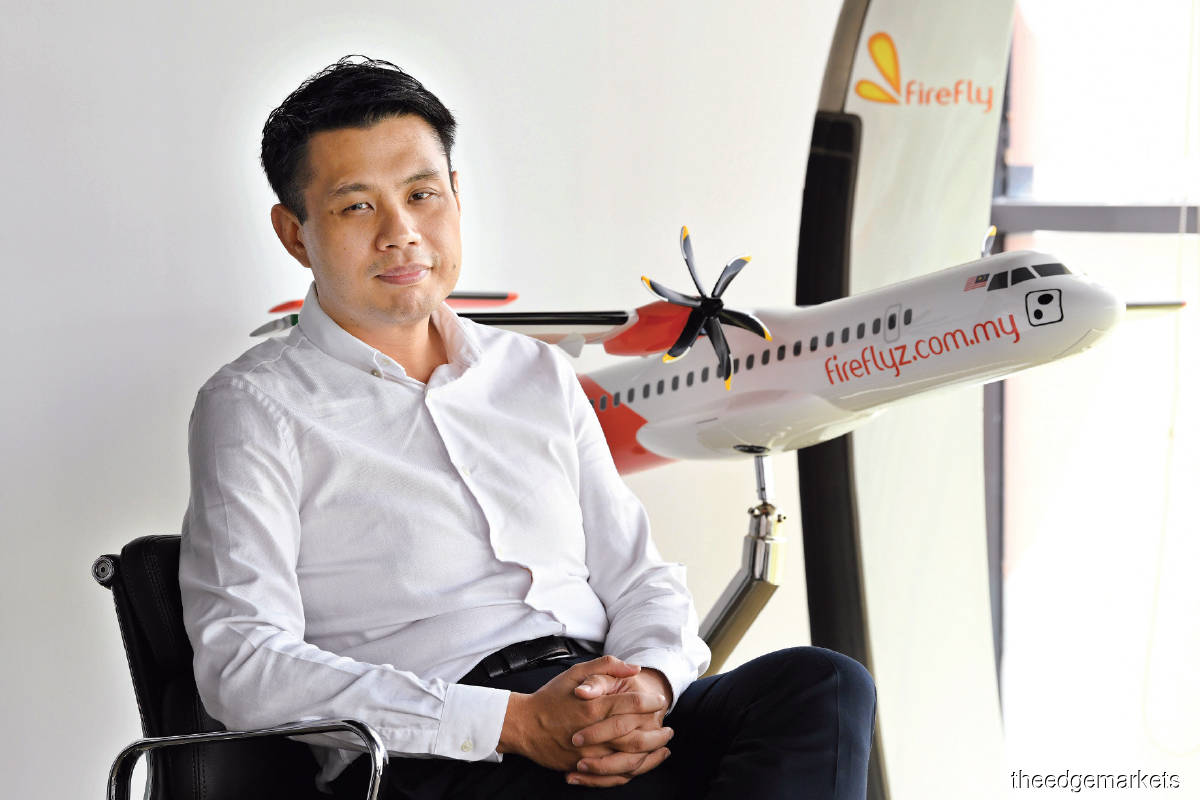 FLYFIREFLY Sdn Bhd, the low-cost arm of Malaysia Aviation Group Bhd (MAG), expects to turn a profit for the first time in 2024, which is when the International Air Transport Association (IATA) sees global travel demand recovering to pre-Covid-19 levels.
And Firefly CEO Philip See Yew Jin is betting on the commencement of jet operations in April this year to help the carrier turn a profit.
Firefly previously only operated twin-engine ATR72-500 turboprops out of Subang Skypark at Sultan Abdul Aziz Shah Airport in Selangor and at Penang International Airport. However, the carrier has been having difficulty turning a profit given that its fleet of ATRs have limited range, seating capacity and high unit costs, which increase as the planes get older. It also faces tough price competition serving price-sensitive travellers on short-haul routes.
For the financial year ended Dec 31, 2020 (FY2020), the carrier narrowed its net loss to RM122.12 million from RM232.77 million the year before. Revenue dropped to RM124.13 million, down 49% from RM242.25 million in FY2019. It has yet to file its financial statements for FY2021 with the Companies Commission of Malaysia.
See says Firefly has seen an uptick in its turboprop operations following the reopening of the country's borders in April, but it is not clear whether the pace of the rebound will sustain and return to pre-pandemic levels.
That being said, the turboprop operations are one of those portfolio must-haves for MAG's system-wide operations, as Subang airport is currently only open for commercial turboprop services.
"The group appreciates the Subang operations because it is core to our high-yield corporate customers. But at what cost do we keep operating it? That's why one of the things we did was to scale down our fleet to nine from 12 ATRs during the pandemic," he tells The Edge in an interview.
He notes that despite corporate travel being an important segment for Firefly, corporates only make up 30% to 40% of total passengers, and that the largest segment remains the leisure travellers. The passenger load factor of its ATRs currently hovers between 55% and 60%. But See is quick to clarify that the strategy for ATRs is not about high load factor.
"It is about high yield. For jet operations, it is the other way around. You want an 80%-90% load factor but you don't mind sacrificing a bit on price to get market share."
Since April, the carrier has resumed its jet operations from its Penang hub to Kuching, Kota Kinabalu and Johor Baru with three Boeing 737-800s specially configured with all-economy seating to carry up to 189 passengers.
"The pandemic was an interesting time for MAG to relook at its business. With the success of our restructuring plan [in 2021], where we were able to reduce our leases by 10% to 40% — depending on the aircraft type — and thereby bring down our cost structure and make it more competitive, we feel there is going to be a significant demand for leisure travel as we come out from the pandemic," says See, who assumed the role of Firefly CEO in January 2019. He was formerly the head of strategy and network for Malaysia Airlines Bhd (MAB).
"If you look at airlines around the world, most of them have dual brands. Singapore Airlines Group has mainline carrier SIA and low-cost unit Scoot; Cathay Pacific Airways has Cathay and budget unit Hong Kong Express; and Qantas has core brand Qantas and low-cost arm Jetstar Airways. We see all around us airline groups offering this dual-brand approach to target both segments — premium and value seekers — so we thought we should try that since we are now in a better position after the restructuring. But one thing is we didn't want it to cannibalise our current operations at Kuala Lumpur International Airport (KLIA) in Sepang.
"We thought that from a group standpoint, MAG will have MAB as the premium carrier connecting flights, and complement it with a value-for-money airline that is leisure-centric. And that is Firefly. We felt that a dual brand is an interesting business model to take for the group, with clear business segments and markets," he adds.
Still, this is not Firefly's first foray into jet operations. It operated the 737-800s briefly in 2011 out of KLIA. However, the operations were terminated that same year following the share-swap deal between AirAsia Group Bhd (now known as Capital A Bhd) and the now-defunct Malaysian Airline System Bhd (MAS).
So, what's changed? To avoid an overlapping of routes between Firefly and MAB, Firefly will operate its jets out of secondary hubs such as Penang, Kota Kinabalu, Kuching and Johor Baru instead of KLIA, says See.
That's because if it were to operate its jets out of klia2, Firefly would be taking its sister airline MAB head-on. "There is significant market potential in these secondary hubs, so we thought why don't we start there and get the jet operations going," he says.
Firefly was actually poised to take over the national carrier role of MAB if the restructuring talks between MAG and its creditors and lessors had failed last year. Under "Plan B", major shareholder Khazanah Nasional Bhd would shut down MAB and operate under Firefly's air operator's certificate to ensure the business continuity of the national carrier.
"There was this whole conversation about Firefly potentially being the national carrier. I think that triggered a lot of discussions that, 'Hey, actually Firefly can and should do jet operations because it is a good business model to explore.' And Firefly has done that in the past. The whole restructuring inspired us to think about this and accelerated that discussion. But when we decided to go about it, it was on a standalone business case that we felt, 'Well, it is a good strategy'," says See.
"It wasn't about some contingency in the future in case MAB doesn't make it because where we are now — the group is in a healthy position because of the restructuring and has successfully diversified its businesses in cargo. This time, it was more that it is important to do this because it is a key business and about making sure that MAG isn't only about KL. It is about being able to connect Malaysia as a whole. But in these secondary cities, you don't see a large premium market; the model has to be a bit different and hence, the decision to deploy Firefly there."
After initial hiccups, the carrier eyes international flights
Firefly suffered an early setback last year in its attempt to restart its jet operations when the Full Movement Control Order (FMCO) came into effect in June due to rising Covid-19 cases in the country.
"We launched the jet operations in May last year, but then FMCO happened and we had to quickly reverse course. This volatility created the most challenging planning environment for me as a leader. In retrospect, I wish I could have done things much better.
"I had thought that the launch of jet operations was important to get us moving forward, but the demand was so bad because of the FMCO that it just didn't justify continuing the operations. So I had to pull back the service after a week, even though it was tough for the organisation and people because they worked so hard to launch it," he recalls.
"I think it was the right decision to pull back [while] it was the wrong decision to have started the jet operations during that period. That's why when we decided to relaunch the jet operations in mid-April this year, we did it with the lessons learnt from the previous incident and made sure we did not repeat that. We also had greater clarity [from the government] in January/February over imposing any more Covid-19 lockdowns. That's why we started to put flights on sale.
"Also, we had intentionally relaunched our jet operations in the middle of Ramadan because it was the lean season. This allowed us to get our operations stable before the peak Hari Raya travel movement. So the load factor was low at 30%-40% in the first two weeks [of relaunch]. During the Hari Raya period, the load factor climbed to 80%," he adds.
See attributes the successful relaunch to the efforts of its team of about 630 employees, versus MAG's 12,000.
The carrier also benefits from having the ability to access and leverage MAG's various businesses.
"We have the support of AeroDarat Services Sdn Bhd to do our ground handling, MAB Kargo Sdn Bhd to manage our cargo, and MAB Engineering Services Sdn Bhd to maintain our 737 fleet. We could actually relaunch the jet operations with minimal capital expenditure because we leverage all the existing resources and assets of the group. For instance, we are leasing the 737s from MAB, which will take delivery of its 25 MAX jets.
"Going forward, the important thing we have to do is to make sure that the group is able to smartly reallocate resources between the different brands and businesses, depending on market conditions. And we designed it in such a way that it is seamless. For example, if the international markets don't reopen, we can reallocate resources between the different brands seamlessly," he says.
While airlines around the world had most of their planes grounded during the pandemic, Firefly was still flying then. "During the height of the pandemic, we were still operating about four ATRs. We were able to do so because turboprops are such small aircraft, so we were able to offer national service connectivity without having to incur much cost."
However, because international borders were closed from March 2020, Firefly has only been operating domestic routes since.
See says the carrier hopes to resume international flights in the next three to four months as markets reopen. "We are talking to Seletar Airport to resume our ATR flights to Singapore and we hope to receive some positive news in the coming months." Before the pandemic, Firefly had six daily flights between Subang and Singapore.
Going forward, flight services to Indonesia like Banda Aceh as well as to Phuket, Thailand, are also on the carrier's radar. "We are still deliberating whether we should mount jets or turboprops, but the flights will be out of Penang. Hopefully, we will get the schedule up and running by the third quarter of this year," he says.
Firefly to have at least 10 jets in three years
See says the carrier does not have any plans to expand its ATR fleet. However, it has plans to grow the jet fleet and network.
"We are assessing how the current jet operations perform and we will gradually add more jets. However, we wouldn't go more than 10 to 12 aircraft by 2025 because these secondary markets are not as large as KL," he notes.
See is confident the jet operations will help Firefly to break even and start making profits by then as the 737s can fly longer-range routes, such as to Indonesia and Thailand, and can seat up to 189 passengers compared with the 72-seater ATRs.
"We plan to look at Kota Kinabalu as the next hub. We are debating the timeline, which would most likely be 2023. However, we are not sure yet if it is the first half or second half. Because Kota Kinabalu is a leisure-centric market, much depends on the reopening of borders by South Korea, China, Japan and Taiwan, which remain closed to international tourists.
"Still, we cannot have too many aircraft in different hubs. We might do selected flights out of Johor Baru like Penang-JB or JB-Kuching but we would need to stabilise our operations in Penang and Kota Kinabalu first before we look at other hubs like Johor Baru and Kuching," he adds.
"For the Penang jet operations, we have a big competitor in AirAsia. So we have to work very hard to differentiate ourselves and [ensure] that we offer a better service and product than our competitors.
"My only worry is that leisure travel is very much driven by this whole 'revenge travel' surge, which is nice, but whether it will sustain in 3Q or 4Q, it is also a function of economic prosperity. That is also something that we are being very careful about," says See.
Challenges abound
Despite rising passenger demand, Firefly is keeping a close watch on headwinds such as high fuel prices and foreign exchange volatility as its aircraft leases and fuel and maintenance contracts are in US dollars. Energy information provider Platts' price data shows that jet fuel price was US$166.4 per barrel on May 13, up 127% from a year ago.
According to See, Firefly is also watchful of new entrants to the airline market, which see the conditions as perfect for entry as incumbents are weighed down by debt and high costs. SKS Airways Sdn Bhd and MYAirline Sdn Bhd recently received approval to operate passenger flights in the country.
"I think in the next two years, although international air travel is likely to return to pre-pandemic levels, it will still be volatile from a cost and demand standpoint. The question is how resilient will these airlines be in managing the volatility? It will also be a function of how incumbent airlines like MAG, AirAsia and Batik Air are able to be agile in this volatile period," says See.