This article first appeared in The Edge Financial Daily, on September 6, 2018.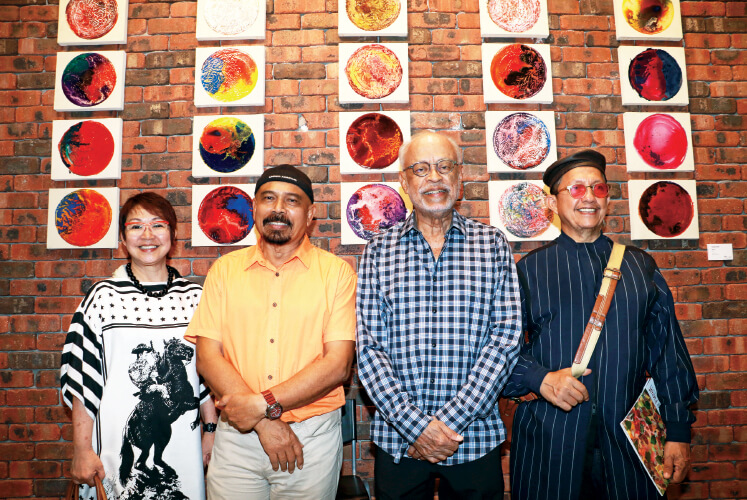 (From left) The Edge Galerie Sdn Bhd managing director Au Foong Yee, Fauzan, Zain and Rafiee.
"This wonderful atmosphere makes me feel excited, there were surprises like meeting Datuk Sharifah Fatimah. I am honoured that she came to see my show," says artist Fauzan Omar in reference to the distinguished modern artist at the preview of his solo show at The Edge Galerie.
Fauzan, 67, a veteran in the Malaysian art scene, shows no signs of slowing down anytime soon. As evident by the launch of his seventh solo exhibition, Bracing the Heat by Fauzan Omar, in Mont' Kiara yesterday.
Featured in this exhibition are works that culminate 30 years' experience of being an artist as well as an educator.
The artist's signature leaf-motif paintings are featured in this exhibition. Together with smaller works combined to form sets. The 10 major works are titled Blazing Flame 1 & 2, Panas di Malam Hari 1 & 2, Ready to Ignite 1 & 2 and Tropical Heat 1 & 2. They range in size from 1.5m x 1.5m to 1.5m x 1.8m. The four sets of installations are titled Matahari, Bara, Without Rain and Kemarau.
The works speak about the unbearable rise in temperatures that has come to blight Malaysia in recent times; a subject the artist feels strongly about.
"I think Fauzan has moved on to more dynamic and vibrant works. I liked how he used the wood [strips] in his work, its different from [what he's done] in the past. It really catches my eye," commented artist Jamil Mat Isa.
Among the guests who attended the preview included dance guru Datuk Ramli Ibrahim and artists Rafiee Ghani, Juhari Said, Ahmad Fuad Osman and Ahmad Zakii Anwar. Among the collectors who came to check out the pieces were Zain Azahari, Pakhruddin Sulaiman, Ahmad Suhaimi, Dr Steve Wong, LC Gouw and Gouw Kim San. The gallerists who attended the preview included SA Jamal, UC Loh, Joshua Lim, Kenny Teng, Wendy Chang, Kris Lee, independent curator Keong Rouh Ling and Josef Ng from Pearl Lam Galleries.
Bracing the Heat by Fauzan Omar runs from Sept 6 to 19 at The Edge Galerie in Mont' Kiara. Visit www.theedgegalerie.com for details.